MOSCOW -- The world community has denounced Russian President Vladimir Putin's decision to pursue an illegal war of choice and aggression as Russian troops moved closer to invading Ukraine on Tuesday (February 22).
In carefully choreographed events designed for maximum drama, Putin put pen to paper Monday, recognising the independence of the rebel-held Donetsk and Luhansk regions, and signed "friendship and mutual assistance" treaties with them.
In an often angry 56-minute televised address from his office, Putin said Ukraine is a "country created by Russia", saying it was wrong to let the Soviet Union fall apart and let Ukraine and the other Soviet republics go their own way.
Hours after the speech, Putin instructed his Defence Ministry to assume "the function of peacekeeping" in the separatist-held regions, paving the way for direct Russian military involvement in eastern Ukraine.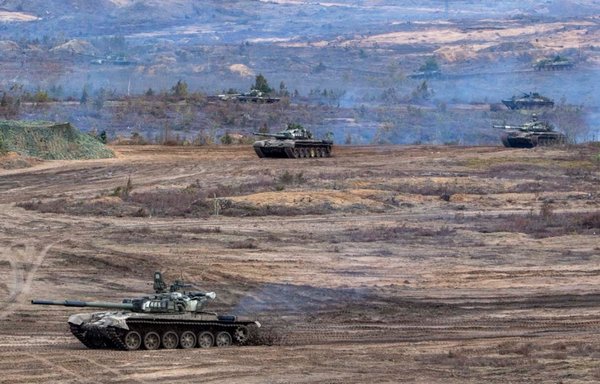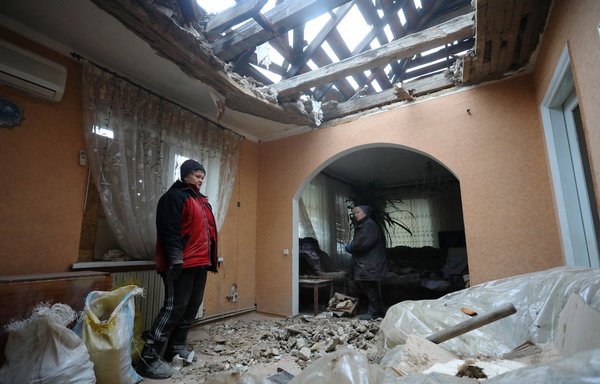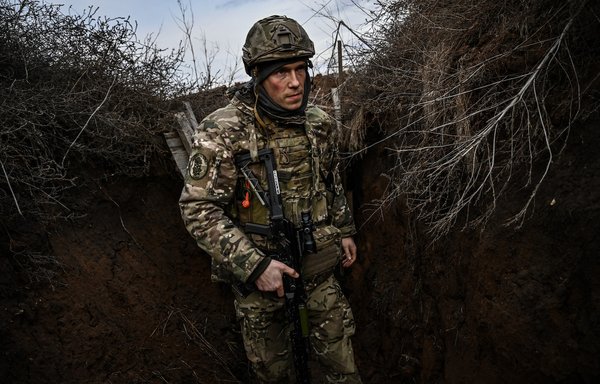 Russia is estimated to have between 150,000 and 190,000 troops already surrounding Ukraine.
"We believe that with this decision, Russia is creating the legal basis for further military aggression against Ukraine, thus violating all possible international obligations," Ukrainian President Volodymyr Zelenskyy said Tuesday.
In response, Kyiv is considering breaking off diplomatic relations with Russia, he added.
'Pretext for war'
The move by Russia sparked widespread condemnation among world leaders.
The United Nations (UN) Security Council held an emergency meeting, where US ambassador Linda Thomas-Greenfield said Putin's speech amounted to a "series of outrageous, false claims" that were aimed at "creating a pretext for war".
"He calls them peacekeepers. This is nonsense. We know what they really are," she said.
The United States has warned the UN that Russia has lists of Ukrainians "to be killed or sent to camps" in the event of an invasion.
UN Under-Secretary-General for Political and Peacebuilding Affairs Rosemary DiCarlo voiced "regret" that Russian troops were ordered to eastern Ukraine.
"The next hours and days will be critical," she said. "The risk of major conflict is real and needs to be prevented at all costs."
"Russia has brought us to the brink. We urge Russia to step back," British envoy Barbara Woodward said.
Martin Kimani of Kenya pointed out that many countries were "birthed by the ending of empire" and urged against "dangerous nostalgia" for past borders.
Germany announced that it was halting certification of the Nord Stream 2 gas pipeline from Russia and said the European Union would adopt "robust and massive" economic sanctions.
"This is an unacceptable violation of Ukraine's democratic sovereignty and territorial integrity," Italian Prime Minister Mario Draghi said.
Turkish President Recep Tayyip Erdogan also called Putin's move "unacceptable".
"We've got to ensure that whatever happens that Russian certainly feels the pain... that's going to happen," Thomas Byrne, Ireland's Europe minister, said.
British Prime Minister Boris Johnson called Putin's move "a flagrant violation of the sovereignty and integrity of the Ukraine", with his foreign minister promising new sanctions on Russia.
EU chiefs Ursula von der Leyen and Charles Michel vowed the bloc "will react with sanctions against those involved in this illegal act".
A senior US government official called Putin's speech "an attack on the very idea of a sovereign and independent Ukraine".
"He made clear that he views Ukraine historically as part of Russia, and he made a number of false claims about Ukraine's intentions that seemed designed to excuse possible military action," the official told reporters via teleconference.
"This was a speech to the Russian people to justify a war."
"President Putin will answer to the future generations for his violent actions," Estonian President Alar Karis said in Kyiv, where he flew to stand in solidarity with Zelenskyy.
Ukrainian ambassador Sergiy Kyslytsya insisted that his country's borders remain "unchangeable" despite Russia's actions.