Two top Russian officials have been attempting to smear the United States over its role in Syria as part of a propaganda campaign that has put forward some laughable claims, analysts say.
In a story carried by Russian state news agency TASS, Lt. Gen. Stanislav Gadzhimagomedov, deputy head of the main operational department of the general staff, denounced US sanctions on the Syrian regime of Bashar al-Assad.
The sanctions, imposed under the Caesar Syria Civilian Protection Act of 2019, have driven down the standard of living in Syria and intimidated companies, including Russian firms, from entering into "profitable projects", he claimed.
Russian forces in Syria have information about US intelligence plans to mobilise extremist sleeper cells in Syria, claimed Russian Deputy Foreign Minister Oleg Syromolotov.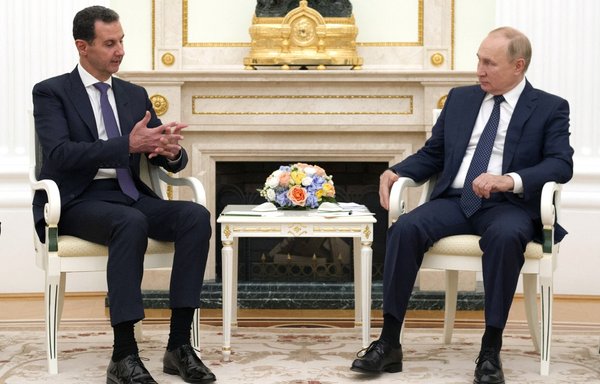 According to Syromolotov, whose remarks were widely quoted in Russian and Syrian state media, these cells are planning to carry out attacks on Syrian forces and Russian and Iranian military personnel.
Russian forces in Syria are taking measures to counter them, he claimed.
The Caesar Act is designed to protect Syrian civilians and ensure justice is served against al-Assad's brutal regime, which the Russians support, noted analysts.
And far from supporting extremist sleeper cells in Syria, the United States is the driving force behind the international coalition against the "Islamic State of Iraq and Syria" (ISIS), whose leader died in a US raid earlier this month.
Russia's destructive role
The Russian smear campaign over the US role in Syria comes in the context of Russia's current standoff with Ukraine, analysts said, describing it as just another means to project an image of Russian power in the region.
It also came as Russian Defence Minister Sergei Shoigu visited Syria for talks with al-Assad and to inspect Russia's Hmeimim air base in western Syria.
Shoigu "informed the Syrian president about the exercises of the Russian navy in the eastern Mediterranean", Russia's Defence Ministry said in a statement.
The two also discussed "military-technical co-operation" and Russian humanitarian assistance to the people of Syria "suffering from the prohibitive sanctions of the United States and Western countries", the ministry said.
In a report on the events in Syria in 2021, published this year, Human Rights Watch (HRW) paints a very different picture, vis-à-vis Russia's role.
By 2021 the economic toll of the war in Syria was $1.2 trillion, it noted.
"The costs incurred are largely due to the destruction of infrastructure and massive displacement caused by a decade of war using prohibited tactics, primarily by the Syrian-Russian military alliance," the report says.
"Human Rights Watch has determined that some attacks by the alliance are war crimes and may amount to crimes against humanity."
Last May, the report continues, al-Assad secured a fourth term as president "in elections that did not occur under the auspices of the United Nations-led political process and failed to adhere to standards for free and fair elections".
"His renewed term as president came as his security services continued to subject hundreds, including returning refugees, to arbitrary arrest and torture, while millions go hungry due to his government's diversion of aid," it said.
'Catastrophic need'
"Routine shortages in basic goods, including bread and fuel, have become commonplace and the number of people in need of humanitarian assistance increased by 21% in 2021," according to the HRW report.
Per the United Nations Office for the Co-ordination of Humanitarian Affairs (OCHA), 1.48 million in Syria are in "catastrophic" need.
The COVID-19 vaccination rate stands at just more than 1%, and there have been "concerns about the government's ability to distribute vaccines equitably, even within areas under its control", the report says.
In areas re-taken by the Syrian regime, many cannot afford to rebuild or renovate, and the regime provides no reconstruction assistance, HRW notes.
"As such, many residents are living in makeshift tents, and boiling water for drinking. They are unable to afford rent elsewhere," it says.
"Rescuing Aid in Syria", a new report released by the Centre for Strategic and International Studies (CSIS), points to the Syrian regime's manipulation of aid over the course of more than a decade.
According to the CSIS report, the Syrian regime has such a tight grip on aid groups' access that it has become commonplace for relatives of senior regime officials to be employed by these groups.
There are not many situations "where someone who has committed mass atrocities to the level that the al-Assad government has, stays in power and controls the aid apparatus", the report's author, Natasha Hall, tells the Guardian.
'Indiscriminate bombing'
In a January 20 blog post, Wilson Centre Middle East programme chairman James F. Jeffrey points to Russia's "all-elements-of-power counterinsurgency" in Syria, which succeeded in breaking the back of the mainstream opposition.
This ruthless policy kept al-Assad in control of Syria and enabled his brutal regime to survive.
"The Russian approach included political flexibility and clever diplomacy, but the core was extreme brutality: indiscriminate bombing of civilian areas not just as collateral damage but as deliberate policy," Jeffrey writes.
The Russian bombing campaign "rapidly gained the upper hand, not only by waging terror against those supporting the resistance but also by destroying their refuge and sources of sustenance, from food to medical care", he says.
"Russia itself did not engage in but turned a blind eye to even more brutal tactics employed by its Syrian and Iranian-backed allies," he adds, including chemical weapons attacks, mass incarceration, executions and torture.
"Russia also backed al-Assad's strategy of ethnic cleansing, upping the costs of opposition for the international community by driving many millions—eventually half the population—from their homes," Jeffrey says.
In a February 16, 2021, analysis, Mona Yacoubian, senior advisor on Syria, the Middle East and North Africa at the United States Institute of Peace, examines Russia's "endgame" in Syria.
"While Moscow professes the importance of restoring Syria's full territorial integrity (...), the Russian endgame recognises that powerful external actors will continue to exert control over important swathes of Syria," she writes.
"Rather than bearing the risks and undertaking the significant investment necessary to oust these foreign powers from Syria, Russia instead has developed a synergistic partnership with one—Turkey—while limiting its opposition to provocative probes of the other—the United States."
That's because the many constraints Russia faces, both in Syria as well as domestically, inhibit its ability to project maximum power, Yacoubian says.