Despite China's assurances and those of the Syrian regime, Syria's accession to China's Belt and Road Initiative (BRI) will have predictable negative consequences for the country in the short and long term, analysts said.
Syria's January 12 accession to the BRI will help Syria "open broad horizons of co-operation with China" and other countries, state media outlet SANA reported.
Chinese media was similarly ebullient, with China's ambassador to Syria saying the move "provides the greatest contribution to the economic reconstruction and social development in Syria", China's Xinhua news agency reported.
This is far from the truth, analysts told Al-Mashareq, noting that any assistance from China comes at a heavy price and with many strings attached, as numerous other countries have discovered to their detriment.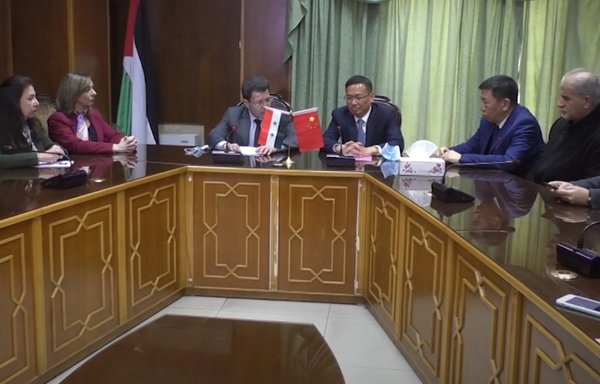 It will distance Syria from the international community, especially Western powers, they said, and is a flagrant violation of the Caesar Act -- US sanctions designed to hold the regime of Bashar al-Assad to account for its crimes.
The Caesar Syria Civilian Protection Act of 2019 penalises companies worldwide that deal with the Syrian regime and blocks US reconstruction aid until perpetrators of abuses in Syria's war are brought to justice.
The European Union (EU) has likewise demanded "accountability" from the Syrian regime and has insisted it will not spend money on a broader rebuilding in Syria until al-Assad commits to a genuine political process to resolve the conflict.
Soft power penetration
China is promoting the BRI as an economic and commercial initiative that will link the countries of the world through one economic "Silk Road", Syrian lawyer Bashir al-Bassam said.
But it is actually a cover for China's soft power penetration into many countries, with observers raising red flags over reliance on Chinese funding.
China has denied any ulterior motives, but critics note that it uses the financial leverage resulting from the BRI to boost its clout via "debt-trap diplomacy".
It has imposed harsh terms on loan recipients and written contracts that allow it to seize strategic assets when debtor countries run into financial problems.
Under cover of the BRI, China has asserted strategic, political and even military dominion in Syria "in a way that pits Syria, which has totally sided with the East camp, against the regional and international communities", al-Bassam said.
"As if Syria and the Syrians have not had enough problems as a result of the [regime's] embrace of Russia and Iran and hostility toward the international community, here's the Syrian government now opening the door to China."
Syria's accession to the BRI "will inflict a heavy price on the Syrian state in general and the Syrian people in particular as an inevitable consequence", al-Bassam said.
With its latest move, "the Syrian regime has completely gravitated towards the Iranian-Russian-Chinese axis, which will put it in a difficult position", Syrian economist Mahmoud Mustafa said.
Syria's decision to join the BRI is "a challenge to the Caesar Act, which aims to curb the crimes committed by the Syrian regime against the people", he said.
"The negative consequence also will impact Lebanon, because the Lebanese ports, especially in the north, will be China's gateway into Syria, which puts Lebanon at risk of sanctions related to the Caesar Act," Mustafa said.
'Insignificant' economic benefit
The economic benefit that Syrians will derive from the agreements with China "will not amount to much, especially as it comes in violation of the international will", Mustafa said.
This calls for "the implementation of political reforms, ensuring that the Syrian people are not subjected to any further crimes, and holding officials to account before undertaking any reconstruction activities", he said.
Starting the reconstruction process without these safeguards "will ensure the survival of the regime and continuation of its criminal and illegal practices for a longer period -- under the protection of three countries", he noted.
Iran, Russia and China are "akin to an axis of evil", Mustafa said, which concerns not only the Middle East but the entire world.
"Furthermore, the economic and commercial distancing from the international system and limiting it to the three countries will delay the recovery of the Syrian economy for many years and limit it to a very narrow scope," he said.
This goes against current global open market trends.
"It is not logical to have exclusive trade relations with two countries, namely China and Iran, that are among the most heavily sanctioned countries for political tensions and flagrant violations of international law," Mustafa said.
Fierce battle for influence
"Despite the declared political and strategic alliance among Russia, Iran and China, it is no secret that there is a heated conflict between the three countries," said journalist and international political researcher Alaa Mahmoud.
This friction is related to their individual efforts to expand their footholds and spheres of influence in the region's countries, she said.
Since China has officially entered the Syrian arena, she said, the matter will be about obtaining a "share of the reconstruction cake, especially in oil, gas and natural resources, in addition to energy and transportation".
There have been reports that the Chinese are seeking to build a railway that reaches the Iraqi border, she said, in addition to a network of main internal roads, and ports.
They also seek to expand key areas and cities.
These areas are either under Iranian control or under Russian control at present, "which will undoubtedly turn Syria into an arena of fierce conflict between the three countries", she added.
This state of affairs could spark vicious rivalry that would undoubtedly have a negative impact on the Syrian people, Mahmoud said.