AL-HASAKEH -- Syrian Democratic Forces on Wednesday (January 26) said they have fully recaptured a prison in al-Hasakeh that was attacked last week by the "Islamic State of Iraq and Syria" (ISIS), bringing a days-long standoff to an end.
Days of operations in the northeastern city, which is administered by the Kurds, "culminated with our entire control" over Ghwayran prison, after all holdout ISIS fighters surrendered, said SDF spokesman Farhad Shami.
With US and other foreign forces stepping in to support Kurdish elite units, the neighbourhood around the prison was secured and the besieged militants inside the prison started turning themselves in.
Hundreds of ISIS fighters surrendered Wednesday at Ghwayran, where they had been holed up for days after more than 100 ISIS elements attacked the prison last week.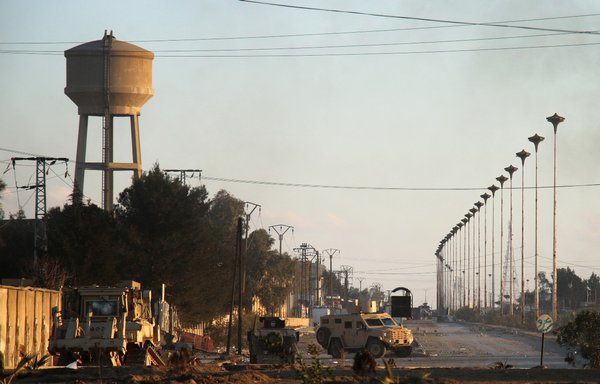 The brazen assault on the Kurdish-run facility involved a double suicide bombing and saw the extremists free fellow ISIS elements, seize weapons and take over several cellblocks, according to the Syrian Observatory for Human Rights.
It is considered the most sophisticated attack carried out by the group since it was territorially defeated in Syria nearly three years ago.
More than 1,000 men have surrendered to Kurdish forces combing areas inside and outside the prison, the SDF and the Observatory said Wednesday.
Fighting in and around the prison since January 19 has killed 181 people, including 124 ISIS elements, 50 Kurdish fighters and seven civilians, according to the Observatory.
Kurdish forces had cut off supplies of food and water to the jail for two days to pressure holdout extremists to surrender, the Observatory said.
Since Monday, it said, Kurdish forces have freed at least 32 prison staff, some of whom appeared in video footage that ISIS had shared on social media after launching the attack.
US forces based in the region are deployed heavily in al-Hasakeh and have been involved in the fighting, Pentagon spokesman John Kirby said Monday.
US forces conducted a series of targeted strikes on ISIS fighters who were attacking the SDF from buildings in the area, and provided "limited" ground support to help establish secure areas around the prison, he said.
According to the Observatory, Ghwayran is the prison with the largest number of suspected ISIS members in Syria.
The Kurdish administration has long warned it does not have the capacity to hold, let alone put on trial, the more than 12,000 ISIS suspects from around 50 countries who are being held in their prisons.
"This issue is an international problem," the administration's top foreign policy official, Abdulkarim Omar, said Wednesday. "We cannot face it alone."