Muslim clerics say they support US sanctions against China over its mistreatment of Muslim minorities in Xinjiang, and that Muslim countries should follow in Washington's example.
The United States on December 16 unleashed a volley of actions against China, with lawmakers voting to curb trade and new sanctions slapped on the world's top consumer drone maker.
The US Senate unanimously voted to make the United States the first country to ban virtually all imports from China's Xinjiang region over forced labour concerns and US President Joe Biden signed it into law on December 23.
An estimated 20% of garments imported into the United States each year include some cotton from Xinjiang.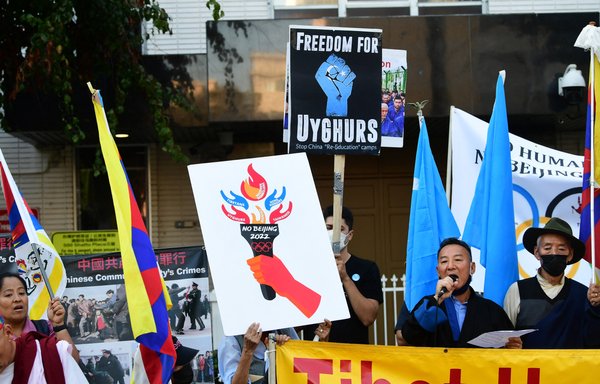 At least one million Uighurs and other Turkic-speaking, mostly Muslim minorities have been incarcerated in camps in China's northwestern region of Xinjiang.
Human rights groups and foreign governments have found evidence of mass detentions, forced labour, political indoctrination, torture, forced sterilisation and sexual abuse.
China is also trying to root out their Islamic cultural traditions and forcibly assimilate them into China's Han majority.
Washington has described the campaign as genocide, while Beijing describes the sites as vocational training centres
The Biden administration has also fired off a round of sanctions over surveillance in Xinjiang, where rights groups say China has been honing new technologies in artificial intelligence and DNA tracking to keep tabs on Uighurs.
Companies hit by US Treasury sanctions include SZ DJI Technology, by far the world's largest producer of consumer drones.
Other companies targeted included Xiamen Meiya Pico Information, which has developed a mobile application to track files on phones, and Cloudwalk Technology, developed to recognise faces of Uighurs and Tibetans and has since been deployed to Zimbabwe to help improve the tech, according to the Treasury.
"These eight entities actively support the surveillance and tracking of members of ethnic and religious minority groups in the PRC, predominantly Muslim Uighurs in Xinjiang," Secretary of State Antony Blinken said, referring to the People's Republic of China.
On December 17, Beijing said it "firmly opposes" the move and would take "all necessary measures" to protect Chinese companies.
Collective stand
The US sanctions on the Chinese government for its violations of Muslims' rights in China represent "an honourable and humanitarian position", said Nayef Abd Rabbu, an al-Azhari sheikh and professor of sharia and law at Al-Azhar University.
The sanctions "will be an effective tool [that influences] many governments to take a similar step and pressure the Chinese government to stop its racist abuse of this segment of the Chinese population".
Chinese officials' insistence on suggesting that the sanctions were politically driven is "false and unacceptable", he said, "as the facts confirm these violations, and most of them are documented".
Sheikh Hashem al-Mujhid, a Shia cleric in the al-Ahsa region of Saudi Arabia, said the US decision to punish China for its abuse of Muslims' rights stems from the US policy of recognising religious liberty.
The United States has close relations with Islamic countries and is engaged with them in strategic partnerships covering aspects ranging from security to economic relations, based on mutual respect without regard to ethnicity, race or religion, he said.
Al-Mujhid said Muslim imams around the world could be an effective and essential tool in stopping violations of the rights of Muslims.
"This applies not only apply to Arab, Middle Eastern and Gulf countries but primarily to European countries that allow, stand behind and support freedom of belief and religion."
"A collective stand will have a significant and highly effective impact in confronting China to get it to stop the marginalisation, detention and [forced] sterilisation of Chinese Muslims."
International catalyst
Sheikh Abdullah al-Husseini, a graduate of Al-Azhar University and imam of the Gudaibiya Mosque in Manama, the capital of Bahrain, said he hopes the sanctions "will serve as a catalyst for Arab, Islamic and even European countries to take a similar step".
"No religious minority anywhere in the world is able to end the injustice it is subjected to without international support," he said.
"Muslims have integrated into many countries and societies and have reached influential leadership positions, especially in European countries," he said.
"Advocating for China's Muslims has thus become a necessity to stop the infringements of their rights, and a key factor in alleviating their suffering and ensuring stable lives for them, the same as other Chinese citizens," he said.
"Islamic countries and countries with Muslim-majority populations have not done what they should towards the Muslims of China," al-Husseini added.
"Perhaps this is due to political and economic calculations and bilateral agreements, but these obstacles can be overcome... under the umbrella of a collective position, in a way that protect the rights of this minority while not putting the interests of these countries at risk."
Arab and Islamic organisations could offer solutions that satisfy everyone and secure a decent and normal life for China's Muslims, he said.