Recent threats that Iran-linked Iraqi militias made over the US presence in Iraq are mere propaganda, Iraqi observers said -- a political stunt to compensate for their defeat in the parliamentary elections and preserve their existence.
On December 8, Babylon Brigade leader Rayan al-Kildani -- who is sanctioned by the US Treasury -- announced that Iran-aligned Kataib Sayed al-Shuhada had postponed its "escalation" against US forces until "further notice, to allow for the celebration of Christmas".
The postponement came after Kataib Sayed al-Shuhada leader Abu Walaa al-Walai announced a recruitment drive on November 19, and called on volunteers to join his militia.
He said the purpose of this move was "to raise the level of readiness in preparation for the confrontation with US forces on December 31", in the event they do not withdraw from Iraq by that date.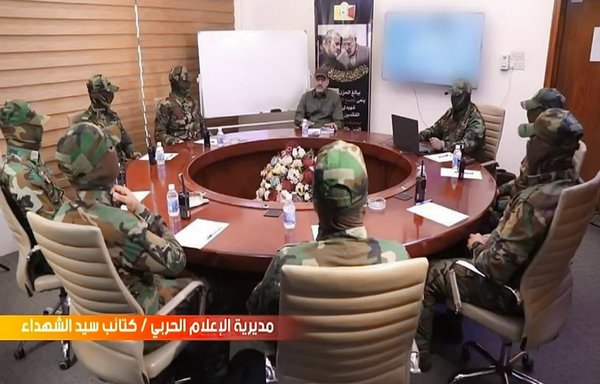 The US-led international coalition against the "Islamic State of Iraq and Syria" (ISIS) on December 9 announced it had finished its combat mission in Iraq and would shift to a training and advisory role.
The approximately 2,500 US and 1,000 other international coalition troops deployed in Iraq will remain in the country, where they have been acting as military advisers and trainers since mid-2020.
The coalition has stressed that it remains in Iraq at the invitation of the government, with its troops now stationed at three Iraqi bases managed by Iraqi forces.
Mission change
Military expert Jalil Khalaf Shwayel said the Iran-backed militias' talk of recruitment drives and of escalation against US forces and its proclaimed postponement of said escalation are "nothing but propaganda".
"They are mere threats that have no effect or importance," he said, noting that the mission of the US forces has shifted to providing training and technical advice to the Iraqi army.
They are no longer present in a combat capacity, he said, despite what the militias profess in their propaganda.
The change in mission follows a strategic dialogue between Iraqi Prime Minister Mustafa Kadhemi and US President Joe Biden in July, during which the two agreed that US combat forces would have no presence in Iraq by the end of this year.
The security relationship between the two countries "will shift entirely to providing advice and training and intelligence co-operation", Shwayel said.
He highlighted Iraq's need for a new US role, to continue to put pressure on ISIS extremists who are still active and launching sporadic attacks.
Since November 28, ISIS elements have launched three violent attacks in the north of the country, killing 20 security personnel and civilians.
Threats stem from election losses
The militias' recent threats are politically motivated, security analyst and retired Iraqi military officer Majid al-Qaisi told Al-Mashareq.
"Their defeat in the elections drove them to try anything to compensate for that defeat," he said.
The militias requested a vote recount, and the result of the recount confirmed their defeat, he said, so they tried to apply pressure by mobilising their followers to demonstrate in protest but to no avail.
Now they are trying the rhetoric of threats and escalation to embarrass the government and reap some political gains, al-Qaisi said.
"The election results set the militias back and proved that these groups have no popular appeal or support among Iraqis, who consider them illegal groups that threaten their security," he said.
He said the militias' calls to the youth to volunteer and join their ranks are "calls for which they will be held accountable before the law and the constitution".
There is no justification for those appeals, he explained, since "there are sufficient government forces preserving the sovereignty and security of the country and defending its interests".
Al-Qaisi questioned the veracity of the militia leaders' assertions about the intake of large numbers of volunteers.
"We heard on social media that the number of recruits has reached 40,000, but these are merely claims that cannot be verified by independent sources," he said.
The call for volunteers also came in response to Muqtada al-Sadr's move towards disbanding his militias, he said, which left these groups fearful about their very existence -- not just their political future.
Al-Sadr renewed his demand that weapons be limited to the state and that "rogue militias" be disbanded in the wake of a deadly motorcycle bombing in the southern city of Basra.
He claimed the incident was politically motivated, warning against dragging Iraq into chaos just because some parties want additional parliamentary seats.
The militias have been accused of being behind a December 7 motorcycle bomb explosion at al-Samoud intersection in central Basra.
The incident was a failed attempt on the life of an intelligence officer who had been investigating the targeted killings of activists.
The attack left four civilians dead and a large number of passersby wounded.