KABUL -- The collapse of the Afghan government in August ushered in a profound number of changes to Afghanistan, but the threat stemming from Iran-backed militancy has persisted.
Iran's unease over the political and security developments that have occurred in neighbouring Afghanistan over the past few months is well documented.
To that end, Iran, through its Islamic Revolutionary Guard Corps (IRGC), has maintained and at times expanded its project of supporting the Afghan-comprised militia called the Fatemiyoun Division.
While the group's activities are mainly focused on projects and objectives in Syria -- demographically changing remote towns into "Little Irans" comprised of Shia fighters and zealots and assisting other Iran-aligned militias in attacking US and allied forces in Syria and Iraq -- worries continue to grow concerning Tehran's plans for the group in Afghanistan.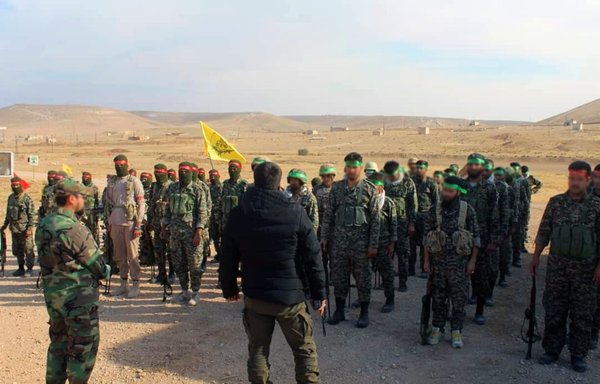 Fighting has waned in Syria in recent years, enabling the Iranian regime to redeploy the Fatemiyoun if it wishes.
"This army of mujahideen, for the sake of God, has very big goals and will not stop its 'jihad' until... the creation of a new Islamic civilisation, the realisation of which was one of the pivotal orders of [Iranian supreme leader] Imam [Ali] Khamenei," said Sayed Ilyas, a senior commander of the Fatemiyoun Division, at a Fatemiyoun rally last year.
Iran's recruiting of Afghans into the Fatemiyoun Division continues, as evidenced by the group's active media presence on Telegram and its posting of current events in Iran and Syria.
"The Fatemiyoun are heavily under the influence of the Revolutionary Guards, and Iran can use them in its proxy wars wherever it wants to," said Abdul Qader Kamel, a political analyst in Herat city.
All this comes as the second anniversary of the death of Iranian commander Qassem Soleimani -- the creator of the Fatemiyoun -- approaches, and his legacy continues to torment impoverished Afghan migrants in Iran.
Lavish promises broken
The Fatemiyoun preys on impoverished Afghans working in Iran who are desperate to support their families, and now observers say the militia has become a serious threat to Afghanistan and the region.
Although the IRGC does not release casualty figures for Fatemiyoun members, thousands of Afghan migrants have presumably died fighting proxy wars for Tehran.
Some 917 Afghan nationals were killed in Syria from January 2012 to September 2019, Washington-based IRGC watcher Ali Alfoneh told Radio Free Europe/Radio Liberty in February 2020, based on his own database.
Many Afghan recruits join the Fatemiyoun Division in exchange for promises of Iranian citizenship, benefits and a monthly payment to their families in addition to the monthly salary they receive as militia members.
Those lavish promises, Fatemiyoun veterans and relatives of dead Fatemiyoun members have complained, seldom come true.
Iranian recruiters mislead the new Fatemiyoun members in yet another way: telling them they will guard venerated Syrian shrines from insurgent attack. Instead, they send them into battle as cannon fodder.
Tragic stories
Afghans who have returned to their country from Iran share stories about migrants who signed up to be members of the Fatemiyoun Division.
Reza, a resident of Daikundi province who asked to use an alias, said his 24-year-old cousin Ewaz Ali joined the Fatemiyoun Division five years ago but never returned after leaving for Syria.
Two years later the IRGC informed his family that their son had been killed in Syria, Reza said.
"The Iranian government had promised Ewaz Ali and his family that if he went to war in Syria, it would give them a house and pay 10 million tomans [$2,367] a month, but after Ewaz Ali was killed, it did not give anything to his family," Reza said.
"An Iranian also encouraged me to go to Syria to defend the shrine of Zainab, but I did not accept because I realised that he was lying," Reza said after he was expelled from Iran Sunday (December 19).
Hussain, who goes by one name, said during his time in Iran he saw Iranian forces luring Afghan Hazara youths into the war in Syria with false promises.
Iranian authorities deported him to Herat province three months ago.
"In addition to Iranian men, a number of Iranian women also came to the homes of Afghan Hazaras and told them about ISIS [the 'Islamic State of Iraq and Syria']'s attack on the shrine of Zainab and encouraged them to send their youth to Syria to defend the shrine," he said.
"More than 10 young men from our neighbourhood [in Iran] who had been sent to Syria for war were killed, but only five bodies were returned to their families," he added.
"Several of my close friends who in the past were members of the Fatemiyoun returned to Afghanistan after they realised that the Iranian government lied to them and did not live up to its commitments," Hussain said.
A threat to Afghanistan
The Fatemiyoun Division is a serious threat to the security of Afghanistan, said Muhammad Iqbal Naderi, a military analyst based in Zaranj city, Nimroz province.
"It is very likely that Iran will use the Fatemiyoun Division to fan the flames of war in Afghanistan, especially in the western provinces," Naderi said.
"In recent years, thousands of members of the Fatemiyoun have returned to Afghanistan and are living in different cities. These people are a great danger to Afghanistan if they still follow the orders of the IRGC," he added.
In fact, in an interview on an Afghan TV channel last December, former Iranian Foreign Minister Javad Zarif said the Fatemiyoun "are the best forces the Afghan government can use if it wishes".
[Omar from Herat contributed to this report.]