BAGHDAD -- A deadly motorcycle bombing in the southern Iraqi city of Basra this week targeted an intelligence officer in the security services, Prime Minister Mustafa Kadhemi said Wednesday (December 8).
The officer in question had been investigating the targeted killings of activists, according to a security source who spoke on condition of anonymity.
At least four civilians were killed and four others wounded in a Tuesday explosion involving a motorcycle near a hospital in the city of Basra, security forces said.
The blast hit at a crossroads in central Basra, near a hospital and a popular market. Two vehicles near the motorcycle caught fire, and shrapnel pierced a minibus, whose windows were smeared with blood.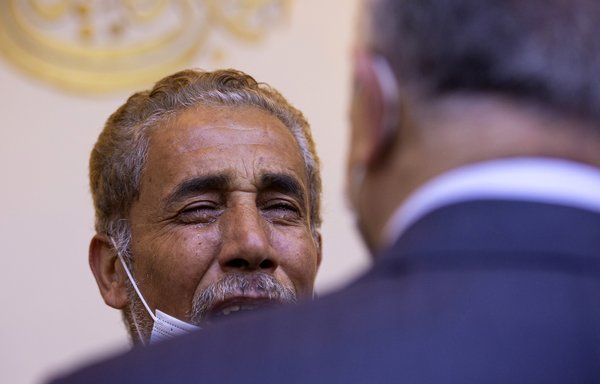 Three days of mourning were announced following the attack, which has not been claimed.
Following initial speculation that it had been the "Islamic State of Iraq and Syria" (ISIS), the finger of blame now seems to be pointed squarely towards militias operating in the area, some linked to Iran.
"Yesterday, we witnessed an attempt to assassinate an officer in Basra because he was searching for the criminals and death squads," Kadhemi said.
Since the popular protest movement began in October 2019 over rampant corruption and Iran's outsized influence in Iraq, dozens of activists and protesters have been targeted in assassinations or attempted killings.
Others have been abducted or threatened.
Kadhemi's government has repeatedly vowed to track down the perpetrators.
'Cowardly terrorist attack'
On Wednesday, Kadhemi said the killers of prominent academic and government adviser Hisham al-Hashemi, who was shot near his home in July 2020, were now "in prison awaiting justice".
Kadhemi in July announced the arrest of four suspects in al-Hashemi's slaying, and state television broadcast brief clips of the alleged confession of police lieutenant Ahmed al-Kenani, who said he used a pistol to murder the academic.
Surveillance footage of the attack, shown on state television, purports to show al-Kenani carrying out the killing with three others, riding on two motorcycles.
A security source said al-Kenani was affiliated with Kataib Hizbullah, the fiercest pro-Iran militia in Iraq.
Al-Hashemi had criticised Kataib Hizbullah in his writings and media commentary.
After he was killed, activists shared on social media messages in which al-Hashemi confirmed he had received death threats from the militia.
Kadhemi on Wednesday called for a rapid investigation to identify who carried out the "cowardly terrorist attack" in Basra.
He added on Twitter that security forces "will not permit the security of the people to be threatened".
"We salute the courageous judges in the city of Basra who were not terrorised by the blackmail and intimidation of groups and death squads," he said.
IRGC-aligned 'death squad'
In November, a Basra court handed down a death sentence to a man convicted of killing journalist Ahmed Abdel-Samad, known for his opposition to Iran-aligned parties, photographer Safaa Ghali and activist Mujtaba Ahmed.
The perpetrator was part of an Islamic Revolutionary Guard Corps (IRGC)-aligned "death squad" operating in Basra.
The security and intelligence pursuit and investigation of the death squad provoked the wrath of Asaib Ahl al-Haq, which is widely believed to be behind the recent assassinations of Iraqi officers.
On November 11, a member of the Ministry of Interior's intelligence agency was killed in an armed attack carried out by unknown persons in Basra.
Iraqi bloggers accused Asaib Ahl al-Haq of assassinating the officer for his involvement in exposing the death squads.
Before that, unknown gunmen assassinated two intelligence service officers in Baghdad: Lt. Col. Mahmoud Laith Hussein (killed March 21) and the agency's assistant director of surveillance, Col. Nibras Farman "Abu Ali" (on June 7).
Hours after the failed assassination attempt against him, on November 7, Kadhemi vowed to pursue the killers of Farman, implicitly implicating the militias and Asaib Ahl al-Haq in the attempt on his own life.