BEIRUT -- Lebanon's political process will not advance while Hizbullah continues to use its large store of weapons to threaten, intimidate and assassinate its political opponents, experts said.
The party's weapons were on full display in Beirut on October 14, as militiamen from Hizbullah and the Amal movement fired assault rifles and rocket-propelled grenades (RPGs) towards the Christian neighbourhood of Ain al-Remmaneh.
The fighting erupted amid a Hizbullah/Amal rally to demand the dismissal of Judge Tarek al-Bitar, who is leading the probe into the August 2020 Beirut port blast.
A few days after the incident, Hizbullah chief Hassan Nasrallah made it known that his party had 100,000 "trained" and "armed" fighters at its disposal, revealing for the first time how many fighters were in its ranks, AFP reported.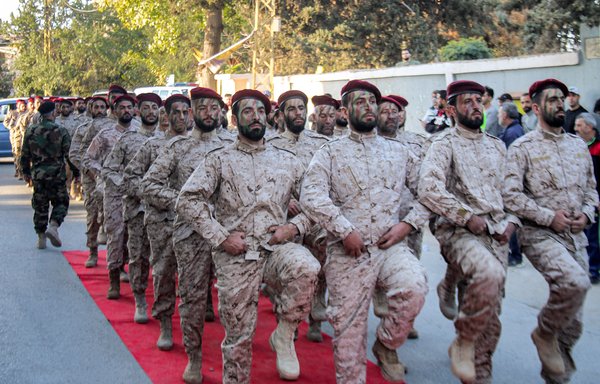 With its recent actions, Change Movement head Elie Mahfoud said, Hizbullah "has proven that it is a militia that uses its weapons internally".
Hizbullah controls the state and the levers of power, he said, accusing the Iran-backed party of being behind "every assassination that takes place in Lebanon".
"As long as it holds onto its weapons and the state, it will be the prime suspect in the series of assassinations and the harassment of its opponents," he said.
"There is no chance for Lebanon to get back on its feet with Hizbullah present," he added, noting that Lebanon "will not have a sound political system in the presence of an armed party that threatens the opposition with its weapons".
Hizbullah's weapons have been a major factor in the government's failure and disruption, through affiliated ministers who undermine it and who also sabotage Lebanon's relations with its Arab and Gulf neighbours, Mahfoud said.
"We call for a divorce from Hizbullah, because we cannot live with a militia that is Iranian, not Lebanese," he said.
Political assassinations
Since its inception, Hizbullah has engaged in political assassinations of figures who oppose its project, notably the February 14, 2005, slaying of Prime Minister Rafik Hariri, political writer Tony Boulos told Al-Mashareq.
"Hizbullah assassinated politicians, activists and journalists who might have had a negative impact on the spread of its concepts and ideology," he said, adopting a strategy of "political subjugation by force".
"Its strategy succeeded, and Hizbullah has bent many politicians to its will," Boulos added. "There is no longer a serious opponent of its policy in the Sunni and Druze arenas."
Meanwhile, he said, Nasrallah's announcement that 100,000 fighters are ready to deploy was intended to threaten and intimidate "the Christian street".
Boulos said Hizbullah's agenda "conflicts with any government, institutions or state, and has systematically destroyed the state, infiltrated it, caused it to fail and rendered it powerless".
The party has done this through the establishment of parallel systems, he said, which include a security apparatus, communications network, financial institutions such as al-Qard al-Hassan, and medical and other institutions.
"Hizbullah has a government and an executive authority separate from the state that make up its parallel statelet," he said. "It is waiting for the collapse of the [Lebanese] state to emerge as a legitimate state."
The party has demonstrated by its actions that it is a state above the state, as evidenced by its ventures outside Lebanon to fight in countries such as Syria and Yemen, he added.
Hizbullah kept its weapons
"Hizbullah is an armed group that is not licensed by the Ministry of Interior," said Shia Reform Movement member Hussein Ezzeddine.
"It held onto its weapons after the Israeli army left Lebanon and strengthened its arsenal by purchasing weapons, developing Iranian and locally made missiles, and storing them in warehouses throughout Lebanon," he said.
"Hizbullah created the conditions [that enabled it] to use its weapons and demonstrate its power, beginning with the July 2006 war and its claim that it is capable of confronting Israel," he said.
By virtue of its weapons, "Hizbullah behaves as a state within a state in Lebanon", Ezzeddine said.
"This has led countries to lose confidence in our ability as a people to bring about change, and led us to total collapse that threatens our very existence."
Logic dictates "that we confront Hizbullah, its project and its weapons", Ezzeddine said, "and sovereignty dictates that we choose between the state and surrendering to Hizbullah's project and the hegemony of its weapons".