Between attacks on Iraqi and foreign interests, threats of escalation after the Iraqi elections, and most recently sectarian killings in Diyala province, the Iran-backed Asaib Ahl al-Haq has been quickly losing favour with the Iraqi public.
After an "Islamic State of Iraq and Syria" (ISIS) attack October 26 on al-Rashad neighbourhood in al-Muqdadiya district of Diyala province left 15 dead, armed men allegedly linked to Iran-backed militias, including Asaib Ahl al-Haq, went on a revenge killing spree in neighbouring Sunni-majority towns.
At least three children were among the dead, and several homes were set on fire in the villages of Nahr al-Imam and al-Ameriya, security sources said.
In an October 31 statement to the United Nations Human Rights Council and Security Council, the Al-Rafidain International Centre for Justice and Human Rights called for a quick and impartial investigation into the killings.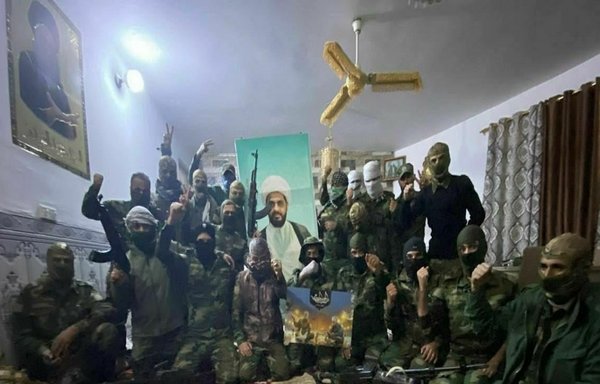 It namely blamed Asaib Ahl al-Haq leader Qais al-Khazaali and Badr Organisation head Hadi al-Ameri for the "sectarian crimes" in Diyala, and urged to hold all those responsible accountable.
Asaib Ahl al-Haq meanwhile continues to denounce the results of the October 10 legislative elections, accusing several countries of manipulating the results, while issuing threats against Iraqi government institutions.
Asaib Ahl al-Haq's political bloc, al-Sadiquon, and other political parties representing armed groups backed by Iran that make up the Fatah alliance -- the political wing of the Popular Mobilisation Forces (PMF) -- suffered a resounding defeat in the elections.
The alliance lost more than half of its 48 deputies.
After the election, the militia's followers and other defeated groups held protests in Baghdad, blocking roads and burning tires, while threatening more escalatory acts.
Refusal to admit defeat
Losers in an election "must examine the causes [behind their loss], as there are certainly reasons that drove the voters to punish this or that party or political bloc", Iraqi Centre for Strategic Studies director Ghazi Faisal said.
Asaib Ahl al-Haq and the other Iran-allied militias are refusing to admit defeat, however.
An escalation of threats by such groups against the Iraqi government, the Independent High Electoral Commission (IHEC) and international diplomatic missions shows that they are continuing to threaten security, Faisal said.
By refusing to submit to the constitutional and legal process of elections, Asaib Ahl al-Haq is pushing the country toward internal strife and committing a "major sin" against Iraqis, he added.
Asaib Ahl al-Haq's threats come as several Shia militias split from the PMF.
Maytham al-Zaidi, commander of the Al-Abbas Combat Division Shia militia, announced on September 28 in Karbala the creation of Hashd al-Atabat (Shrine Units), which is aligned with Grand Ayatollah Ali al-Sistani, Iraq's top Shia cleric.
The new unit includes four groups who decided last year to join the Iraqi Ministry of Defence and end their association with the PMF.
The move angered the leaders of the Iran-backed militias, in particular al-Khazaali.
Cross-border tensions
Asaib Ahl al-Haq has also taken part in the Syrian conflict alongside the regime of Bashar al-Assad, an Iran ally.
The militia continues to co-ordinate its armed activities with other Iranian proxies backed by the Islamic Revolutionary Guard Corps (IRGC) to maintain Iran's influence over the border area between eastern Syria and Iraq.
On September 16, al-Khazaali issued threats against the Iraqi government after unidentified drones targeted militia vehicles on the Syrian side of the border area, killing three militants.
Tensions are high in the region after an October 20 drone attack targeted al-Tanf base in the tri-border area of southern Syria, where about 200 US security personnel are stationed.
No US casualties were reported, but photographs circulated online showed considerable damage to the base.
At an October 26 briefing, Pentagon spokesman John Kirby described the incident as "a complex, co-ordinated and deliberate attack", saying Iran-aligned militias have carried out similar attacks against US troops elsewhere.
The Iranian regime is pushing its proxies, including Asaib Ahl al-Haq, to plunge Iraq and the region into a spiral of conflict, Iraqi tribal leader Muzahim al-Huweit told Al-Mashareq.
Such groups continue to defy Iraqi efforts to distance the country from policies aimed at fueling violence and turmoil.
Asaib Ahl al-Haq is also persisting in behaviour detrimental to internal security and civil peace, al-Huweit said.
Its repeated threats to the government and public order are "a clear violation of the law and the constitution and a derogation of national sovereignty", he added.
The group has been behind repeated attacks with Iranian-made rockets on Iraqi government headquarters, civilian buildings and military bases, inflicting casualties among both civilians and military personnel.