"This is the widest hack we have ever seen in Iran," a cyber security expert told Al-Mashareq following a nationwide hacking incident earlier this week that brought gas stations across the country to a standstill.
The incident on Tuesday (October 26) -- one of a string of recent hacking instances in Iran -- disrupted the process of refueling vehicles and trucks with subsidised gasoline at 4,300 smart gas stations across the country.
At the same time, advertisements on electronic billboards in Tehran and Esfahan were replaced with messages denouncing the Iranian regime and its leader, Ali Khamenei.
"Khamenei! Where is our gasoline?" one billboard demanded.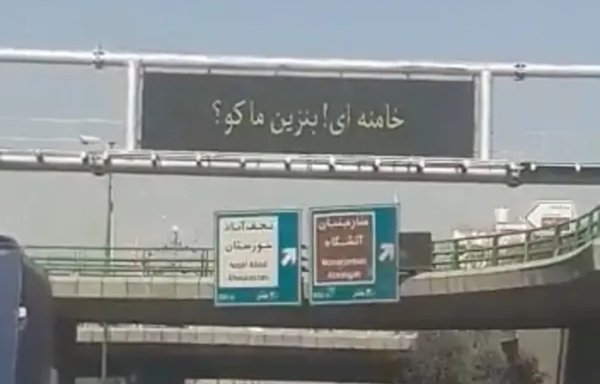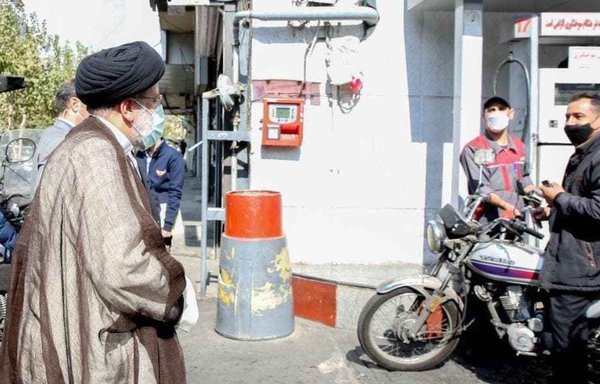 "Gasoline at Jamaran Gas Station", another announced, in reference to the northern Tehran neighbourhood where both Khamenei and his predecessor, Islamic Republic founder Rouhollah Khomeini, have lived.
Following nationwide protests over gas prices two years ago, the government has been distributing subsidised fuel at 4,300 gas stations across Iran.
Members of the public can refuel their vehicles using smart cards, which deduct the amount they use from their monthly quota each time they pump gas.
Once their monthly quota is used up, they need to buy gas at a much higher price. Non-subsidised gasoline costs twice as much as subsidised gasoline.
Serial hacking
There have been several recent instances of hacking, including a July hack at train stations in Iran, which saw departure and arrival times replaced with messages about alleged delays and cancellations on display boards, disrupting train schedules.
The messages also urged passengers to call the office of Khamenei for more information.
Meanwhile, a cyber hack into the prison system in August revealed maltreatment of prisoners.
Iran observers point out that these incidents, along with several outbreaks of fire in nuclear plants and missile bases during the summer months, reveal a vulnerable government that is unable to safeguard its infrastructure.
According to an Iran-based cyber security expert, who spoke with Al-Mashareq on the condition of anonymity, the gas station hack is especially noteworthy.
"This particular incident required major infiltration into the government database, and would not have been feasible without system-wide co-operation," the expert said.
"This hack is incomparable to anything we've seen before in Iran's infrastructure."
In the days following the hack, many gas stations were still grappling with the fallout, and Persian social media were awash with Iranians' complaints and comments ridiculing the system.
Many reported having to abandon their cars because they could not buy gas.
"What a pain. The system was hacked right when my car broke down on the road," posted "Sabour", a Twitter user from the city of Yazd in central Iran.
Afshin Elahi, a 52-year-old Tehran resident, told Al-Mashareq he was frantically going from one gas station to another in hopes of finding fuel.
"I don't trust this regime, nor does anyone around me, so we didn't believe a system outage, which was what officials stated," he said.
Drivers waited in long lines for hours to fill up their vehicles, as gas station owners said they had no idea what was going on.
Once it became clear the issue could not be quickly resolved, gas station owners and managers asked customers to stop waiting in vain. But by then the public had become worried about a potential gas shortage, and many refused to leave.
Government response
Regime officials attempted to reassure anxious crowds queuing for gas, accusing their usual culprit -- "the enemy" -- of disrupting the country's infrastructure ahead of the second anniversary of the November 2019 protests.
A drastic hike in fuel prices sparked massive protests across the country in 2019. In its crackdown on the demonstrations, the regime's security apparatus arrested thousands of people and killed dozens across the nation.
On the day the gas stations' system was hacked, and for two days afterward, Iranian government officials offered an array of contradicting explanations that even confused some members of the Iranian parliament (Majles).
Iranian state television had initially reported the gas flow interruption was due to "disruptions to the computer system".
But later Tuesday it aired a Supreme National Security Council confirmation that there had been a cyber attack on the gas distribution computer system, adding that "details of the attack and its source are under investigation".
The conservative Fars news agency linked the breakdown to opponents ahead of the second anniversary of the protests.
"Government officials need to unify their explanations and messages at times of crisis," said former national security committee deputy chairman Mansour Haghighatpour.
Iranian President Ebrahim Raisi, who on Wednesday paid an impromptu visit to a gas station in Ferdowsi Square in Tehran, assured the public of the government's "solid response" to the crisis.
"This is neither the first nor the last time our infrastructure is hacked," he said.
An urgent meeting was held at Iran's national society for the distribution of petrol products in order to resolve the issue, the body's spokeswoman, Fatemeh Kahi, told state television.
In Tehran, technicians from the Oil Ministry took IT systems offline at a number of gas stations to distribute fuel manually, state television reported late Tuesday.
Public distrust
As of noon Thursday, the system was still in disarray, with only 90 of the 280 smart gas stations in Tehran back to normal operations.
"I doubt this is hacking," said 38-year-old Esfahan resident Leili Haratizadeh.
"I think they just intend to take away our monthly fuel quota and stop distributing subsidised gasoline, and this way, they are leaving people desperate enough to buy fuel at any price," she told Al-Mashareq.
Interior Minister Ahmed Vahidi on Tuesday assured people there were no plans to raise gasoline prices, calling on them "not to worry".
The Ministry of Oil has announced that even if motorists are unable to claim their allocated amount of subsidised gas before the time limit expires, they will be able to refuel at the subsidised rate once the system is functional again.
Iranian Supreme National Security Council secretary Ali Shamkhani on Wednesday admitted that "the first line of defence in the country's passive defence structure was broken in this incident".
"But the next lines remain intact," he added.
To many Iran observers, the regime appears to be so vulnerable that it cannot even safeguard its most significant systems.
They noted that regime officials' statements acknowledging a hack out of their control demonstrate that Tehran is well aware of this vulnerability.