Two key "missile cities" in the vicinity of Tabriz and Khorramabad serve as the hub of Iran's missile programme, and observers point out that any incident occurring at these bases would drastically reduce the country's missile capability.
Iranian state television late last year aired footage of a new Islamic Revolutionary Guard Corps (IRGC) "missile city" -- a missile base in the vicinity of Tabriz, the provincial capital of East Azarbaijan in the country's northwest.
Cruise missiles, which are largely self-propelled in flight, and long-range missiles are stored at the base, where a large warehouse is equipped to store Shabab-1, Shabab-2 and Shabab-3 missiles.
Last year, after Iran began to flout the provisions of the 2015 nuclear agreement, known as the Joint Comprehensive Plan of Action (JCPOA), the Iranian regime openly boasted about underground "missile cities" along the country's southern borders.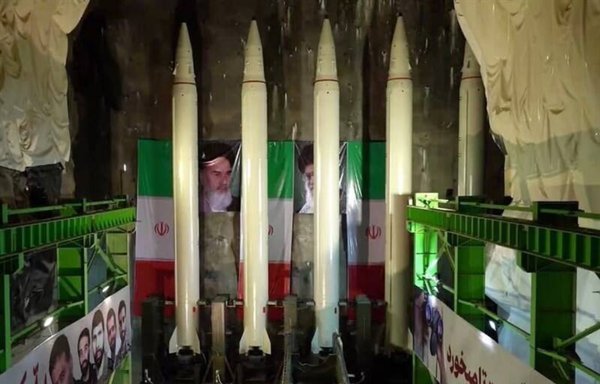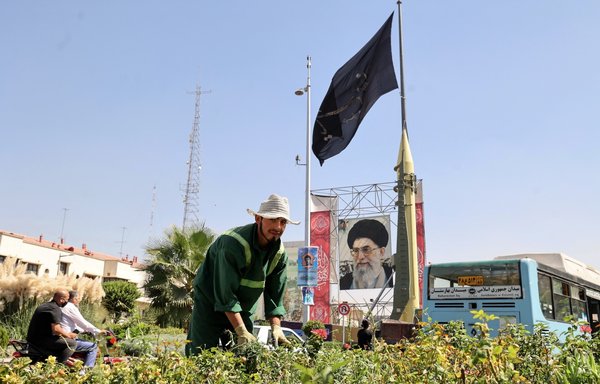 Tehran claims its missile programme has nothing to do with its nuclear programme. But even if this is true, it does not explain why it has manufactured long-range missiles with the capability of carrying nuclear warheads, raising suspicions as to its true motives.
Aerial photographs of the mountainous topography around Tabriz confirm the presence of at least two missile launch facilities, or underground missile silos, which are fortified structures for the storage and launch of long-range missiles.
"The position of the Tabriz base's missile centre places parts of eastern and central Europe within operational range of Iran's missiles," said Iran-based intelligence analyst Sassan Tamgha.
Another important Iranian missile base is the Imam Ali base in Khorramabad, the provincial capital of Lorestan, in central Iran. This base is affiliated with Al-Hadid Brigade, a sub-division of the IRGC Aerospace Force (NEHSA).
Imam Ali base is equipped with portable missile launchers that have been hidden in the mountains.
"The two bases in Khorramabad and Tabriz are home to a large section of Iran's missile force," said Faramarz Irani, a Kerman-based political analyst.
'Subject to sabotage'
The significance of the Khorramabad and Tabriz "missile cities" is such that "any incident that occurs at either of these two bases would drastically reduce Iran's missile capability", Irani said.
In his analysis of potential threats to Iran's missile centres, Irani pointed to influential armed opposition groups in the region such as Mojahedin-e Khalq (MEK), which has a heavy presence in eastern Iraq.
The MEK has been sharing information about the military positions and facilities of Iran's traditional armed forces, known as Artesh, and the IRGC in Iran.
In early October, the group published a complete report on Iran's facilities for the local manufacture, storage and assembly of Iranian drones, as well as its training centres inside the country.
Regional military analysts say this much intelligence infiltration, reaching within Iran's security and intelligence organisations, suggests these missile facilities are quite vulnerable.
The Iranian regime is also threatened by an emboldened resistance movement and a surge of public unrest and dissent, as the country careens from crisis to crisis on the domestic and international front.
This discontent is fuelled by the increasing evidence that top leaders, including Supreme Leader Ali Khamenei and his allies in the IRGC, have prioritised the regime's expansionist agenda abroad over the economic well-being of its citizens.
Iran's missile facilities previously have been subject to sabotage.
An explosion occurred at the Imam Ali base in Khorramabad in 2010, killing dozens of people, though the Iranian regime still has not announced a specific cause for the incident.
Many analysts and observers claim the explosion was a result of sabotage following infiltration in the intelligence system.
Tamgha pointed to the weaknesses of the base's defence system.
"The Imam Ali base is also subject to sabotage via Iran's southern and western borders," he said. "If Iran intends to use this base to launch missiles, the base itself will become exposed to retaliatory action."
The two "missile cities" are also vulnerable to a range of weapons from the US military, including precision weapons and bombers, in the event Iran escalates a regional war.
In addition to constructing long-range missiles that are likely to be equipped with the capability to carry nuclear warheads, Iran is placing missiles at the disposal of groups such as Lebanese Hizbullah and the Houthis in Yemen.
All of this activity has caused unrest and instability in the Middle East.