Religious tourism and pilgrimages to Shia shrines are a mainstay of the Iraqi economy, with more than 20 million people making their way to Karbala each year to take part in Arbaeen, which begins Monday (September 27) evening.
Held 40 days after Ashura, Arbaeen is the commemoration of the death of Imam al-Hussain, the grandson of the Prophet Mohammed and the Shias' third imam.
One of the world's largest religious gatherings, the pilgrimage draws higher numbers than the Hajj, and has spawned a massive supporting industry, offering everything from hospitality to religious souvenirs.
Restoration, repair and expansion work at sites in the shrine cities of Karbala and Najaf also generates a steady stream of lucrative construction contracts.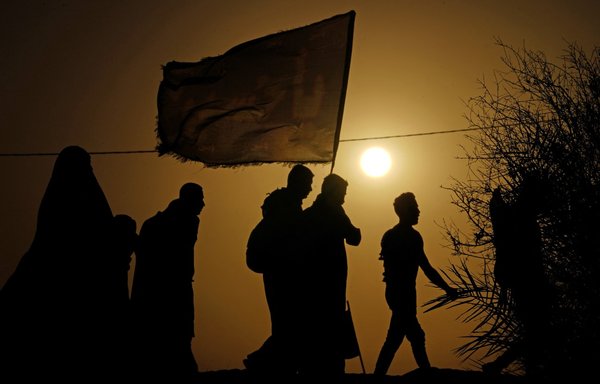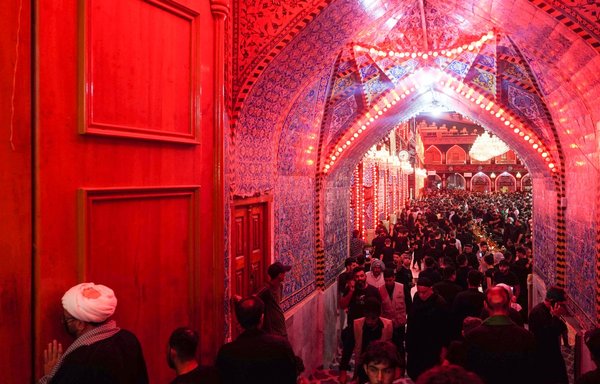 Enter Iran, which has leveraged religious tax exemptions to claim a large slice of this market for its own profit and as a means to expand its influence in Iraq.
A Reuters special investigation last December said, "Iran's close involvement in religious tourism is bringing Tehran soft power and cementing a presence in Iraqi religious centres that are the nexus of Shia regional influence."
It notes that "religious tourism is worth billions of dollars a year in Iraq, the second-largest earner of revenue for the country after the oil sector".
Religious projects are granted special privileges by the Iraqi government, it adds, "including tax exemptions on imports of Iranian cement, steel and other materials" that are brought in ostensibly for shrine development.
This has fueled corruption on a wide scale, with materials being imported in bulk from Iran and resold in the general marketplace. And it has opened the door to Iranian companies and contractors, some of whom have questionable ties.
Iranian intelligence activities
In March 2020, the United States sanctioned a vast network of Islamic Revolutionary Guard Corps Quds Force (IRGC-QF) officials and front companies in Iraq and Iran, including an organisation associated with Iraq's Shia shrines.
According to the US Treasury, the leadership of the IRGC-QF-controlled Reconstruction Organisation of the Holy Shrines in Iraq (ROHSI) was appointed by former IRGC-QF commander Qassem Soleimani.
"Though ostensibly a religious institution, ROHSI has transferred millions of dollars to the Iraq-based Bahjat al Kawthar Company for Construction and Trading Ltd, also known as Kosar Company," the Treasury said.
Kosar Company is an Iraq-based entity under IRGC-QF control that has served as a base for Iranian intelligence activities in Iraq, including the shipment of weapons and ammunition to Iran-backed militias, it said.
It has received millions of dollars in transfers from the Central Bank of Iran, itself sanctioned for its financial support of the IRGC-QF and Lebanese Hizbullah.
"In addition, IRGC-QF officials have used ROHSI's funds to supplement IRGC-QF budgets, likely embezzling public donations intended for the construction and maintenance of Shia shrines in Iraq," the Treasury said.
Sanctions also were imposed on top figures in the organisation, including Soleimani appointee Mohammad Jalal Maab and his predecessor Hassan Pelarak.
Soleimani had chosen Pelarak to serve as his special assistant on an IRGC-QF-led committee focused on sanctions evasions activity. Pelarak also worked with IRGC-QF officials to transfer missiles, explosives and small arms to Yemen.
Jeopardising Iraq's recovery
US and Iraqi officials have warned that ROHSI's activity could jeopardise Iraq's recovery as it seeks to regain its footing in the aftermath of the "Islamic State of Iraq and Syria" (ISIS) era and the coronavirus pandemic.
IRGC-aligned entities are milking Iraq's Shia shrines for political and economic gain, they said, pulling revenue, construction contracts and job opportunities away from Iraq and potentially paving the way for further sanctions.
In contrast, they said, the United States has been pumping money into Iraq.
In mid-2015, at the request of the Iraqi government and with the support of the international coalition, the United Nations Development Programme (UNDP) Iraq established the Funding Facility for Stabilisation (FFS) to run through 2023.
The FFS has a $1.4 billion budget and operates in areas affected by the ISIS conflict to facilitate the return of displaced Iraqis, lay the groundwork for reconstruction and safeguard against the resurgence of violence and extremism.
It works in nine major sectors -- electricity, health, water, education, sewerage, livelihoods, municipalities, roads and bridges and social cohesion -- rehabilitating public infrastructure and providing essential services to communities.
The US Agency for International Development (USAID) supports these efforts as the largest donor of the 28-donor programme.
It has so far rehabilitated 130 schools, 57 primary healthcare clinics, 62 water treatment plants and 17 substations, among other projects.
It also has supported Iraq's COVID-19 response, funding isolation wards and equipment that serve almost 10 million Iraqis -- including in Najaf and Karbala.
Militias stealing from Iraqis
In its quest to expand its influence in the Shia shrine cities of Najaf and Karbala, Iran also has relied on IRGC-backed Iraqi militias, such as Harakat al-Nujaba, Saraya al-Khorasani, Asaib Ahl al-Haq, Saraya Ashoura and Kataib Hizbullah.
These militias have a heavy presence in the shrine cities and have faced strong criticism for their actions, which include extortion and storage of weapons and ammunition in residential areas.
Iraqi tribal leader Sheikh Thaer al-Bayati told Al-Mashareq they have become "intolerable to all segments of the Iraqi population and a scourge upon them, because of their actions that serve only the interests of the Tehran regime".
They are stealing the wealth of the Iraqi people to strengthen Iran's leaders, he said, noting that these leaders face international isolation and growing domestic anger over the economic crisis in the Islamic Republic.
"The militias openly declare that they stand by the Iranian regime through thick and thin, and they are not concerned with the fate or situation of Iraqis, or the damage being caused to their economy," he said.
Al-Bayati said the militias aim to disrupt all the levers of the state.
"Iraqis are indignant over all the transgressions and crimes committed by the militias and their constant threats to their lives and future, and they reject their presence among them," he said.
"The militias' services to Iran are harming the Iraqi people's economy and seriously threatening their security and the sovereignty of their country," Al-Muwatiniyoun party leader Ghaith al-Tamimi said.
"These groups want to sow chaos and turmoil everywhere in Iraq," he said.
The placement of their arsenals in populated areas, including Karbala, "is very dangerous and could have dire security repercussions", he added.
It is "detrimental to the local economy", which relies on the revenues from religious tourism, he said.
The militias also pose a threat to the economies of Iraqi cities liberated from ISIS, he said, which are seeking to recover and rebuild their infrastructure, with the help of the international community.
Al-Tamimi said Iran needs to review all its policies and open a new page with the world to emerge from its isolation and the crises suffered by its people.
"It must transform into a peaceful country and enter into partnerships and interests with Iraq based on good neighbourliness and mutual respect, and not based on supporting militias to harm Iraq's sovereignty, interests, or the unity of its citizens and on plundering its economy," he said.
[Faris al-Omran contributed to this report.]