Through its recent actions and posture of defiance, Asaib Ahl al-Haq has distanced itself from other Iran-aligned militias in Iraq, highlighting acute divisions among Iran's proxies and its own bid for supremacy among them.
Qais al-Khazaali, who leads Asaib Ahl al-Haq, has repeatedly said his militia will continue its attacks on US soldiers, in defiance of orders and in seeming disregard for Iran's negotiations over a return to the 2015 nuclear agreement.
The clear implication of his position is that Asaib Ahl al-Haq is not an agent of the Iranians, but merely an ally to them, despite his constant assurances of fealty to "al-Wali al-Faqih" (guardian jurist) -- Iranian leader Ali Khamenei.
Since its formation in 2006, by Iran's Islamic Revolutionary Guard Corps (IRGC), the militia has been actively serving Iran's agenda. It has engaged in sectarian violence in Iraq and Syria and carried out attacks on international interests.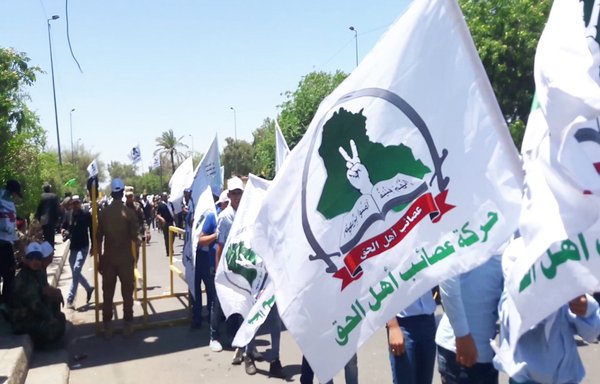 But recent events indicate that the militia is increasingly asserting a degree of independence, sometimes even flouting orders from Tehran, the Associated Press (AP) reported July 9.
During a June visit to Baghdad, IRGC Quds Force commander Esmail Qaani asked Iran's proxies in Iraq to maintain calm until after nuclear talks between Iran and the United States, AP said.
But he was met with defiance, most notably from al-Khazaali, who a few days after the meeting said in televised remarks that they would continue to target US interests and that they will not take into consideration the nuclear talks.
As he now distances his group from Iran, it is clear that al-Khazaali aspires to position himself as the leader of all the Iraqi militias operating under Iran's mantle, displacing Asaib Ahl al-Haq's main rival, Kataib Hizbullah.
Tension has increased accordingly between Asaib Ahl al-Haq and Kataib Hizbullah, with each accusing the other of attempting to achieve dominance and gain advantage for themselves.
It recently emerged that prominent Kataib Hizbullah leader Abdul Aziz al-Muhammadawi (aka "Abu Fadak"), who is deputy head of the Popular Mobilisation Forces, was trimming Asaib Ahl al-Haq's share of the funds.
This enraged Asaib Ahl al-Haq, which also accuses Kataib Hizbullah of mismanaging the militias' umbrella organisation, and of trying to monopolise leadership positions.
Conflicts over money, power
The so-called Iranian resistance axis is cracking under the strain of conflicts over money, influence and leadership, observers said.
This fracturing is an indication of the success of the Iraqi government's long-term policy to weaken militias that threaten the sovereignty of the state.
Political analyst Ahmed Shawki said the government's approach to dealing with Iran-aligned militias has been based on the principle of self-restraint and a refusal to allow itself to be drawn into conflicts these militias want to ignite.
It has made enormous progress in clamping down on the activities of outlawed groups, strengthening the role of the Iraqi security services and restoring the prestige of the state, he said.
But subduing the Iran-aligned militias will require greater will and strength, Shawki added, as these groups "continue to engage in subversive activities, stir up problems and impose the language of weapons".
Iran may have asked its proxies to simmer down for reasons related to its nuclear negotiations, he said, "however it doesn't appear to have full control over them now as it did before".
This is evident as the militias continue to target international interests in Iraq, he said, noting that Iran is unable to heal the rift among its proxies in Iraq because of the acute divisions between them over power, influence and money.
Pre-election propaganda
On September 11, explosives-laden drones targeted Erbil airport, which also serves as the base for international coalition forces fighting the "Islamic State of Iraq and Syria" (ISIS), but caused no casualties or damage.
Media observer and blogger Omar al-Janabi said the attack -- the seventh to target the airport in a year -- bore the hallmarks of Iran-aligned militias.
He noted that it came one day after Iraq's National Security Adviser Qassem al-Araji announced a truce that was supposed to be in effect through the end of the year -- when US forces are set to withdraw -- and prevent attacks on US targets.
Al-Araji is a senior member of the Iran-affiliated Badr Organisation.
Al-Janabi said the continued attacks by Iran-backed militias, including Asaib Ahl al-Haq, may be intended as a form of "pre-election propaganda".
The attacks are part of an attempt to delude the militias' supporters with "slogans of resistance, and into believing that they are powerful and could fill the void after the US forces withdraw from the country", he said.
But tensions already exist between the main Iran-aligned militias and may deepen, he said, especially with the approach of the elections, as they try to achieve political gains that increase their clout on the ground.