Situated just north of the Strait of Gibraltar, Naval Station (NAVSTA) Rota is a hub that is well positioned to project US and NATO military power into the Mediterranean, North Africa and the Middle East.
The joint United States and Spanish base is serving as a key transit point for civilians airlifted out of Afghanistan as part of Operation Allies Refuge.
Top US military officer Gen. Mark Milley, chairman of the Joint Chiefs of Staff, travelled there on September 6 to meet with service members and volunteers as they worked to ensure the safe relocation of civilians.
In addition to its strategic location, midway between the United States and the Middle East, NAVSTA Rota is regarded as one of the most advanced naval installations in the world, with the largest weapons and fuel facilities in Europe.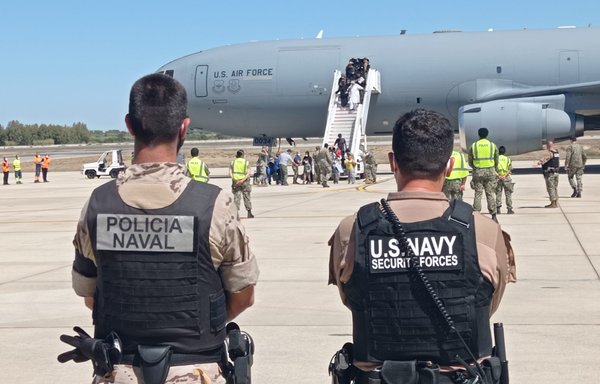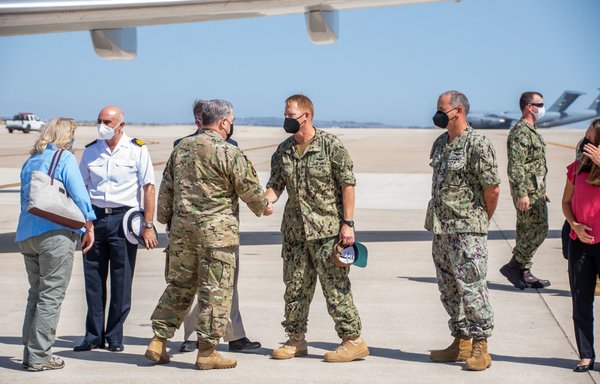 It provides cargo, fuel and logistics support to US and NATO ships and units, including the US Navy's 6th Fleet (headquartered in Naples, Italy), and US Air Force Air Mobility Command units transiting to Germany and the Middle East.
NAVSTA Rota supports the movement of vessels and of US Navy and Air Force flights via a 670-acre airfield and a harbour that can accommodate deep draft vessels, along with three piers and other facilities shared with the Spanish navy.
The installation is under the Spanish flag, and is commanded by a Spanish vice admiral. The US and Spanish navies work together under the guidance of the Agreement on Defence Co-operation.
Expanded capacity and reach
Discussions are under way to further expand efforts at NAVSTA Rota to enhance the capacity, interoperability and reach of US, UK and European sea power by forming combined carrier strike groups.
The US Navy is playing a critical role in these deliberations, which build on a long-standing relationship with the United Kingdom and the recommendations of a US-UK study group that examined shared strategic goals and co-operation.
In a 2014 report, "Combined seapower: A shared vision for Royal Navy-US Navy co-operation", the group noted that the United Kingdom's Royal Navy does not have enough ships to deploy a strike group without negatively impacting other commitments.
Working with European navies has been eyed as a solution.
"The answer to filling this need is not just to advance interoperability with the US Navy and Marine Corps, but to include European allies as well," the Atlantic Council suggested in an April 2020 report.
Naval co-operation between the United States and United Kingdom is "a step in the right direction" for both sides according to the report, titled, "New British carriers can transform Europe's NATO naval capabilities".
"Co-operation with Europe is also necessary and it is here that the UK can resume its highly valuable role as a bridge between the continent and the United States," the report said.
"Using the British carriers as the centre of a British-led, but European-supported, task force would add a serious pillar of capability to NATO," it added, describing such a carrier strike group as "a major leap forward" for NATO.
This would in turn allow the United States to reposition forces and would give Britain and NATO allies truly global reach, it said.
'Flexible, ready and capable'
Even acting alone, the US Navy is capable of projecting power into the Black Sea and the Baltic, the Mediterranean and Red Sea, if needed.
The US Navy was able to quickly deploy two US warships into the Black Sea in April, from NAVSTA Rota, as tensions simmered between Russia and Ukraine.
The two Arleigh Burke-class destroyers, USS Roosevelt and USS Donald Cook, had previously been deployed to the Black Sea on multiple occasions, the latter in February.
According to military sources, they are capable of integrating into the Aegis Ashore in Romania -- a land-based integrated naval weapons system -- or the Terminal High Altitude Area Defence (THAAD) anti-ballistic missile defence system in Turkey.
The US Navy also has demonstrated its ability to quickly form a Surface Action Group (SAG) -- defined as a temporary or standing organisation of combatant ships, other than carriers, tailored for a specific tactical mission.
In September 2019, for example, the US Navy rapidly deployed four of Carrier Strike Group 8's surface combatant ships and 1,200 sailors.
"This deployment demonstrates our Navy's inherent capability to manoeuvre and flex to accomplish the task at hand," US Navy 2nd Fleet commander Vice Adm. Andrew "Woody" Lewis said at the time.
"Our ships remain flexible, ready and capable to operate in multiple theatres supporting a variety of missions," he said.
Though SAGs lack the strike power of the carrier and air wing, they are still capable of meeting US defence needs around the world, and of accomplishing high-end naval missions in multiple theaters, said Navy officials.
These include anti-surface, anti-submarine warfare and maritime security operations in support of power projection around the globe.