Aboard its ships, the US Navy is employing "game-changing" combat power that can detect, track and destroy targets at hundreds -- if not thousands -- of miles away.
The Navy's 21 active Ticonderoga-class cruisers are the largest and best-armed warships capable of carrying 122 missiles and other weapons.
They are equipped with the Aegis Combat System, which uses advanced computer and radar technology to locate and track targets and to guide missiles and guns at a range of 175 nautical miles.
Multiple purposes
Ticonderogas can serve air defence, anti-ship, anti-submarine and ground-strike roles and are most commonly used as air defence escorts in carrier strike groups. They also serve as flagships for Surface Action Groups.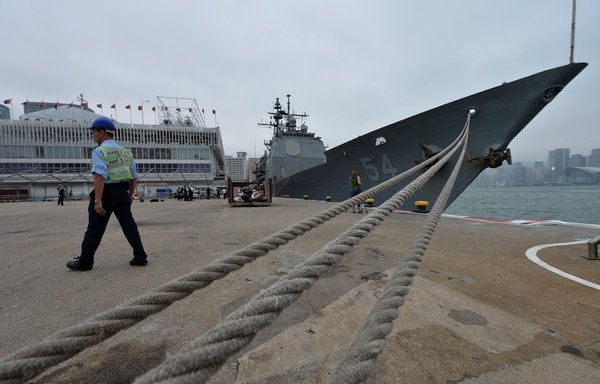 The Arleigh Burke-class guided missile destroyers, another class of ship, also employ the Aegis Combat System, carry more than 90 missiles and are designed as multi-mission destroyers.
Currently the Arleigh Burke destroyers are able to strike moving targets on land using the powerful Tomahawk cruise missile and to engage in antiaircraft warfare using Aegis radar and surface-to-air missiles; antisubmarine warfare using towed sonar array, rockets and helicopter strikes; and anti-surface warfare using the Harpoon missile launcher.
The multi-mission aspect of the destroyers is made possible in large part by the Aegis Weapons System.
The system has evolved "dramatically" since it was first introduced more than 50 years ago, according to Rich Calabrese, director of Surface Navy Mission Systems for Lockheed Martin, which produces the system.
"At its core, Aegis was a monumental technological triumph made possible by combining advances in computers, sensors, weapons, communications, and human interfaces into a highly automated system the likes of which would have been considered science fiction not long before its arrival," Tyler Rogoway, editor of The War Zone, wrote in the preface to an interview with Calabrese published March 4.
"Since then, Aegis has grown massively in capability and has largely dictated what is possible when it comes to the ability of warships to exert control over the massive volumes of air and sea surrounding them," he continued.
The flexibility of the system's architecture enables it to fulfill a variety of missions simultaneously, and to change mission priorities quickly, according to Calabrese.
The ever-evolving Tomahawk
The US Navy's Tomahawk missile also has evolved significantly since it was first conceived in the 1970s.
The Tomahawk can be launched from the ground, ships, submarines and bombers.
It can hug the ground for 1,000 miles (1,600km), making it "extremely stealthy, with hostile forces not even aware that one was approaching until something blew up", David Szondy wrote in March for New Atlas.
The US Navy test fired its new Block V Tomahawk last December, and in March it authorised Raytheon to start production.
The Tomahawk Block V is expected to be able to hit surface ships more than 1,000 miles away with the integration of a new seeker, and "will integrate a new warhead that will have a broader range of capabilities, including greater penetrating power", according to Defense News.
Upgraded communication and navigation systems make it tougher to counter and detect electronically, Bryan Clark, a retired submarine officer and senior fellow at the Hudson Institute, told New Atlas.
While the Tomahawk flies more slowly than do supersonic and hypersonic missiles, the advantage is its range.
"Being sub-sonic means it's also able to travel at a more fuel-efficient speed," Clark said. "So, the fact that the Tomahawk can travel more than 1,000 miles is a function of the sub-sonic speed. To get that kind of range out of a super-sonic missile you'd need something much larger."
Another benefit is the Tomahawk's relatively low cost, according to military analysts.
"It can be purchased in larger quantities and you can afford to lose some to defensive capabilities even as you penetrate," Jerry Hendrix, a retired Navy captain and analyst with Telemus Group, told Defense News last December. "That's one of the reasons why Tomahawk is going to be in the inventory for a while to come."
"As long as they can keep them to about a million dollars per shot, the Navy is going to want those all day long," Tom Karako, an expert in missile technology with the Centre for Strategic and International Studies, told Defense News.
"The next time the President says to the Navy, 'Hey, go schwack this terrorist training camp,' they're going to want Tomahawks."