Iran's Islamic Revolutionary Guard Corps (IRGC) has set up a new training base in Iraq for members of its regional proxies, with drills focused on launching drone attacks, Iraqi and Syrian sources said.
Iran's regional proxies, particularly the Houthis in Yemen, are increasingly using explosives-laden drones as an offensive method as unmanned aerial vehicles (UAVs) are inexpensive and hard-to-stop.
IRGC-backed Iraqi militias have launched at least six attacks since April using drones laden with small amounts of explosives, most recently on July 24, when a UAV targeted al-Harir air base, to the north of Erbil.
A group calling itself al-Thaireen Brigade, believed to be a front for the IRGC-affiliated Kataib Hizbullah, claimed responsibility for the attack.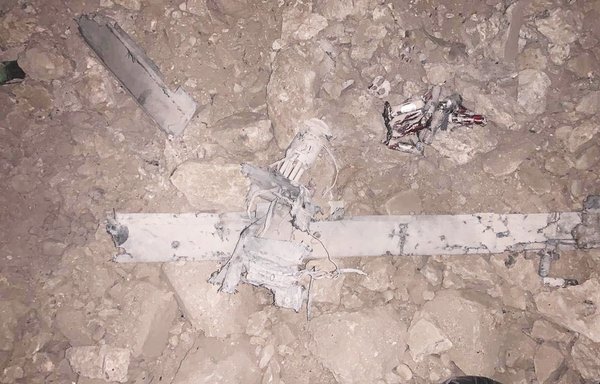 The attacks, many of which were thwarted by Iraqi forces, have targeted Baghdad and Erbil airports, as well as Ain al-Asad air base in western Iraq.
On July 29, an Iranian-made drone targeted a tanker, the Mercer Street, off the coast of Oman, killing two people.
Quds Force trainers
Iraqi political analyst Hilal al-Obeidi said Iran has set up a new training camp in Iraq for its Iraqi and Syrian militias in the Karbala desert.
"The IRGC Quds Force, with help from Lebanese Hizbullah, supervises the camp and provides recruits with courses on drone tactics," he said.
Al-Obeidi said the recruits attend courses in Iran to learn Farsi before receiving training in Iraq.
Over the course of 45 days, dozens of recruits attend lectures and take part in practical training exercises, he said.
They learn how to operate, fly and develop drones; read aerial photographs; identify the geography of targeted sites; and other technical matters, he added.
The establishment of the training camp "comes as part of Iran's relentless endeavour to produce a generation of experts with experience in launching explosives-laden drones", he said.
The IRGC selects elements very carefully, choosing only the most loyal and devoted to its doctrine, al-Obeidi said.
IRGC recruitment efforts
According to some sources, the IRGC is working to recruit more Syrian youth into its militias, reportedly offering a substantial monthly stipend for militiamen who attend training courses on drone operation.
"Iran's leaders are wasting the wealth of their people on matters that will bring them only hardship and crises," said al-Hasakeh political committee co-ordinator Lt. Col. Hisham al-Mustafa.
"They are using their country's resources to achieve the anarchic and hostile goals of Iranian leader Ali Khamenei in harming the region's population, thus increasing the latter's resentment of Iranians," he added.
He noted that the Karbala base is one of many that were opened in Iraq and Syria with support and funding from the IRGC.
But what distinguishes this one, he said, is that it serves as a training centre specialised in teaching select elements of the Syrian and Iraqi militias skills such as the use of explosives-laden drones.
This kind of weapon does not require large sums of money to manufacture and can evade tracking and remote destruction systems.
"The Iranian regime is trying by all means to ignite regional wars and problems," al-Mustafa said.
The IRGC has been attempting to manipulate the population's sectarian sentiments to inject new blood into its militias, especially ideologically driven fighters who suffer from extreme poverty, he explained.
In this way, he said, the Quds Force can continue its policy of extending Iranian hegemony in the region.
Prepared to thwart attacks
On August 31, according to several local media reports, a new shipment of Iran-made surface-to-surface missiles that was smuggled into Syria from Iraq reached militias stationed in the al-Mayadeen area in Deir Ezzor province.
The missiles were transported in trucks, hidden under fruit and vegetables, in order to avoid detection as they crossed into Syria from a part of Iraq where Iran-aligned militias have a heavy presence.
These cross-border smuggling routes are known to Iran's adversaries, however, and Iran-aligned militias and weapons stores in the Iraq-Syria border area have been targeted with air strikes on a number of occasions.
In order to prepare for unmanned aerial system (UAS) attacks in the Middle East, US and Saudi aircraft on June 17, June 30 and July 29 took part in training to collaboratively track and destroy a simulated invading UAS.
Saudi Arabia has been targeted by drones fired by Iranian proxies in both Iraq and Yemen.
"The emerging UAS threat in the Middle East requires a wide spectrum of shared resources between the United States and our partners," said Col. Matt Dietz, US Air Forces Central (AFCENT) director of operations, following the training, according to an AFCENT statement.
"Protecting US, coalition and partner nation forces by countering the UAS threat remains a critical concern across the region," he said.