After decades of conflict, Iraq on Saturday (August 28) pitched itself as a regional mediator as it hosted a leaders' summit, despite Iranian influence on its territory and a grinding financial crisis.
The meeting in Baghdad sought to give Iraq a "unifying role" to tackle the crises shaking the region, according to sources close to Prime Minister Mustafa Kadhemi.
French President Emmanuel Macron, Egyptian President Abdel Fattah al-Sisi and Jordanian King Abdullah II flew in for the summit, also attended by the foreign ministers of Iran and Saudi Arabia.
Qatari Emir Sheikh Tamim bin Hamad Al-Thani, Dubai ruler Sheikh Mohammed bin Rashid Al-Maktoum, Kuwaiti Prime Minister Sheikh Sabah Al-Khalid Al-Sabah and Turkish Foreign Minister Mevlut Cavusoglu also took part.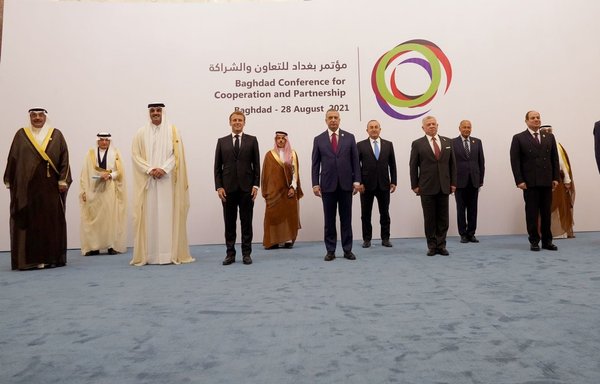 "I congratulate the Government of Iraq on hosting a successful and ground-breaking regional summit today," US President Joe Biden said in a statement Saturday. "The United States continues to stand with our partner Iraq as we work together toward greater stability across the Middle East."
Kadhemi, who came to power in May 2020, headed Iraq's National Intelligence Service for almost four years, forming close ties with Tehran, Washington and Riyadh.
His appointment prompted speculation he could serve as a rare mediator among the capitals.
But Baghdad has already hosted closed-door encounters in recent months between Tehran and Riyadh, who had broken off ties in 2016.
Iranian Foreign Minister Hossein Amir-Abdollahian met his counterparts from Kuwait and the United Arab Emirates on Saturday, officials from the two Gulf Arab states said, but provided no further details.
There was no indication of any direct meetings between Iran and Saudi Arabia, but Iraq said talks between the two countries, which began in April, were continuing, Reuters reported.
Regional mediator
"Iraq wants to take back control of its trajectory," said one foreign observer on condition of anonymity, referring to the goal of the summit.
"Above all, it no longer wants to be subjected to the effects of regional tensions on its territory," he told AFP.
Iraq has grappled with attacks against international forces on its territory and assassinations of activists and journalists vocal against Iran. The attacks have been blamed on Iran-backed Iraqi militias, most notably Kataib Hizbullah and Asaib Ahl al-Haq.
Other analysts said the summit was successful in bringing together various regional parties, but added that peace efforts would depend on Iran halting its regional interference.
The summit was a "historic event", and the ability to hold it under the current conditions is "in itself an achievement that serves Iraq's interest", said Issam al-Faily, who teaches politics at al-Mustansiriya University.
Baghdad has succeeded, with diplomatic efforts, in "getting regional parties to sit together at one table" to discuss controversial issues and address them in a way that preserves all countries' national interests and restores channels of co-operation, he told Al-Mashareq.
"Just as there are differences, there are also many points of agreement between all parties" that must be developed in order to reduce regional tensions, he said.
"Iraq through this conference confirmed that it does not want to be a theatre of conflict or a springboard for attacks on any country, and that it stands firmly in support of any initiatives that can achieve regional stability and prosperity," he added.
The summit demonstrated Iraq's ability to play the role of mediator, "and that it has regained its stature as a neutral regional party", al-Faily noted.
Peace hinges on Iran's conduct
The success of peace efforts in the region depends on Iran's conduct towards its neighbours, said former Iraqi MP Taha al-Lahibi.
"The Iranian regime must prove its good intentions," he said. "The summit is a last opportunity for it to demonstrate this by stopping its interference in the affairs of Iraq and other Arab countries and respecting their sovereignty."
"If Tehran really wants to turn a new page and become part of the international community, it must abandon its policy of expansion in the region and end the support it provides to [loyalist] militias," he stressed.
If that is achieved, then Iraq and the entire region will enjoy stability and prosperity, al-Lahibi said.
But if Iran insists on maintaining the same hostile policies, it will reap only more isolation and hostility from all governments and peoples of the world, he said.
Tribal leader Thaer al-Bayati expressed a lack of confidence in the Iranian regime, saying it continues to undermine regional security and to nurture groups that today are causing chaos in Iraq and throughout the region.
Iran's proxies do not want Iraq to regain its position and pivotal role, he said, and they will not stop following Iran's orders to undermine Iraq's security, exploit its resources and disrupt development projects.
Facing ISIS threat
The summit was held as the region is reeling from the impact of the Taliban's takeover of Afghanistan.
"Given the geopolitical events, this conference has taken a special turn," Macron said at the summit.
He said his country would continue to deploy troops in Iraq to battle terrorism.
"We all know that we must not lower our guard, because Daesh (the Islamic State of Iraq and Syria [ISIS]) remains a threat, and I know that the fight against these terrorist groups is a priority of your government," Macron said earlier after a meeting with Kadhemi.
Iraq and France are "key partners in the war against terrorism", Kadhemi replied.
An ISIS affiliate claimed Thursday's suicide bombing in Kabul that killed scores of people, including 13 US service members.
The attack revived global concerns that the extremist group, which seized swathes of Syria and Iraq before being routed from both countries, is emerging anew, analysts said.
The blast came during the final days of US-led evacuations from Afghanistan after the Taliban's lightning takeover.
President Biden on Thursday pledged to hunt down the perpetrators of the attack.