Asaib Ahl al-Haq, a prominent faction in the Iranian-led "axis of terrorism", is coming under increasing scrutiny from the international community in response to its belligerent actions in Iraq and beyond.
On August 9, the US Department of State's Bureau of International Security and Nonproliferation announced it was putting Asaib Ahl al-Haq on its blacklist, in line with the Iran, North Korea and Syria Nonproliferation Act, which bans the transfer of weapons to those on the list.
Also added to the list were Iraqi Kataib Hizbullah and Lebanese Hizbullah.
Established in 2006 under the auspices of the Islamic Revolutionary Guard Corps (IRGC), the roughly 10,000 fighter-strong Asaib Ahl al-Haq has been responsible for sectarian crimes against Iraqis and for conducting activities that threaten the unity of Iraq and its lawful authorities.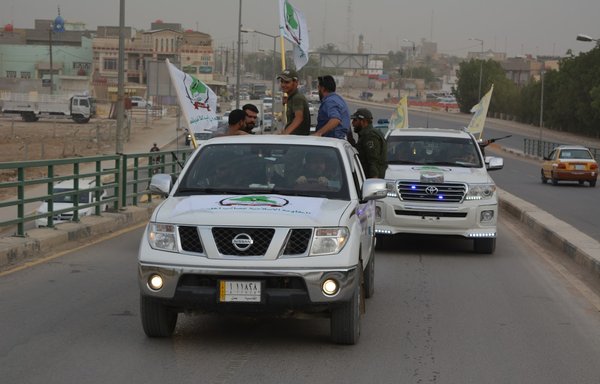 Observers today consider it one of the most dangerous militias, tampering with national security by continually dropping Iranian rockets on government offices and foreign embassies inside Baghdad's Green Zone.
It also has targeted military bases, airports and civilian facilities, causing casualties and destruction to the country's infrastructure.
Today, there are mounting calls to terminate the militia and other groups like it that support the Iranian regime's interests and influence.
Implementing Iran's will
Like any other radical group revolving around the Iranian axis of terrorism, Asaib Ahl al-Haq adheres to the orders of the Wali al-Faqih (Guardian Jurist) represented by Iran's supreme leader Ali Khamenei.
As such, the militia serves Tehran's policies, no matter how harmful they may be to Iraq and its people, journalist Ziad al-Sinjari said.
These armed factions are "merely Iranian proxies that do not believe in loyalty to one's homeland, nor in defending national interests and goals, building the country or creating a future for it", he said.
"These groups have a specific goal, which is to fuel violence, lawlessness and problems," ultimately turning their countries into fragile states that Iran can exploit and dominate.
For years, Asaib Ahl al-Haq has played a major role in implementing the Iranian will, al-Sinjari noted.
Its armed activities, which have a sectarian dimension, have and still constitute a serious threat to civil peace, he said.
Militia members have been accused of many massacres, especially during the fighting to retake cities from the "Islamic State of Iraq and Syria" (ISIS) between 2015 and 2017.
Iraqi rights networks, such as the Iraqi War Crimes Documentation Centre on June 6, 2020, have published recordings documenting the killing of unarmed civilians by Iran-backed Shia militias.
Last year, Asaib Ahl al-Haq was accused of taking away a group of villagers in Salaheddine province and killing them in cold blood.
It has also led death squads in Basra that tracked down and assassinated anti-Iran activists and media professionals.
This militia and the rest of the Iranian proxies are "a roadblock before any endeavours to bring about stability and development", al-Sinjari said, stressing the need to confront them forcefully and terminate the danger they pose.
Any decisive move against these militias is ultimately a loss for Iran and a weakening of its efforts at sabotage, whether in Iraq or elsewhere in the region, he said.
With the start of the Syrian conflict in 2011, Iran relied on Asaib Ahl al-Haq fighters to help its ally, Syrian President Bashar al-Assad's regime, to hold onto power.
Hundreds of these fighters are today still stationed at three main bases in the al-Sayyida Zainab area in Damascus, and also near the Syria-Iraq border, covertly receiving weapons and money from Iran.
This year, the United States conducted air strikes -- in February and more recently in June -- targeting facilities and infrastructure used by Iran-backed militias in eastern Syria, near the border with Iraq.
'Record full of horrific abuses'
Asaib Ahl al-Haq is a terrorist group with a "record full of horrific abuses in Iraq and beyond", former Iraqi MP Taha al-Lahibi said.
The militia, its leader Qais al-Khazaali and his brother, Laith, were added to the United States' list of terrorists in January 2020.
Earlier, in December 2019, the US Treasury sanctioned the two brothers for their involvement in "serious human rights abuse" in Iraq.
Iran has created and supported generations of deadly militias, led by Asaib Ahl al-Haq, a militia that has claimed many Iraqi lives, al-Lahibi said.
The militia is responsible for "threatening the security of the state, its institutions and international missions [on Iraqi soil] with Iranian-made rockets, as well as for corrupt economic activities that have helped it increase its wealth" at the expense of the Iraqi people, he added.
The militia openly states its absolute loyalty to Iran while accusing others of treason and collaboration with foreign countries.
It constantly uses provocative rhetoric against state agencies.
Al-Khazaali, in a television interview last month, accused the Iraqi intelligence service of "political blackmail" and of collecting information about what he called the "resistance factions".
He also attacked Iraqi Foreign Minister Fouad Hussein for asserting in a speech during the negotiations on the strategic agreement between Baghdad and Washington that Iraq still needs the United States' help to keep its security and stability.
Asaib Ahl al-Haq and all other agents of the Iranian axis of terrorism are a real obstacle to peace and prosperity and a danger that should not continue, al-Lahibi stressed, adding, "Iran must pay the price for all of its hostile actions."