Iraq's energy sector is dilapidated by decades of conflict, poor maintenance and rampant corruption, leaving national electricity provider Wataniya unable to keep up with soaring demand from the country's 40 million inhabitants.
When the national grid fails, many turn to generators, with around 4.5 million privately owned generators operating nationwide, according to independent energy consultant Harry Istepanian, a senior fellow of Iraq Energy Institute.
In some areas, generators now operate for about 22 hours a day, AFP reported.
Each household spends between $100 and $200 per month on electricity, Istepanian said, which is "equivalent to a $6 to $10 billion business for privately-owned generators".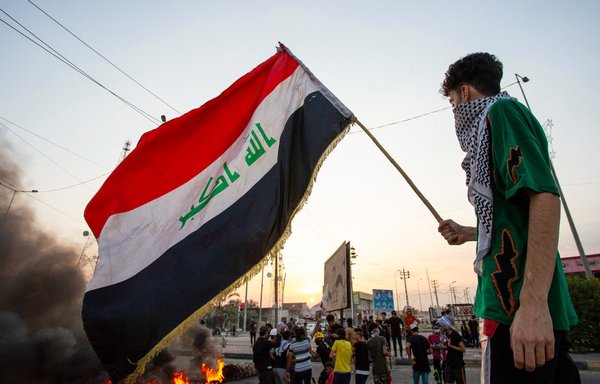 But this business "neither contributes to the country's economy nor pays taxes", he said.
"There is no law that regulates the industry as it is highly connected to the political elites and armed militias. It is part of Iraq's complicated network of illicit businesses and black economy," Istepanian added.
Iraq buys gas and power from Iran to supply about a third of its energy sector. But Iran decided last month to cut power supplies to its western neighbour, saying the Iraqi electricity ministry owes it more than $6 billion in arrears.
Iran claims it has reduced the quantity of gas exported to Iraq because of the accumulation of unpaid Iraqi debt, Arab Weekly reported, although debt between the two countries has never halted economic exchange before.
According to government sources, Arab Weekly said, Iran is trying to punish Iraq for changing the exchange rate of its currency by implicating it in an electricity crisis that may ignite street anger against the government.
Militias had profited by smuggling dollars out of the country while the exchange rate was high, but the government's devaluation of the currency to address cash liquidity in the market left militias less room for manoeuvre.
Meanwhile, Western oil companies have started to leave central and southern Iraq, where attacks on oil facilities and extortion from militias and corrupt officials have created a hostile investment environment, media outlets report.
They are being replaced in some cases by Chinese companies "that have more relaxed standards", an Iraqi Ministry of Oil official told Al-Monitor.
Many blame Iran-aligned militias
Faced with energy shortages and public sector failures, many blame Iran-aligned militias and allied political factions for interfering in the work of state institutions.
They point to the rampant public sector corruption, accusing pro-Iran groups of enriching themselves by pilfering public resources and funds, engaging in graft and threatening the Iraqi government, said political analyst Ahmed Shawki.
This corruption, coupled with policies aimed at weakening the levers of the state, has given rise to a huge number of problems related to mismanagement, failure to provide necessary services and disregard for public safety, he said.
This has set the scene for humanitarian disasters, he added, pointing as an example to the militias' role in the March 21, 2019, sinking of a ferry heading to the tourist island in Mosul, in which 120 Iraqis died.
Asaib Ahl al-Haq was involved in the incident, having struck a corrupt deal with a local investor that included the establishment of a tourism business on the island that did not meet safety standards, according to investigations.
Iran-aligned militias in Mosul also shielded the investor from accountability, allowing him to continue to run the enterprise in exchange for a high percentage of the profit.
Shawki said the militias are destroying the state's economic, service and security sectors to maintain their presence, sometimes clashing with each other in their quest for control.
Big challenges for the government
The Iraqi government continues to crack down on the corrupt activities of Iran-aligned militias, tribal leader Muzahim al-Huweit said.
It is doing this in conjunction with other measures taken to curb the armed influence of these groups and to pursue militiamen who attack international interests or assassinate Iraqi activists and journalists, he said.
Iraqi Prime Minister Mustafa Kadhemi on July 16 announced the arrest of the assassin of security expert Hisham al-Hashemi -- identifying him as Ahmed Oweid al-Kinani, an individual linked to Iran-backed Kataib Hizbullah.
"We promised to capture Husham Alhashimi's killers. We fulfilled that promise. We have arrested hundreds of criminals -- murderers of innocent Iraqis like [journalist] Ahmed Abdulsamad," Kadhemi tweeted in English, using different spellings for al-Hashemi and Abdul-Samad.
Abdul-Samad was assassinated by Iran-backed militias in January 2020 in Basra province.
According to al-Huweit, the militias and the corruption they generate are among the most serious challenges the government is facing, besides terrorism.
The government must receive the support it needs to enable it to impose the rule of law in Iraq, restore stability and improve public services, he added.