Recent Russian efforts to court Arab states reveal that Moscow's alliance with Tehran may not be as solid as the Iranian regime might hope, observers say.
Russian President Vladimir Putin has been attempting to regain relevancy in the Middle East, Afghanistan, Central Asia and elsewhere for years, following the fall of the Soviet Union and Russia's subsequent international isolation.
As part of this strategy, the Kremlin has thrown in its lot with Iran, which has been in need of allies as it continues to defy international pressure to curb its nuclear activity and support of proxy militias across the region.
Russia has sought to boost its influence in the Middle East through its intervention in the Syrian conflict on the side of the regime of Bashar al-Assad, where it has an increasingly tenuous alliance with Iran.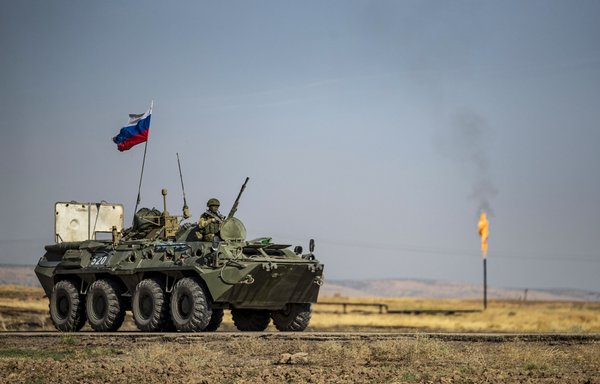 It has been steadily working to consolidate its influence in Syria, entrenching itself militarily and in the economic arena through its control of the oil, gas and phosphate industry, slowly edging out Iran in the process.
Flirting with Iran's enemies
Compounding tensions with Iran, there has been a flurry of Russian diplomatic activity in recent months with Gulf Co-operation Council (GCC) member states -- historical adversaries of Tehran.
In the latest diplomatic push, Russian Foreign Minister Sergey Lavrov met this month with his Bahraini counterpart, Abdullatif bin Rashid al-Zayani, in Moscow.
Lavrov said Russia is working on a security concept initiative for the Gulf region.
According to Russian state news agency TASS, Lavrov said "this would include the issue of a wider discussion on ways of establishing collective security in the Gulf as a whole, I mean, with Iran's participation".
Lavrov also visited GCC members Saudi Arabia, the United Arab Emirates and Qatar for four days in March, as part of Moscow's efforts to engage in "bilateral political dialogue" and strengthen trade and economic co-operation.
Yet observers said the visit was rife with conflicting interests, economic opportunism and political grandstanding.
Russia's interests in the Middle East and elsewhere -- notably in Syria and Libya -- have proven to be self serving, focused on getting basing rights and signing contracts to exploit natural resources.
This will not be lost on the GCC states, observers said.
The Gulf states would not risk entering into a deeper relationship with Russia at the expense of their ties with the United States, due to their lack of trust in the axis Russia has established with Iran and other countries, said Qatari international affairs researcher Mahmoud Abdel Moneim.
Russia's plans and interests in the region conflict with the interests of the Gulf states, Abdel Moneim said, pointing out that this amounts to a "red line" with respect to the security of the Gulf states.
A March visit to Moscow by a delegation of Lebanese Hizbullah functionaries only served to underscore the GCC's reservations about Russia.
Fierce competition in Syria
Putin has used the conflict in Syria to project Russian power throughout the region, entering the Syrian arena in 2015 and steadily expanding Russia's military and economic grip on the war-torn country.
Russia and Iran's partnership largely began with the shared objective of propping up al-Assad, but this relationship is looking less and less useful for Moscow, and therefore more fraught for Iran.
Russia has been successful in securing basing agreements with the Syrian regime and has been in heightened competition with Iran's Islamic Revolutionary Guard Corps (IRGC) over militia recruitment efforts.
Both are competing to secure lucrative reconstruction contracts as compensation for the money they have spent to keep the Syrian regime in power, said Syrian economist and Damascus University lecturer Mahmoud Mustafa.
The Iranian regime had hoped for a huge return on its investment in Syria, he said, but it has become increasingly clear that Iran's share of new business opportunities has not met the Iranian regime's aspirations and estimates.
This is largely due to Russia's influence and its control over revenue-generating projects such as the phosphate mines in Syria's eastern desert (Badiya) and commercial ports in Tartus and Latakia.
It seems that Russia's plans "severely broadsided and hindered the Iranian calculations, with Russia depriving Iran of many revenue sources from which it had expected to generate money", Mustafa said.
Iran moves closer to China
Iran's recent decision to move closer to China may be a sign that Tehran realises Moscow is not a reliable partner, observers say.
The strategic pact Iran signed with China in March envisions Beijing investing some $400 billion in Iran over 25 years in exchange for a steady supply of oil, likely offered at a lower sale price, according to details posted by the two sides.
But concerns centre on what they do not discuss: the broader strategic co-operation between the two countries, including joint weapons development, military exercises and intelligence sharing.
With this deal, a weakened, globally isolated and cornered Iranian regime -- teetering on the brink of economic collapse -- will be at the mercy of an emboldened and assertive Chinese regime.
Many observers fear Beijing will use debt -- one of its main instruments of coercion, imposing burdensome contracts on vulnerable countries -- to demand even more concessions from Iran.
This may even extend to military concessions, they said.