ADEN -- Foreign al-Qaeda leaders have been emerging in Yemen, where the conflict and their suspected alliance with the Iran-backed Houthis have helped them gain a toehold and resume their activities, officials and researchers said.
In late June and early July, the US State Department's Rewards for Justice programme made three back-to-back announcements offering rewards for information on three al-Qaeda leaders present in Yemen.
On July 8, the programme offered up to $5 million for information on Ibrahim al-Banna, an Egyptian al-Qaeda leader who was a founding member of al-Qaeda in the Arabian Peninsula (AQAP) and served as its chief of security.
Al-Banna provided security guidance to AQAP's leadership and serves as a functionary to al-Qaeda leaders based in Iran.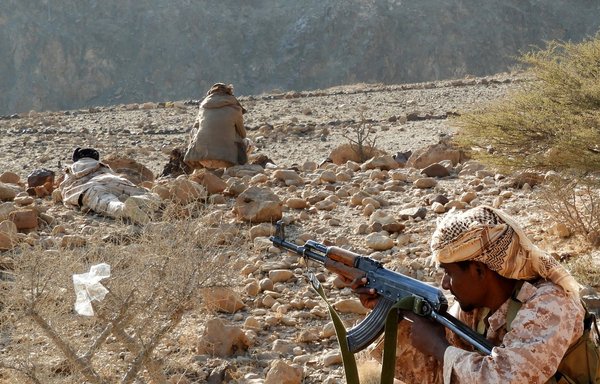 In a July 1 post on Twitter, the programme offered a $10 million reward for information on Sudan native Ibrahim Ahmed Mahmoud al-Qosi -- more than doubling an earlier reward offer of $4 million.
Al-Qosi is a prominent AQAP leader who appeared in the group's videos and encouraged lone wolf attacks against the United States.
And on June 23, Rewards for Justice offered $5 million for information that brings Khaled al-Batarfi, a senior member of AQAP in Yemen's Hadramaut province and a former member of the group's shura council, to justice.
"While al-Qaeda's leaders frolic in Iran, which they use as a headquarters, Khaled al-Batarfi and his followers are carrying out the instructions of these leaders to spill the blood of innocent people in Yemen," Rewards for Justice said.
"There is no place for al-Qaeda traitors in Yemen, not now nor in the future."
Al-Qaeda links with Iran
The presence of foreign al-Qaeda leaders in Yemen complicates the situation in areas controlled by the legitimate government, said Yemen's Deputy Minister of Justice Faisal al-Majeedi, pointing to the conspicuous absence of al-Qaeda attacks in areas controlled by the Houthis.
According to al-Majeedi, there is close co-ordination between al-Qaeda leaders and Iran, which has provided them with support, housing and other types of assistance since al-Qaeda leaders sought refuge there in 2001.
A report the Yemeni government submitted to the UN Security Council in 2018 included information on the Iran-backed Houthis' release of 252 al-Qaeda leaders from its prisons in 2018, al-Majeedi noted.
Among them was Jamal al-Badawi, the Yemeni al-Qaeda mastermind of the 2000 attack on the USS Cole that left 17 US servicemen dead. Al-Badawi was killed in a January 2019 air strike in Yemen.
Political analyst Waddah al-Yamani Abdul Qader said the recent reward offers "came in response to intelligence information gleaned from monitoring the group's movements in Houthi-controlled areas, especially al-Bayda province".
Al-Qaeda's movements in al-Bayda are "in full view of the Houthis", he said, accusing the Iran-backed militia of playing the al-Qaeda card in its war against the legitimate government to further the Iranian regime's agenda.
Abdul Qader noted that al-Qosi's admission that he received orders from al-Qaeda and its leadership in Iran to strike US interests underscores concerns and warnings about the resumption of al-Qaeda's activity with Iranian support.
Co-operation between al-Qaeda and the Houthis is based on mutual interests and is controlled and manipulated by Iran to serve its interests, he said, which include using the situation in Yemen as leverage in nuclear agreement talks.
A resurgence in al-Qaeda activities would have negative consequences in government-controlled areas, Abdul Qader warned, piling additional challenges on top of the obstacles and challenges the government is already facing.
These include pressure from the Southern Transitional Council (STC) and the Houthis' offensive to capture Marib, he said.
Al-Majeedi and Abdul Qader both said al-Qaeda's re-emergence calls for intensified international efforts to combat terrorism.
It also highlights the need to strengthen the capabilities of the Yemeni army and security agencies, especially in the southern provinces, and to raise awareness about the dangers of extremism in Yemeni society, they added.
Extremists exploit instability
According to political analyst Mahmoud al-Taher, extremist groups like al-Qaeda take advantage of unstable countries such as Yemen, which provide fertile ground for their growth and the implementation of their projects.
"Al-Qaeda leaders who came to Yemen were sent by Iran to strike government forces and help the Houthis seize control of Yemen," he said.
"This is what we saw over the past few years in al-Bayda, where the Houthis exploited al-Qaeda's presence to claim they are fighting the group," he said, adding that it is likely the two groups are in co-ordination with each other.
"It is not possible to fight terrorist groups as long as Yemen continues to be mired in a bloody conflict," he said, pointing to the Houthis' role in prolonging it.
Abaad Studies and Research Centre director Abdul Salam Mohammed said al-Qaeda and "Islamic State of Iraq and Syria" (ISIS) leaders have been able to return to Yemen because of the ongoing conflict with the Houthis.
"The presence of Iran and the Houthis means safety for al-Qaeda and ISIS," Mohammed said.
That said, he added, ISIS and al-Qaeda are "much weaker than they are portrayed to be" as a result of the successive defeats they have suffered in recent years, and as local communities have risen up to fight them.
Most Yemenis associate these extremist groups with murder and violence, he said, and want no association with them.