Russia has been steadily working to consolidate its influence in Syria, entrenching itself militarily and in the economic arena through its control of the oil, gas and phosphate industry -- and pushing out Iran in the process.
The two nations have been staunch political allies, with each providing direct military, political and economic support to the Syrian regime of Bashar al-Assad.
Yet tensions are beginning to emerge between them, and observers say that closer alignment with Russia may turn out to be a costly proposition for Iran.
They point to the likelihood that Russia will interfere with or disrupt Iran's foreign policy, which may in turn result in economic losses for Iran, and note that signs the balance is tipping in Russia's favour are already evident in Syria.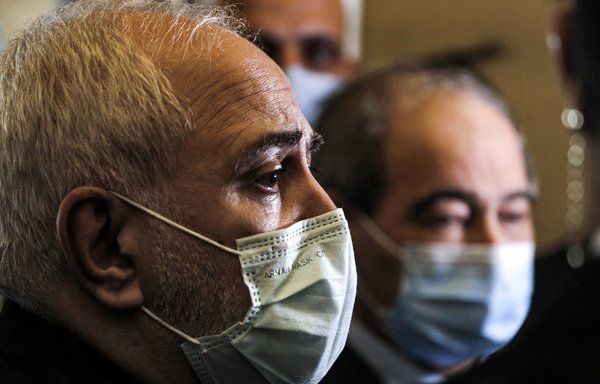 Russia signed an agreement with the Syrian regime in 2019 to extend its lease on the Tartus port for 49 years, consolidating Russian hegemony over the entire Syrian coast.
It has since embarked on a major effort to expand Tartus naval base, its only maritime foothold in the Mediterranean. A floating dock is slated to be completed in 2022, which is expected to expand the capabilities of the complex.
This will eventually enable Russia to repair naval ships and submarines in Syria -- work that can be done at present only in shipyards in northwestern Russia.
A few months ago, major work also was observed at the Russian-controlled Hmeimim air base in Syria's Latakia province.
A 1,000-foot extension of one of the two main runways would allow the base to support more regular deployments of larger and more heavily laden aircraft, including heavy air lifters and even potentially bombers, observers said.
Russian-Syrian journalist Nasr al-Yousef told Al-Monitor that "per the deal to control the Hmeimim air base, the Syrian regime has no right to monitor the cargo of planes and ships entering its bases".
"Russians and their guests can... enter and exit the bases without the need for an entry visa from the Syrian regime," he noted.
Russia 'needs bases'
Even in 2019, journalists taking part in a Russian Defence Ministry tour of Syria saw the signs that Moscow's forces were digging in for a long stay, AFP reported.
At the base in Tartus, Russian warships and submarines were on full display.
There were signs in October that the Syrian regime was tilting towards Russia -- and away from Iran -- when al-Assad publicly defended an expanded Russian military presence in the county.
Speaking with Russian Ministry of Defence TV channel Zvezda on the fifth anniversary of Moscow's intervention in Syria, al-Assad stressed the importance of Russia's two main military bases in Syria.
"This global military balance needs Russia's role... this needs [military] bases... we benefit from this," al-Assad said.
"The only competitor for Russia in Syria is Iran," Nama Centre for Contemporary Research researcher Mustafa al-Mustafa told Al-Monitor.
"But all parties agree on co-ordinating to oust Tehran from Syria and to get Russia to fill the vacuum it will leave behind," he said. "All this reassures Moscow and prompts it to develop its bases in Syria and to expand its presence in the Middle East."
While Russia is pocketing long basing agreements, Iran has been attempting to entrench itself in Deir Ezzor province, near the border with Iraq, establishing multiple militia headquarters in that area.
But Iranian militias in this area repeatedly come under fire.
There also has been open competition between Iran and Russia over the recruitment of Syrian youth into their respective militias.
Militias operating in eastern Syria under the direction of Iran's Islamic Revolutionary Guard Corps (IRGC) have been hemorrhaging fighters as their bases come under attack and the local population spurns Iranian hegemony.
And as fighters desert Iran-backed militias in increasing numbers, Russian recruiters are waiting to snap them up and incorporate them into their own ranks, marking a new phase of the Syrian conflict, local activists said.
Iran was edged out
Russia has signed dozens of economic agreements with the Syrian regime. And Iran has previously sought to secure "long-term strategic economic co-operation" deals as well.
"The Russian-Iranian competition is clearly evident in Syria," said Syrian economist and Damascus University lecturer Mahmoud Mustafa.
Both sides are vying to secure the largest piece of the reconstruction pie as compensation for the money they have spent to keep the Syrian regime in power, he said.
But it is evident that Iran's share of new business opportunities has not met the Iranian regime's aspirations and estimates, he said, as it had hoped for a huge return on its investment in the shortest possible time frame.
This can be attributed to the influence of Russia, which historically has exerted control over several revenue-generating facilities, such as the phosphate mines in the eastern desert (Badiya) and commercial ports in Tartus and Latakia.
It seems that Russia's plans "severely broadsided and hindered the Iranian calculations, with Russia depriving Iran of many revenue sources from which it had expected to generate money", he said.
Despite the areas of collaboration between the two nations, "Iran is well aware that Russia is not driven by a desire to see an overly strong and independent Iran", the Middle East Institute (MEI) said in a February 12, 2020, report.
According to Iran's Mashregh News agency, MEI said, "Iran must not be dependent on countries like Russia for support in its military programmes".
It noted, for example, that Russia has been reluctant to sell its S-300 long-range surface-to-air missile system to Iran.
Other Iranian media outlets, including Shargh, and the state-owned Iranian Students News Agency, have said that both Russia and China want a weak Iran.