US forces shot down an armed drone above the US embassy in Baghdad on Monday (July 5) night, Iraqi security officials said, hours after a rocket attack targeted Ain al-Asad air base in Anbar province.
US defence systems fired rockets into the air in Baghdad, with Iraqi security sources saying the salvos took out a drone that was laden with explosives.
The impact of recent rocket and drone attacks would be much greater if not for the air defence systems put in place by the international coalition, say analysts.
The counter rocket, artillery and mortar (C-RAM) air defence systems deployed in Baghdad and at air bases in Iraq have "greatly reduced the risks of these indiscriminate rocket attacks", political analyst Ghanem al-Abed said last week.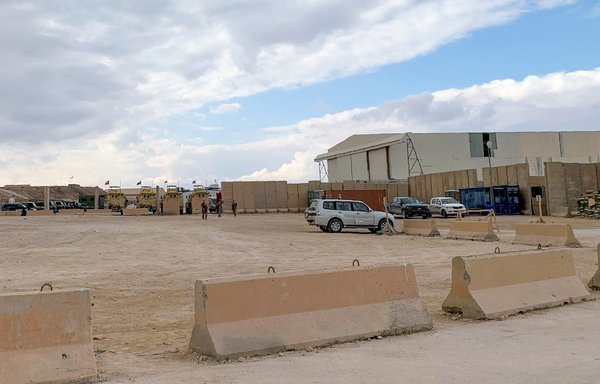 Since the start of the year, 47 attacks have targeted military bases housing troops from the international anti-"Islamic State of Iraq and Syria" (ISIS) coalition, as well as foreign embassies and Iraqi convoys carrying logistical support.
The attacks have been widely blamed on Iran-linked militias.
Six of the attacks involved explosives-laden drones, a relatively new tactic that also has been used by the Iran-backed Houthis in Yemen.
In April, a drone packed with explosives hit the coalition's Iraq headquarters in the military part of the airport in Erbil in Iraq's Kurdish region.
In May, a drone packed with explosives hit Ain al-Asad, where international coalition troops are housed.
On June 9, three explosives-laden drones targeted Baghdad airport, where international coalition troops are deployed. The Iraqi army intercepted one of them.
Rockets target Ain al-Asad
In a separate attack on Monday, rockets targeted Ain al-Asad air base without causing casualties, an international coalition spokesman said.
Ain al-Asad base "was attacked by three rockets" in the early afternoon, spokesman Col. Wayne Marotto said on Twitter.
"The rockets landed on the base perimeter. There are no injuries and damage is being assessed," he said.
There was no immediate claim of responsibility for the Monday attacks, which came a week after deadly US air strikes hit operational and weapons storage facilities used by Iran-backed militias in the Iraq-Syria border region.
The defensive strikes, carried out overnight June 27, hit three military facilities used by Iran-backed militias -- two in Syria and one in Iraq -- Pentagon spokesman John Kirby said at the time.
He said the targets had been selected as they were used by Iran-backed militias that are engaged in drone attacks against US personnel and facilities in Iraq.
Iran-backed Iraqi militias Kataib Hizbullah and Sayyed al-Shuhada were among the "several Iran-backed militia groups" that had used the facilities, Kirby said.
The Pentagon said the raids were retaliation for attacks on US interests, and Secretary of State Antony Blinken said they sent a "strong message".
The United States recently offered up to $3 million for information on attacks targeting its interests in Iraq.