QAMISHLI -- Hundreds of Iraqis were repatriated earlier this week from a Kurdish-run camp in northeast Syria in the first such round of departures.
"On Tuesday, 94 Iraqi families, or 381 people, left the al-Hol camp, under Iraqi army escort," said a Kurdish administration official on condition of anonymity.
The transfer came as part of an agreement between the Iraqi government and the multinational coalition battling the "Islamic State of Iraq and Syria" (ISIS), he said.
The families were transferred to al-Jadaa camp in al-Qayyarah in the Iraqi province of Ninawa, Roshan Kobani, a member of the Women Protection Units (YPJ) who is currently stationed at al-Hol, told Al-Mashareq.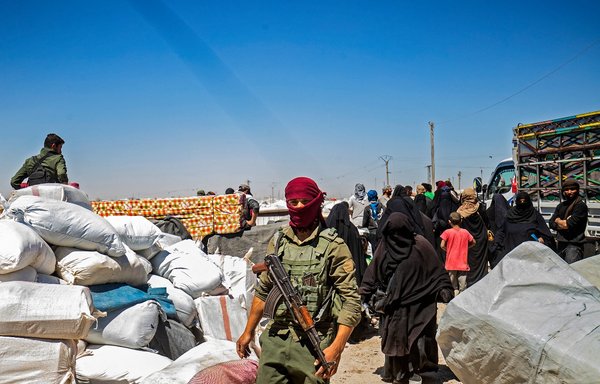 These "were not ISIS families", she said, adding that their transfer was approved "after a stringent security check by the SDF [Syrian Democratic Forces], the coalition and the security authorities in Iraq".
The United Nations sponsored and monitored the operation, she said.
There are dozens of other families who fled Iraq and wish to return once the security situation is more stable, Kobani said.
Not ISIS families
The departures mark the first wave of Iraqi families to leave al-Hol, which is home to more than 60,000 people, including relatives of ISIS fighters.
Iraqis make up nearly half of al-Hol's total population, according to the United Nations (UN).
"Not all residents of al-Hol are ISIS family members, as there are dozens of Iraqi and Syrian families who fled areas where fighting against the group was raging and took refuge in the camp," said Kurdish Red Crescent relief worker Nermin Othman.
"Security screenings conducted in the camp over the last period confirmed the presence of families who are not affiliated with the group, including the families who were last transferred to Iraq," she said.
Othman revealed that more groups will be transferred in the coming period and preparations are under way to co-ordinate their return.
In February, Kurdish forces handed over about 100 suspected Iraqi extremists to Baghdad, according to an Iraqi security source.
Some 1,600 Iraqis suspected of having fought for ISIS were still being held by Kurdish forces, according to a UN report published in early February.
Since the fall of ISIS's self-styled "caliphate" in March 2019, the Kurdish authorities have repeatedly urged the international community to repatriate foreign nationals held in northeast Syria.
Calls for return
In March, Human Rights Watch (HRW) in a report urged foreign governments to retrieve their citizens from Kurdish administered al-Hol and Roj camps in Syria's al-Hasakeh province as a matter of urgency.
They also must work to ensure due process for ISIS suspects held at the northeastern Syria camps, it said.
Two years after the defeat of ISIS in its last Syrian stronghold of al-Baghouz, nearly 43,000 foreigners linked to ISIS remain detained in northeastern Syria.
Around 31,000 hail from Iraq, and nearly 12,000 others are from almost 60 other countries. More than half of them, around 27,500, are children.
Holding the foreigners "is a huge burden" for the Autonomous Administration, the administration's deputy co-chairman Badran Chia Kurd told HRW.
But repeated calls for governments to repatriate their nationals have largely fallen on deaf ears, with just a handful of children -- many of them orphans -- and a few women being brought home over the past three years.
"The international community, in particular the countries who have citizens in the camps and prisons, are not assuming their responsibility," Chia Kurd said. "This issue, if not solved, will affect not only us but the entire world."
Ramped-up security
Kurdish forces in March and April launched a massive security operation targeting ISIS operatives in al-Hol, which has been rocked by assassinations and breakout attempts.
The Asayesh, affiliated with the SDF, launched the campaign with support from the People's Protection Units (YPG), Women Protection Units (YPJ) and Syrian Kurdish Anti-Terror Forces Command (HAT).
Authorities arrested more than 100 suspected ISIS members inside the camp, and have continued to make arrests since then.
Kurdish authorities have warned that al-Hol is turning into an extremist powder keg, as ISIS elements are hiding out among camp residents.
The security campaign came in response to a surge in crimes committed inside the camp against civilians who reject the extremists' ideology and refuse to co-operate with them, said YPG member Roshan Kobani.
Kurdish authorities have recorded more than 40 murders in al-Hol since the start of this year, most of which have been blamed on ISIS sympathisers.