BAGHDAD -- An Iraqi journalist remains in intensive care after being shot in the head early Monday (May 10), only 24 hours after a prominent Iraqi activist was killed outside his home in Karbala in an attack widely blamed on Iran-aligned militias.
Al-Forat satellite television journalist Ahmed Hassan, who was targeted in an assassination attempt Monday in southern Iraq, was shot with "two bullets in the head and one in the shoulder", according to a physician, and has undergone brain surgery at a Baghdad hospital.
He remains in critical condition.
Images captured on a surveillance camera show that an assailant shot Hassan as he arrived home at night near Diwaniyah, the provincial capital of Qadisiyah.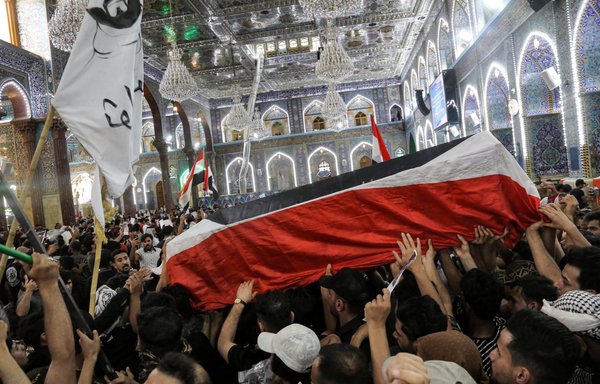 The attack is reminiscent of a systematic campaign by Iran-backed militias to silence Iraqi activists and journalists who call for an end to Iran's interference in their country.
In a separate attack, anti-corruption campaigner Ihab al-Wazni was shot dead early Sunday in an ambush outside his home in Karbala, sending protest movement supporters onto the streets to demand an end to the ongoing violence and bloodshed.
Al-Wazni had led protests in Karbala, where Iran-backed militias hold sway.
He was shot overnight outside his home by men on motorbikes in an ambush caught on surveillance cameras. His death was confirmed by security forces and activists.
Al-Wazni had narrowly escaped death in December 2019, when men on motorbikes shot and killed fellow activist Fahim al-Taie as he was dropping him home in Karbala after taking part in the protests.
Video footage posted online showed al-Taie getting off a motorcycle in front of the Ansar Hotel in al-Baroudi, when another motorcycle pulled up behind it. A gunman riding on the back of the motorcycle shot him before pulling away.
Sources said al-Taie had accused unspecified parties before his death of being involved in attempts to assassinate Iraqi activists.
Al-Wazni and al-Taie were key figures in a protest movement that erupted in October 2019. Around 600 movement activists have been killed, whether on the streets during rallies or targeted on their doorsteps.
Protests broke out in Karbala, al-Nasiriya and Diwaniya in southern Iraq in reaction to al-Wazni's killing.
'It is the Iranian militias'
In a video recording in the morgue where al-Wazni's body was initially held, a fellow activist blamed pro-Iran groups for the killing.
"It is the Iranian militias who killed Ihab," said the activist, who was not named.
Since 2019, Iran-backed groups have launched dozens of rocket attacks on civilian and military targets in Iraq, including international missions.
Some have been blamed on the three most prominent Iran-affiliated militias -- Kataib Hizbullah, Asaib Ahl al-Haq, Harakat al-Nujaba -- while others have been claimed by nebulous "smokescreen" militias operating at their behest.
"Iran out!" and "The people want the fall of the regime!" chanted hundreds of mourners Sunday as they carried al-Wazni's body to the Karbala shrine under a sea of Iraqi flags.
Iraqi police said they would "spare no effort" to find "the terrorists" behind al-Wazni's killing.
Politicians, including National Wisdom Movement leader Ammar al-Hakim, a leading Shia cleric and the owner of Al-Forat television, deplored the death and called for justice.
Targeted killings of activists and journalists are normally carried out in the dead of night by men on motorbikes, and nobody claims responsibility.
Activists and the United Nations repeatedly have blamed "militias".
Prime Minister Mustafa Kadhemi took office a year ago, vowing to rein in rogue factions, fight corruption and roll out long-awaited reforms.