Afghan and Pakistani mercenaries are abandoning militias organised and funded by Iran's Islamic Revolutionary Guard Corps (IRGC) in Syria in increasing numbers, with many opting to return home.
The IRGC directs more than 40 militias in Syria -- about 150,000 fighters in total. In addition to Afghan and Pakistani nationals, it has recruited mercenaries from Iraq, Lebanon and Bahrain.
Recent weeks have seen a notable exodus of foreign fighters, especially Afghans and Pakistanis, from those militias, said Hisham al-Mustafa, a member of the al-Hasakeh province political committee.
Large numbers of mercenaries -- perhaps in the hundreds -- have left the militias and Syria behind, he said, and returned to their home countries.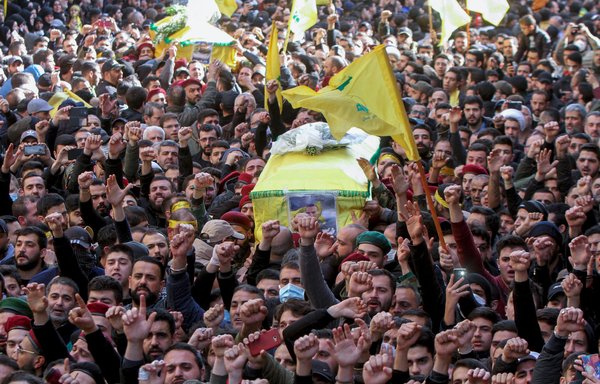 They have many reasons to leave, he said, but foremost among them is the decline in financial support from the IRGC.
Monthly salaries peaked at about $1,500 between 2017 and 2018 but have since dropped to less than a third of that amount because of Iran's economic crisis -- partly a result of sanctions -- and the collapse of its national currency, al-Mustafa said.
A delay in payment of those salaries has aroused growing "discontent and resentment among the fighters", he said.
'The biggest mistake'
IRGC-backed militia members have been complaining about the neglect they suffer, with local media reports indicating dozens contracted COVID-19 and that some died from not receiving the necessary medical attention.
Recurrent air strikes pounding militia strongholds in eastern Syria are another reason for the departure of foreign mercenaries, al-Mustafa said.
"They are frustrated and on edge because of these attacks, as many of them now realise they are not safe and that IRGC commanders are dragging them to their death," he said.
Most of the foreign fighters in the Iranian militias are elements of two main groups: the Fatemiyoun Division and the Zainabiyoun Brigade.
The Fatemiyoun Division, established by the IRGC in 2014, comprises more than 8,000 Afghan fighters according to some estimates, while the Zainabiyoun Brigade, established in Syria in 2012, reportedly comprises between 2,000 and 5,000 fighters, mostly from Pakistan.
About 200 members of these two militias in Deir Ezzor city completed their contracts and simply went home after IRGC commanders refused to increase their pay, according to a mid-April report by al-Araby al-Jadeed.
In an April 4 report on IranWire, an Afghan fighter from the Fatemiyoun Division who recently returned from Syria described how the IRGC recruited and trained him.
The IRGC then thrust him and other hapless Afghan recruits into the Syrian war, he said, describing his participation in the war as "the biggest mistake" of his life.
He and his compatriots were fighting not "to defend the shrines" as the Iranian commanders claimed, he said, but rather to serve Iran's interests.
Conflicts among militias
"The Iranian regime recruited thousands of foreign mercenaries and paid them generously to protect its influence and its expansionist project in the region," said Sheikh Mohammed Azzam al-Sukhni, of the Badiyat Homs political commission.
But today it is unable to pay all those who either joined its militias for money or were misled by false religious slogans, he said.
Anticipating the shrinkage of its Syria-based militias, the IRGC recently has sought to recruit the poorest Syrians, many of whom are willing to work for low pay.
Still, early signs show that those militias are falling apart, said al-Sukhni.
"Relations among these armed groups keep getting worse, as their commanders are feuding with each other," he said.
The militias have targeted each other with tit-for-tat assassinations, generally over revenue streams, he said, especially in Syria's eastern desert (Badiya), al-Sukhnah, Palmyra and Muhin.
Many foreign commanders and mercenaries feel discriminated against by IRGC commanders and by their most prominent allies, such as Lebanese Hizbullah and Iraqi Kataib Hizbullah, who appear to receive more favourable treatment.