LONDON -- The Group of Seven (G7) on Wednesday (May 5) accused China of human rights abuses and a crackdown on pro-democracy figures, while voicing concerns about Russian aggression against Ukraine.
Foreign ministers from Britain, the United States, France, Germany, Italy, Canada and Japan met in London under tight coronavirus restrictions, marking the G7's first in-person meeting in more than two years.
In a wide-ranging final communique after three days of meetings, they urged Tehran to release foreign and dual nationals they said were being held arbitrarily in Iranian jails.
"We commit to working together, with partner countries and within the multilateral system, to shape a cleaner, freer, fairer and more secure future for the planet," the leaders said in the communique.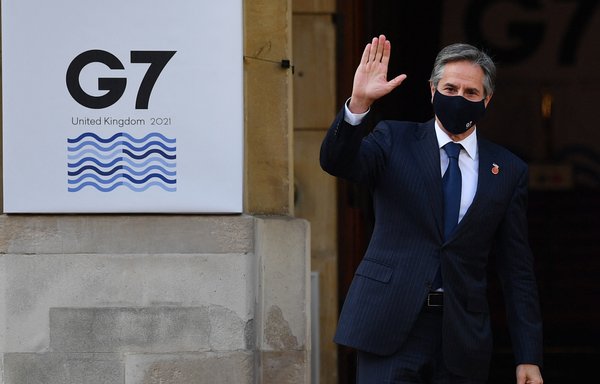 "We resolve to keep working on tangible issues and outcomes together and in partnership with many others."
Xinjiang concerns
The G7 members' top diplomats reserved their strongest criticism for the Chinese regime, urging it to abide by its obligations under international and national law.
They said they were "deeply concerned" by human rights violations and abuses against the minority Uighur Muslim population in Xinjiang region and in Tibet, and urged an end to the targeting of rights protesters in Hong Kong.
But they held the door open for future co-operation with Beijing, adding: "We look for opportunities to work with China to promote regional and global peace, security and prosperity."
Tensions with Western nations are growing and international criticism is mounting over the situation in Xinjiang, where rights groups estimate at least one million Uighurs and members of other mostly Muslim minorities have been held in camps.
Authorities in the area are said to have forcibly sterilised women and imposed forced labour.
The United States has since accused China of genocide, and British MPs last month approved a symbolic parliamentary motion declaring that Uighur Muslims in China were "suffering crimes against humanity and genocide".
But China has decried the criticism over Xinjiang.
The country has since ramped up its propaganda, even releasing a roundly mocked musical film set in Xinjiang, and holding dozens of press briefings on the subject. State-owned outlet CGTN released a four-part documentary looking to justify the government's policies in the region.
Russia's 'destabilising behaviour'
G7 leaders also called out Russia for what they said was the "irresponsible and destabilising behaviour" of massing troops on the Ukrainian border, "malicious cyber-activity", disinformation and malign intelligence activity.
"We... will continue to bolster our collective capabilities and those of our partners to address and deter Russian behaviour that is threatening the rules-based international order," the G7 officials said.
During a visit to Ukraine on Thursday, US Secretary of State Antony Blinken called on Russia to cease "reckless and aggressive actions" against Ukraine, saying that Moscow has kept "significant forces" near the border.
Blinken also announced on the sidelines of the meetings that the G7 has renewed its support for a political solution to the decade-long conflict in Syria, Al-Sharq al-Awsat reported.
"My G7 counterparts and I reaffirmed our commitment to a political resolution for ending the conflict in Syria and support to the re-authorization of the UN cross-border aid mechanism. We'll continue working to advance all aspects of UNSCR 2254 and end the suffering of Syrians," he tweeted on Tuesday.