Iran-backed Iraqi militias have been reinforcing their presence in the Anbar province border town of al-Qaim as part of an ongoing effort to control the passage of fighters, weapons and smuggled goods between Iraq and Syria.
These pro-Iran "loyalist" militias are operating outside the control of the Iraqi government, in clear violation of Iraqi sovereignty, and in defiance of Iraq's top Shia cleric Ali al-Sistani, who has called for them to disband.
By boosting their presence at the border, loyalist militias are seeking to consolidate and extend their control of the crossing in service of Iran, linking Iraqi militias with Islamic Revolutionary Guard Corps (IRGC) proxies in Syria.
After the "Islamic State of Iraq and Syria" (ISIS) was defeated in Iraq in 2017, Iran-backed militias operating under the auspices of the Popular Mobilisation Forces (PMF) -- formed specifically to oust ISIS -- remained in the border area.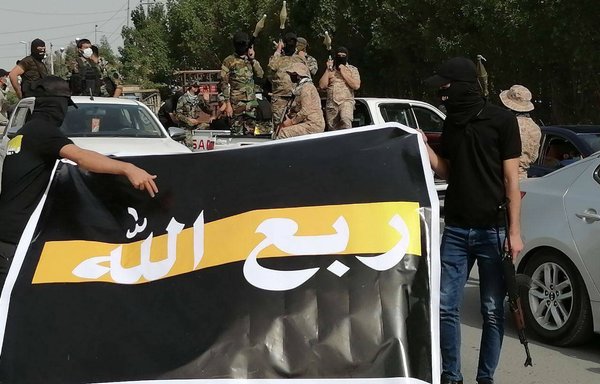 They began to expand their footprint in al-Qaim, and have remained entrenched in the town, even amid government efforts, supported by al-Sistani, to curb the influence of armed groups operating outside state control.
Kataib Hizbullah and militia groups such as Sayed al-Shuhada, al-Tufuf Brigade and Saraya al-Khorasani have sought to protect their economic interests in Anbar, which are mainly focused on cross-border smuggling.
According to local residents, these groups now have about 20 military headquarters in the border area, in addition to barracks and inspection posts and checkpoints set up on the roads.
Militiamen are deployed mainly inside a triangle of territory that extends south from al-Tanf in Syria to the Iraqi town of al-Husaybah, and from there north to the al-Qaim-Albu Kamal border crossing.
Smuggling activities on the rise
Over the last year, the militia presence in this area has swollen, according to local residents and officials, amid media reports that the militias have been stepping up their smuggling activities via secret routes.
These activities are highly profitable, reportedly generating millions of dollars in revenue for the militias. And they have not stopped, despite the Iraqi government's efforts to maintain border security and close unofficial crossings.
According to Anbar official Eid Ammash al-Karbouli, smuggling across the Iraq-Syria border "dates back decades, and currently includes almost everything, from livestock and goods to weapons and anything that generates a profit".
The length of the border "makes it difficult for any military force to tighten control over it through conventional means and put a complete stop to smuggling activities", he said.
Iraqi forces are fulfilling their duty of imposing the rule of law on the ground and preventing any side or party from exploiting the border, he said, "but we cannot deny the fact that the task is immensely difficult".
Local sources said the militias seem to have a more dominant presence than before in border towns, including al-Qaim.
An al-Qaim resident, who asked to remain anonymous out of fear for his safety, told Al-Mashareq that a large number of residents have not been able to return to the town, even though anti-ISIS operations ended years ago.
"They cannot return because their homes and lands were confiscated by the militias and turned into permanent headquarters for them, and they are prohibited from going to or near their property," he said.
Militias assert their presence
Some residents of al-Qaim who had been displaced by ISIS attempted to return to the border town from the camps, but had to leave once again out of fear of the militias, according to the al-Qaim resident.
They fear violence and persecution at the hands of the militias, he said, noting that it is easy for those groups to arrest and forcibly disappear anyone and pin the responsibility on ISIS.
The suffering of al-Qaim residents and those of other Iraqi border towns is exacerbated by the surge in the number of militiamen in the area, said retired Iraqi army officer Jalil Khalaf al-Mohammadawi.
The militias' seizure of homes and farms has plunged the border region into the circle of Iranian conflicts and interests, he said.
The Iranians use the region as a corridor through which to transport weapons, missiles and fighters to their proxies on the Syrian side of the border, who are defending Tehran's influence and its expansionist project, he said.
Their plan is to "turn Iraq into an open theatre for violence and conflicts", he said, as evidenced by recent attacks, including the April 14 attack on Erbil, in which drones laden with bombs were used.
He also pointed to the April 18 attack on al-Balad air base, in which Iranian rockets were used, which is the fourth such attack on the base since the beginning of this year.
"Iraqi forces bear a great responsibility in undermining the militias' hegemony over the western border areas, restoring normal conditions there and reassuring the local population," al-Mohammadawi said.