ABBOTTABAD -- Children play cricket in a patch of scorched grass and scattered rubble in Abbottabad -- all that remains of the final lair of the man who was once the most wanted person on the planet.
It was in this city that al-Qaeda leader Osama bin Laden was killed in a clandestine raid by US Navy special forces in the early hours of May 2, 2011.
Bin Laden had been living in seclusion for at least five years in Abbottabad, hidden behind the high walls of an imposing white building less than 2km from a renowned military academy.
"It was a very bad thing for this place and for the whole country," said Altaf Hussain, a retired schoolteacher, walking down an alley alongside bin Laden's former residence.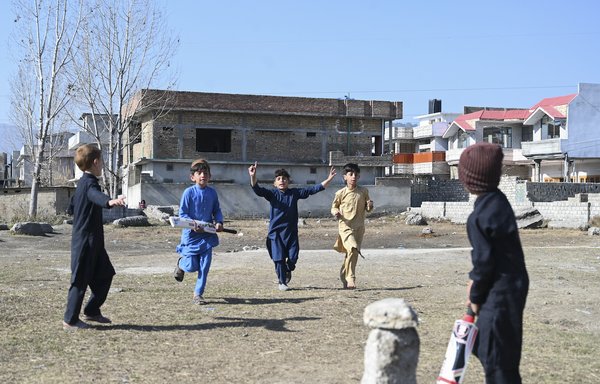 "By living here, Osama gave this city a bad reputation."
Pakistan was initially receptive to the founding myth of al-Qaeda -- the resistance of Muslims to American imperialism.
But at the time of his death, bin Laden's local popularity had waned.
"Before, I remember that people named their children Osama, even in my village," said Pakistani journalist Rahimullah Yusufzai, a specialist in insurgent networks.
Bin Laden's death did not stop extremism from spreading in Pakistan, and conservative religious movements became even more influential.
Over the next three years, several terror groups -- foremost among them Tehreek-e-Taliban Pakistan (TTP) -- carried out bloody attacks and established strongholds in the northwestern tribal areas bordering Afghanistan.
A Pakistani military campaign launched in 2014 helped bring down the violence, although a recent series of minor attacks has raised concerns.
Al-Qaeda no longer 'a great threat'
Without its charismatic leader, al-Qaeda "survived, but barely" and is no longer able to launch major attacks in the West, said Yusufzai.
The group is also no longer "a great threat to Pakistan", said Hamid Mir -- the last journalist to interview bin Laden face to face -- although other groups such as the "Islamic State of Iraq and Syria" (ISIS) remain so.
He said while the al-Qaeda founder is still seen positively by some, most acknowledge him as "a bad person who killed innocent people and caused destruction -- not only in Pakistan, but in many countries, in violation of the teachings of Islam".
With time, bin Laden became above all a myth, with few militants alive who would have encountered him in person.
"For many, he is yesterday's news and no longer relevant to the concerns of today," said Glenn Robinson, author of the recent "Global Jihad: A Brief History."
Within militant circles bin Laden's strategy is also controversial, notably his decision to attack the United States, which for some extremists was a counter-productive move.
"It is still widely viewed as a significant strategic mistake. Part of the evidence for this is that very few jihadis even follow this strategy any more -- and most never did," Robinson said.
Extremists battling for influence
Islamic extremism mutated in the wake of bin Laden's death, with al-Qaeda losing its status as the world's foremost insurgent network to ISIS, which at its zenith controlled swathes of Iraq and Syria.
The two groups, despite a shared brutality and extremist ideological zeal, never joined forces and instead have become sworn enemies, fighting in particular in Syria and in the vast Sahel region of Africa.
Analysts question al-Qaeda's future strategy and strength after the reported deaths of Ayman al-Zawahiri and al-Qaeda deputy leader Abdullah Ahmad Abdullah, who went by the nom de guerre Abu Muhammad al-Masri.
Abdullah was killed in Tehran in August of last year.
Analysts of al-Qaeda have quoted sources as saying that al-Zawahiri is also dead.
Iran has strongly denied the report over the killing of Abdullah -- a huge embarrassment for Tehran -- while al-Qaeda has not issued any confirmation of the purported death of al-Zawahiri through its usual media channels.
Hamza bin Laden, the presumptive al-Qaeda heir, also is dead, US officials said in 2019.
Ties to Afghanistan
Meanwhile last month, Afghan special forces killed a senior member of al-Qaeda in the Indian Subcontinent (AQIS) together with a Taliban commander during an operation in Paktika province, further proving the ongoing ties between the two groups.
Senior AQIS leader Dawlat Beg Tajiki, alias Abu Mohammad al-Tajiki, and Taliban commander Hazrat Ali, alias Hamza Muhajer, were a point of contact between the two groups and were planning joint attacks, an Afghan National Directorate of Security official said on condition of anonymity.
Although the Afghan Taliban pledged to cut ties with al-Qaeda and other terrorists groups under the February 2020 Doha agreement with the United States, the evidence clearly shows an ongoing -- and even stronger -- relationship.
Al-Qaeda's support for the Taliban is self-serving, analysts say.
"Senior al-Qaeda members develop strategies for the Taliban, and advise, fund, equip and train them," said Tamim Nuristani, a political analyst and former governor of Nuristan province.
"Al-Qaeda plans to open new fronts in case the Taliban make peace [with the Afghan government]," he said.
The terrorist group also has close ties to Iran and has helped foster the Taliban's relationship with Tehran, he added.