Even as Iran tilts deeper into economic crisis, its Islamic Revolutionary Guard Corps (IRGC) is funneling vast sums of money into operations in eastern Syria that undergird its expansionist ambitions.
In impoverished and war-torn Syria, these ambitions have seen the IRGC attempting to expand Iranian hegemony in strategic areas, particularly along the border with Iraq, via various means.
These include coercing Syrian youth to join IRGC-aligned militias by pressuring their families and exploiting the abject poverty in which these families are living.
Militia leaders are offering financial incentives, including relatively high salaries and food aid, to draw in youth who face a dearth of job opportunities and are desperate to find work and support their families.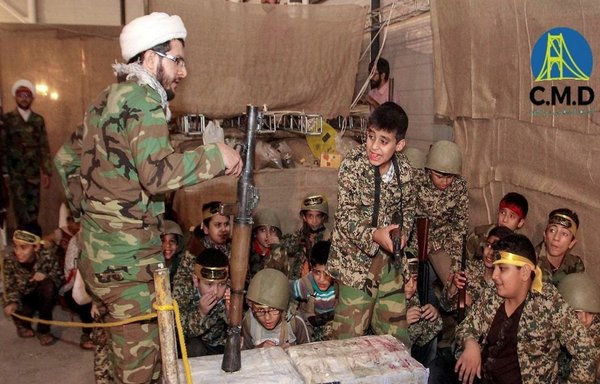 As part of its attempts to establish itself in the region, the IRGC also has been oiling the palms of local officials and people of influence.
"The Iranians are spending generously to gain the loyalty of local community leaders of weak moral fibre, who themselves are receiving payments," said Sheikh Mohammed Azzam al-Sukhni, who serves on the Badiyat Homs Political Commission.
In mid-March, the Iran-backed Kataib al-Imam Ali militia opened a new recruitment centre in the heart of the city of Aleppo, Asharq al-Awsat reported.
By February, the Syrian Observatory for Human Rights said, there were 18,000 Syrian recruits in the ranks of IRGC-aligned forces in the area west of the Euphrates River in rural Deir Ezzor.
"More than 30,000 Syrians are currently enrolled in the Iranian militias, which comprise a total of 150,000 fighters of various nationalities and ages, distributed among more than 42 factions and militias," al-Sukhni said.
Iran is seeking to expand even at the expense of its own allies, notably Russia, with the two sides competing to recruit Syrian fighters.
In mid-February, the Observatory said, the Iran-backed Fatemiyoun Division was able to recruit more than 205 elements away from the Russian-backed National Defence Forces militia.
Recruitment and indoctrination
In addition to financial incentives, new recruits to IRGC-aligned militias are offered protection, particularly from pressure many face from Syrian regime forces for non-fulfillment of their mandatory military service.
If they refuse to co-operate with the militias, however, Iran deals with them in a totally different manner, said Mudhar Hammad al-Asaad, a member of the Council of Syrian Tribes and Clans in al-Hasakeh province.
In the event of noncompliance, "it sets out to threaten and harm them, confiscate their property and displace them from their homes", he said.
Recruitment is coupled with cultural and sectarian indoctrination.
There are at least 30 recruitment centres located in Deir Ezzor city and the Deir Ezzor province city of al-Mayadeen, as well as al-Amin, Sayyida Zainab and Daraya in the Damascus area, al-Qusayr in Homs and the al-Hasakeh district of Qamishli, he said.
Military, cultural and language courses are offered at Iranian cultural centres and schools to persuade the recruits "to abandon their religious beliefs" and instill the doctrine of Wilayat al-Faqih (Guardianship of the Jurist).
This calls for them to pledge their allegiance to al-Wali al-Faqih (the Guardian Jurist) -- Iran's Supreme Leader, Ali Khamenei.
This type of religious indoctrination is reminiscent of the strategy the "Islamic State of Iraq and Syria" (ISIS) used to brainwash youngsters -- its so-called "Cubs of the Caliphate" -- when it controlled parts of Syria and Iraq, al-Asaad said.
Centres supported by Iran and affiliated with Lebanese Hizbullah include the Imam al-Mahdi boy scouts of Deir Ezzor and al-Wilaya scouts of Homs, as well as al-Surat cultural complex in Sayyida Zainab.
Despite the pervasiveness of Iran's influence, he noted, there is mounting popular rejection of it inside Syria as a result of the militias' continuous abuses and control over the affairs and destiny of the population.
Two-track project in Syria
"Iran is pursuing a long-term destructive project in Syria that runs on two tracks," said Syrian political analyst Ziyad al-Munajjid.
It seeks to recruit the largest possible number of low-income Syrians into the ranks of its militias, he said, and to propagate and entrench its doctrine of Wilayat al-Faqih among the local population.
This is basically a political ideology, rather than a religious one, and relates to Iran's ambitions to expand beyond its own borders, al-Munajjid said.
In essence, he added, Iran is trying to expand in eastern Syria and in other parts of the country. To this end, "it is pursuing a policy of enticement and intimidation".
Though it has made some inroads among the local population, he added, there are large segments of the Syrian population who steadfastly refuse to submit to Iranian pressure of any kind.
Economic crisis in Iran
While the IRGC funnels vast sums of money to proxy militias abroad, normal Iranians face a crushing economic crisis.
All the main economic indicators in Iran show that the Islamic Republic is in a grave situation, with inflation skyrocketing, currency reserves plummeting, and growing discontent with the country's leadership.
Public rage over economic and living conditions has reached a boiling point, and observers have cautioned that the next round of public protests might be far more violent than the November 2019 protests over the spike in fuel prices.
Reports from Iran in recent months of slowed-down internet speeds and intermittent outages suggest the regime may be trying to tamp down a new round of civil unrest.