CAIRO -- Syrian Democratic Forces (SDF) are stepping up operations against remnants of the "Islamic State of Iraq and Syria" (ISIS) in Syria's Deir Ezzor and al-Hasakeh provinces as the terrorists have escalated their activities in recent months.
Security forces made dozens of arrests in an ongoing operation launched Sunday (March 28) in and around al-Hol camp for suspected family members of ISIS militants, Kurdish officials and the Britain-based Syrian Observatory for Human Rights (SOHR) said.
So far more than 30 people have been arrested in the sweeping anti-ISIS operation carried out by the SDF, the Kurdish YPG militia and a local police force, said Rami Abdul Rahman, head of the SOHR.
Syrians and foreigners "suspected of supporting IS" have been arrested, he said.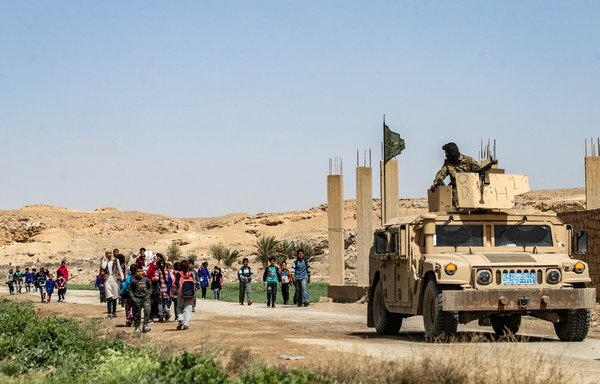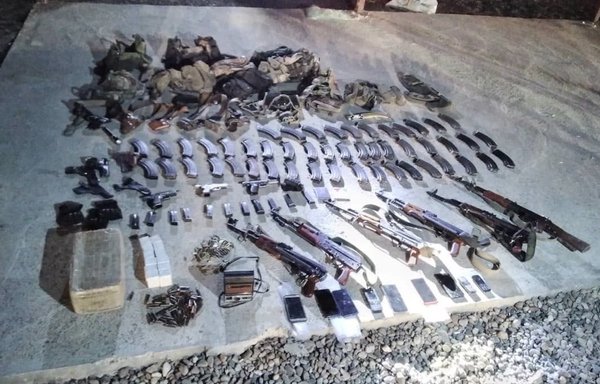 SDF officials confirmed the operation, with one of them saying it would run at least 10 days.
An SDF statement said 5,000 security personnel were deployed in al-Hol to "protect residents" during the sweep.
It said nine people, including an "ISIS leader" had been detained so far.
The US-led coalition battling ISIS said it was providing its SDF partners with "intelligence, surveillance and reconnaissance" support.
The purpose of the operation is to "degrade and disrupt" ISIS activities in the camp, coalition spokesperson Wayne Marotto told AFP.
Uptick in ISIS activity
ISIS's criminal activity has "dramatically increased" since the beginning of 2021 with dozens of murders, beheadings and bombings targeting both civilians and security forces, said SDF officer Farhad Khoja.
The SOHR has recorded around 40 murders in al-Hol camp since January.
SDF raids have resulted in dismantling ISIS sleeper cells and arresting a large number of their members who "surface solely to carry out attacks and then retreat into hiding", Khoja said.
Security forces have confiscated large quantities of ammunition, weapons, and communications and electronic devices in the raids, he said.
The SDF is continuing to implement strict security measures in a number of areas, he said, including ID checks and a ban on motorcycles between 7pm and 6am, since they are the most commonly used means of transportation by ISIS.
ISIS elements are attempting to "spread terror in any way possible in Deir Ezzor after having lost control of the region", said media activist Sameh al-Akidi.
They have been threatening the residents of rural Deir Ezzor and al-Hasakeh provinces, focusing their terrorist activities on kidnappings for ransom and threatening the families of SDF members.
"They have warned residents of al-Sabha in eastern Deir Ezzor whose sons are members of the SDF, that ISIS will return to the town if their sons do not quit the SDF," he explained.
They also target employees of the Kurdish Autonomous Administration, whose job is to provide services to the region, al-Akidi said.
As recent examples, he noted the killings of al-Kawashia Autonomous Administration official Bassam al-Hishan; the head of the al-Dashisha local council Saadah al-Hermas; economics committee official Hend al-Khodr; and Abboud al-Muhaimed, who worked with a local relief organisation.
Targeting SDF personnel "one at a time" appears to be ISIS's primary attempt at retaliation for the losses the group is suffering, he said.
Kidnapping, murder and extortion
In early February, ISIS members kidnapped and shot dead a car dealer from the village of Tal al-Taweel in rural al-Hasakeh whom they accused of working for the SDF.
The group then sent a video of the execution to the man's wife, demanding the family pay $100,000 for the return of his body.
On February 26, ISIS claimed responsibility for killing with a machine gun 80-year-old Ali al-Krihan in al-Sabha town, for being a "sorcerer".
On March 4, ISIS kidnapped for ransom three brothers from Amuda in rural al-Hasakeh, who work as truck drivers transporting goods between al-Hasakeh and Deir Ezzor. The young men were beaten and taken to an unknown location before being released the next day.
"[ISIS] sleeper cells are having difficulty remaining in their hideouts and are consequently surfacing in cities and villages to obtain supplies and money through death threats," said Syrian journalist Mohammed al-Abdullah.
But ISIS elements are running out of places to hide, he said.
Intensive SDF operations in the Badiya (eastern desert) and less populated areas have forced ISIS militants to seek refuge in more populated areas, which in turn facilitates their capture by the SDF and international coalition forces, al-Abdullah said.
ISIS members harass merchants as a way to disrupt the return to normal daily life, he said, which has been made possible thanks to the international coalition and the Autonomous Administration, which has focused their efforts on improving the region's agriculture and trade sectors.
Members of the SDF have begun to monitor and trace money transfers to ISIS, as well as gangs who smuggle money, weapons, ammunition and supplies to the terror group, he said.
Most of these gangs operate between areas controlled by the Syrian regime and Iran-linked militias and SDF-controlled areas.