After Iranian and Chinese officials Saturday (March 27) signed a 25-year "strategic co-operation pact", Iranian social media users and civil society activists harshly criticised the regime for "selling Iran" in a deal whose details are murky at best.
The $400 billion deal is part of a sweeping Chinese plan to fund infrastructure projects and increase China's global sway.
Negotiations for the agreement -- an expansion of Beijing's flagship trillion-dollar Belt and Road Initiative that was launched five years ago -- drew heated debate in Iran last year, and virtually no details of its contents have been released.
A previously leaked draft document of unclear provenance suggested a wide-spanning agreement to include infrastructure, telecommunications and security co-operations.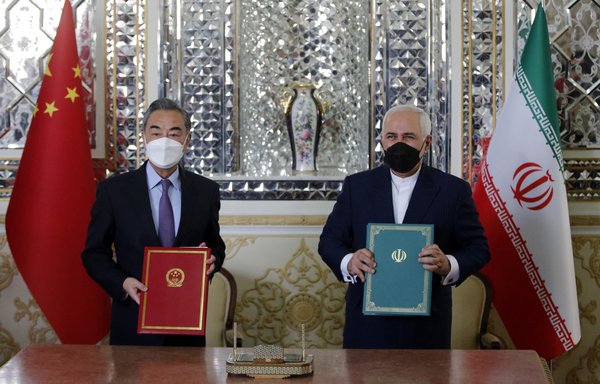 According to the document, the partnership would vastly expand Chinese presence in banking, telecommunications, ports, railways and dozens of other projects. In exchange, China would receive a regular -- and heavily discounted -- supply of Iranian oil over the next 25 years.
The deal also calls for joint military training and exercises, joint research and weapons development and intelligence sharing.
Observers say the agreement will bring about a host of negative effects for the region and beyond, as a weakened and cornered Iranian regime will be at the mercy of an emboldened and assertive China.
One of Beijing's main strategies for coercion is debt.
It offers massive loans to and gets into burdensome contracts with vulnerable countries around the world ostensibly to help build their economy, but when these countries inevitably cannot pay the loan back, or become unable to fulfill contract obligations, Beijing demands painful concessions.
Such concessions have included either diplomatic support for Chinese interests or wholesale appropriation of a country's natural resources.
Expanding Chinese assistance to Iran will also mean Beijing will be providing direct support to Iran's Islamic Revolutionary Guard Corps (IRGC), an arm of the Iranian military officially designated as a terrorist organisation.
Backlash, secrecy
The China-Iran pact, which Tehran said included "political, strategic and economic" components, was signed by the two countries' foreign ministers, Wang Yi and Javad Zarif.
In July, controversy erupted over the deal's proposal after former president Mahmoud Ahmadinejad charged that negotiations were being held for a "new, 25-year agreement with a foreign country" without the knowledge of the Iranian people.
In reaction to the signing of the agreement, most civil society activists inside and outside Iran have expressed anger about "Iran's sale to China" on social media and blasted the regime for "bowing to China".
The Iranian government's ongoing concealment of the deal's precise content is evidence of the depth of compromise, many say.
More than 500 Iranian civil society activists signed an online petition in which they described the Islamic Republic as a regime in demise struggling to stay alive through a long-term deal with China.
In light of the social media backlash, Zarif defended the pact on Twitter with poetry, insisting on his service to Iran.
Iranian President Hassan Rouhani's administration had continued to keep mum on the deal's details.
On Sunday, an Iranian Foreign Ministry official tweeted that it is "not unusual" for such deals to remain undisclosed.
Reza Zabib, a Foreign Ministry aide in Asia and Oceania affairs, wrote that there is no "mandate" to publish details, as the signed documents do not have the "nature of even form of an agreement" and are solely "a roadmap and the framework for long-term relations".
Meanwhile, Iranian economists and private sector companies, including Hamid-Reza Salehi, a member of the Tehran Chamber of Commerce, continue to emphasise that the government needs to make the deal public.
Another source of criticism is what while Iran claims to champion Muslim rights in the Middle East and around the world, such strategic pacts law bare the Islamic Republic's hypocrisy.
The Chinese government's brutal treatment of Muslims in Xinjiang province -- including evidence women are systematically raped, tortured and sexually abused -- appears not to affect Tehran's decision to get closer to Beijing.
Iran in crisis
Rouhani hosted Wang during his tour, voicing his hopes that China would "continue to be a major trading partner with Iran" and calling for further joint ventures, according to a presidency statement.
With Iran facing a crushing economic crisis, Iranian leader Ali Khamenei has called for deeper relations with "countries like China".
All the main economic indicators in Iran show that the Islamic Republic is in a grave situation, with inflation skyrocketing, currency reserves plummeting, and growing discontent with the country's leadership.
Public rage over economic and living conditions has reached a boiling point, and observers have cautioned that the next round of public protests might be far more violent than the November 2019 protests over the spike in fuel prices.
Security forces led by the IRGC responded to the protests by shooting demonstrators in several cities, and detaining and torturing hundreds. Some estimates suggest as many as 1,500 civilians were killed in the protests.
The 2019 protests were of a magnitude rarely seen in Iran following the 1979 Islamic Revolution, and the biggest since 2009 rallies over a disputed election.
Reports from Iran in recent months of slowed-down internet speeds and intermittent outages suggest the regime may be trying to tamp down a new round of civil unrest.
In the latest sign of unrest, Iranian security forces in February opened fire on civilians transporting fuel near the Pakistan border, triggering a violent uprising.