Videos circulated online by Russian media outlets project a macho imago of the "ISIS Hunters" -- a Russian-backed private security company in Syria.
Heavily armed and sporting distinctive arm patches that show a menacing skull overlaid by a red target, members of the mercenary group look as if they are hardened warriors fighting "Islamic State of Iraq and Syria" (ISIS) remnants.
In reality, however, it has been some time since ISIS has been the company's target.
The real focus of the ISIS Hunters, Syrian observers say, is to secure Russia's many and varied economic interests in Syria.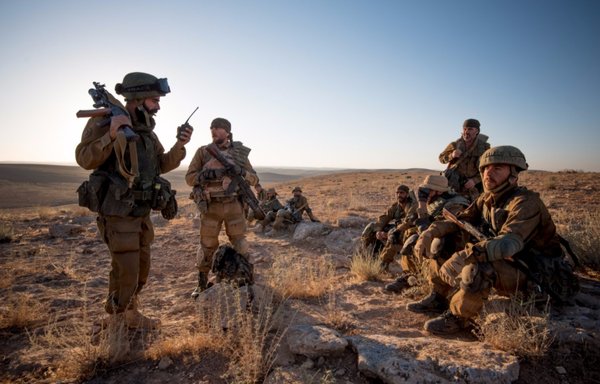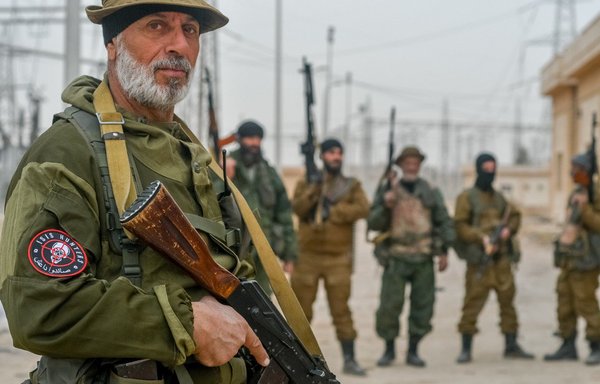 Russia, which has intervened in the Syrian conflict to prop up the brutal regime of Syrian President Bashar al-Assad, views Syria's natural resources as a major prize and has set its sights on securing a big slice of the reconstruction cake.
It has quietly expanded its armed presence in Syria by establishing private security companies, making use of al-Assad's Legislative Decree No. 55 of 2013.
One of the most prominent of these companies is "al-Sayyad for Guarding and Protection Services", which directs ISIS Hunters, and is deployed in various parts of Syria's eastern desert (Badiya), Deir Ezzor, Hama and rural Damascus.
ISIS Hunters, and another Russian-controlled security company, Sanad, are deployed in eastern Syria primarily to protect Russian investments in the oil, gas and phosphate industry and to guard the roads leading to these facilities.
Securing Russian interests
"ISIS Hunters first surfaced in the last stages of the battle for Ghouta in rural Damascus, and then again in the Palmyra desert, the Uqayribat area and rural Deir Ezzor," said Deir Ezzor media activist Jamil al-Abed.
Most recently, it has surfaced in rural Hama and Homs, he said, noting that the group has grown in size, with at least 5,000 elements deployed to relatively remote areas where phosphate mines and gas and oil fields are located.
These areas are Russian controlled, he added, either directly or through long-term contracts with the Syrian government.
Al-Sayyad company was initially formed, funded and trained by the Russian military in Latakia province to fight ISIS in the Syrian desert, and was licensed as a private security company in March 2017.
The Wagner Group later took over its training.
Based in the Hama city of al-Suqaylabiyah, al-Sayyad company is managed by Fawaz Mikhail Gerges, who is known for his close ties to Russia, and travels there frequently.
President Vladimir Putin even honoured Gerges' son with a medal in 2018 "in appreciation of his services and sacrifices for his motherland".
ISIS Hunters, an al-Sayyad company subsidiary, is heavily promoted by state-controlled Russian media, which exaggerate its combat capabilities and the scale of its operations, said Syrian lawyer Bashir al-Bassam.
Russia uses private companies such as the Wagner Group and ISIS Hunters to advance its interests in Syria under the cover of plausible deniability, he added.
Hama resident Sami Daoud said Syrian men are being recruited to work for ISIS Hunters at a rapid pace, under the guise of working for al-Sayyad.
Daoud said selected applicants are directly trained by Wagner Group personnel.
New recruits sent to Libya
In a further sign that al-Sayyad and its affiliates are not focused on fighting ISIS, the company has been recruiting Syrian mercenaries to send to Libya.
In Libya, the Kremlin, through the Wagner Group, is continuing to buoy military strongman Khalifa Haftar's unsuccessful efforts to topple the internationally recognised government.
Al-Sayyad has been expanding its operations in most regime-controlled areas of Syria, recently conducting recruitment operations in the south-western province of Sweida, Daoud said.
In Sweida, dozens of Syrian men were recruited to fight in Libya alongside Russian mercenaries and mercenaries of other nationalities, he added.
The new recruits were transported to Russian-controlled Hmeimim base in Latakia, and from there to Libya, where they took part in a brief military training course -- just a few days -- before they were thrust onto the frontlines.
According to Daoud, those fighting in Libya […] operate under difficult circumstances and suffer from shortages in medical and food supplies.