BAGHDAD -- Watching from afar as the "Islamic State of Iraq and Syria" (ISIS) swept across Iraq's Ninawa province in 2014, Pope Francis said he was ready to come and meet the displaced and other victims of war in a show of solidarity.
He fulfilled this promise Monday (March 8), concluding the first ever papal trip to Iraq in a packed three-day visit that went off without a security hitch.
During the visit, Francis's first trip outside the Vatican since the start of the global coronavirus pandemic, he held prayers and meetings with senior officials, public figures and clerics -- notably Iraq's top Shia cleric Ali al-Sistani.
Francis covered more than 1,400km by plane and helicopter, flying over areas where security forces are still battling ISIS. He also travelled in an armoured car, on roads lined with posters welcoming him as "Baba al-Vatican".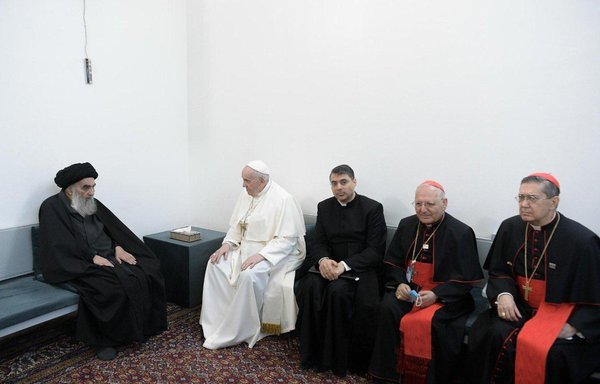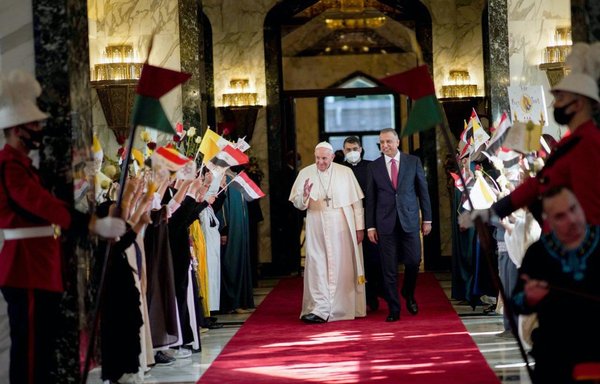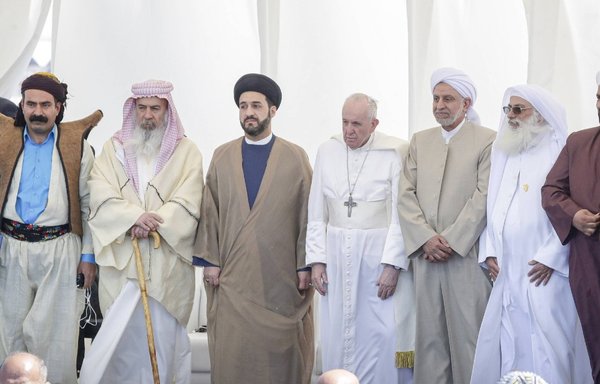 Leading prayers and convening interfaith gatherings in four key Iraqi cities, he evoked a spirit of hope and fraternity in a trip meant to encourage the country's dwindling Christian community and deepen interfaith dialogue.
Arriving at Baghdad's International Airport on Friday, he was greeted by Prime Minister Mustafa Kadhemi, and later met with President Barham Saleh and other government and religious figures.
The same afternoon, he addressed the faithful at the Syriac Catholic Our Lady of Salvation Church in central Baghdad's al-Karrada district, which suffered a terror attack 11 years ago that killed dozens of Christians.
Their death "reminds us well that the incitement to war, violence, hatred and bloodshed goes against the teachings of religion", Francis said at the church.
"This was a pastoral visit with a spiritual and humanitarian nature," said Yonadam Kanna, who heads Iraq's Christian al-Rafidain parliamentary bloc.
The pontiff sought to consolidate rapprochement between all religions and sects and to encourage Iraqi leaders to support the country's stability and progress and provide the citizens with a dignified life, Kanna said.
The visit also showed the world a different image of Iraq, which has been engulfed by security concerns due to the crimes committed by ISIS, he added.
Kanna expressed his hope that the successful security aspect of the visit will serve as a catalyst for opening up the country, and a starting point for a new era of peace and prosperity.
Meeting with al-Sistani
Francis visited al-Sistani in his modest home in Najaf on Saturday, for a closed meeting that lasted about an hour.
Kadhemi declared March 6, the day of the visit, an annual national day of tolerance and co-existence in Iraq.
Al-Sistani "affirmed his concern that Christian citizens should live like all Iraqis in peace and security, and with their full constitutional rights", his office said in a statement shortly afterwards, thanking Francis for visiting the holy city.
The historic meeting between two "great leaders of peace" will strengthen co-existence, harmony and national partnership in Iraq, said religious scholar Sheikh Uday Hatim al-Kazemi, former secretary general of al-Kazimiya shrine.
The Shia authority considers Christians true partners, with no difference in rights and duties between all Iraqis, he said, adding that Iraq needs all its people to co-operate in order to recover and achieve its goals after the ISIS era.
The papal visit sends a message to the world that no matter what tides of violence, sectarianism, terrorism and takfir have hit it, Iraq will rise above its problems, al-Kazemi said.
Al-Sistani rarely grants meetings but made an exception to host Francis, who arrived at Najaf airport, where posters featured a saying by Ali, the fourth caliph and the Prophet Mohammed's relative, who is buried in the holy city.
"People are of two kinds, either your brothers in faith or your equals in humanity," read the banners.
Iraqi clerics and Christian leaders said the visit could strengthen Najaf's standing compared with Qom, where the other main seat of Shia religious authority lies.
While Najaf affirms the separation of religion and politics, Qom believes the top cleric -- Iran's supreme leader Ali Khamenei -- should also govern.
The meeting was front-page news in Iran Sunday, with some media declaring it a chance for peace in the neighbouring country.
Iran's reformist Sazandegi daily said the two religious leaders are now "the standard-bearers of world peace" and called their meetings "the most effective event (in the history of) dialogue between religions".
Another reformist daily, Shargh, said it was "a symbolic spectacle showing the importance of co-operation between followers of different religions".
Extremism is 'a betrayal of religion'
Directly after meeting with al-Sistani, Francis led an interfaith ceremony at the ancient city of Ur in the southern province of Dhi Qhar, where the Prophet Abraham is thought to have been born.
"It all started from here," Francis said, after hearing from representatives of Iraq's diverse religious communities, including the Yazidis -- whose heartland of Sinjar was ravaged by ISIS -- Mandeans, Kakais, Bahais and Zoroastrians.
Shia and Sunni sheikhs, as well as Christian clerics, also were in attendance.
Francis stressed that hostility, extremism and violence do not come from a religious soul -- and further, they are a betrayal of religion.
"We cannot keep silent when terrorism offends religion; rather, it is our duty to eliminate such misunderstanding," he added.
He called for "the freedom of conscience and freedom of religion to be respected and recognised everywhere".
Prayers in Mosul
On Sunday, Francis spent a full day in Iraq's war-battered north, supporting traumatised Christians in Erbil, Mosul and Qaraqosh.
Standing in front of the partially collapsed walls of the centuries-old al-Tahera (Immaculate Conception) Church in Mosul, Francis pleaded for Christians in Iraq and the Middle East to stay in their homelands.
He said the "tragic" exodus of Christians "does incalculable harm not just to the individuals and communities concerned, but also to the society they leave behind".
Al-Tahera Church, whose roof collapsed during fighting against ISIS in 2017, is one of the oldest of at least 14 churches in Ninawa destroyed by the extremists.
The pontiff also hailed al-Nouri mosque and its famed al-Hadba minaret, destroyed in the battle to oust ISIS, and the Church of Our Lady of the Hour which, he said, "has reminded passersby that life is short and that time is precious".
The Pope's visit to Mosul affirmed the city's historical identity and religious, ethnic and cultural diversity, said Sheikh Muhammad al-Shamaa, an imam and preacher of the Prophet Younis Mosque in Mosul.
The ISIS onslaught forced hundreds of thousands of Christians in Ninawa province to flee. Only a few dozen Christian families have returned to the city.
'Forgiveness is necessary'
The pope also held a prayer service in Qaraqosh, whose ancient church -- also named al-Tahera -- was torched by ISIS as they destroyed most of the town.
Dressed in traditional embroidered robes, hundreds of Christians welcomed the pontiff with hymns and olive branches.
"Do not stop dreaming! Do not give up! Do not lose hope!" Francis urged those gathered. "Now is the time to rebuild and to start afresh."
Within days after ISIS swept through Ninawa Plains in 2014, nearly all of Qaraqosh's 55,000 Christian residents had fled.
For nearly three years, they languished far away from their hometown as they heard news of ISIS fighters trying to erase every trace of its Christian heritage.
The extremists ransacked and burned churches and smashed crosses, but were ultimately ousted from the town in 2016. Since then, only 26,000 of Qaraqosh's residents have returned to painstakingly rebuild it.
"Here, the churches were transformed to prisons. Everything was broken. It was heartbreaking," said Cardinal Louis Sako, head of the Chaldean Catholic Church.
"Today, we are celebrating the return after the exodus."
In his address, Francis urged reconciliation.
"The road to a full recovery may still be long, but I ask you, please, not to grow discouraged," he said. "Forgiveness is necessary to remain in love, to remain Christian."
Public mass in Erbil
Francis concluded his visit in Erbil, a place of refuge for many Christians who fled ISIS's 2014 onslaught and ensuing rule of terror.
But the city was targeted just weeks ago by a deadly rocket attack, the latest in a series of strikes blamed on pro-Iranian forces.
In his last public mass, 10,000 people attended an open-air liturgy at Erbil's Franso Hariri Stadium -- at half capacity to curb the spread of coronavirus.
Also on Sunday, Francis met the father of Alan Kurdi, the drowned Syrian Kurdish toddler whose body washed up on a Turkish beach in 2015. The incident drew global outrage, and brought renewed attention to the deadly sea route many migrants take to escape conflict zones including Iraq and Syria.
"In my time among you, I have heard voices of sorrow and loss, but also voices of hope and consolation," Francis said Sunday, concluding his last public event.
"Iraq will always remain with me, in my heart."