Russian-controlled private security companies operating in the Syrian desert, such as Sanad Protection and Security Services LLC, are recruiting local Syrian youth to protect Russian commercial interests across the country, according to multiple reports.
Personnel from Sanad, which is overseen by Russia's Wagner Group, form an elite force, according to a July 2020 European University Institute (EUI) report titled "Private Security Companies in Syria: New Agents at the Regime's Service".
Sanad and another Russian-controlled security company, ISIS Hunters, are deployed in eastern Syria primarily to protect Russian investments in the oil, gas and phosphate industry and to guard the roads leading to these facilities.
"They provide no guarding or protection services outside the scope of Russian interests, and so remain outside the competition for the tasks of the other private security companies," the EUI report said.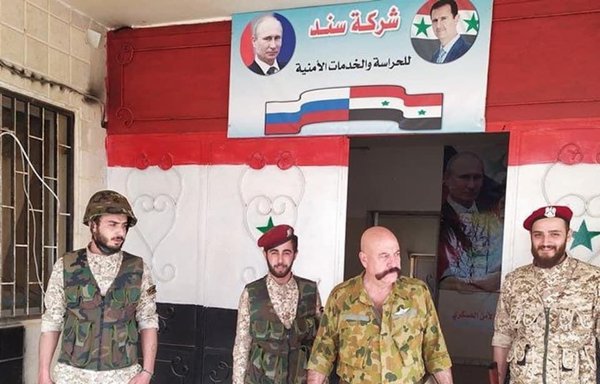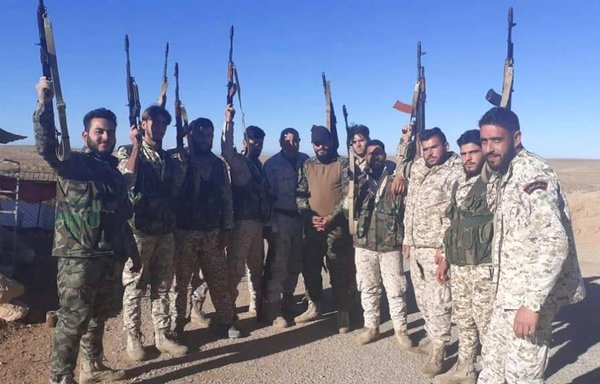 Established in 2017, Sanad Protection and Security Services LLC is co-owned by two previously unknown businessmen: Ahmed Khalil and Nasser Deeb.
Deeb has ties with Syrian businessman Khodr Ali Taher, who was sanctioned by the European Union and the US Treasury in 2020 for war profiteering.
The company was initially granted a permit by the Syrian Ministry of Interior, but remained dormant until it was relicensed and reactivated last year.
"Sanad remained no more than ink on paper despite its license until Russian extraction of phosphates, oil and gas began in eastern Homs province and al-Raqa and Deir Ezzor provinces," the EUI report said.
"Russia merged the nascent company with the Military Security's Sanad Forces militia," led by Syrian regime army officer Brig. Gen. Raslan Esbar, who now heads the company, it said.
Syrian journalist Mohammed al-Abdullah said the company flies the Russian flag and publicly hangs portraits of Russian President Vladimir Putin at its headquarters.
Sanad has been active in several parts of Syria, notably Aleppo, Homs, Tadmor (Palmyra) and Deir Ezzor, and is headquartered in the T-4 airport in eastern Homs province, which is under Russian control, al-Abdullah said.
It is directly affiliated with Russia and the Syrian regime's Military Intelligence Division, and is trained and equipped by the Wagner Group, he added.
Deployment in 'sensitive areas'
Sanad personnel are deployed to "sensitive areas" such as the phosphate plant in the Palmyra-Khunayfis area and the road between Palmyra and Deir Ezzor, said Aleppo media activist Faisal al-Ahmed.
They also are deployed in the Homs desert, the Akhdar Mai area in the desert around the Deir Ezzor city of al-Mayadeen, the second oil pumping station (T2) (on the Iraq-Syria pipeline) and al-Taym oil field in the Deir Ezzor desert.
All these areas, which are rich in oil and natural resources, are being exploited by Russian companies through contracts with the Syrian regime, he said.
As part of their duties, Sanad personnel escort trucks carrying oil, phosphate and minerals extracted from the Syrian desert, al-Ahmed said.
According to credible reports, he said, Sanad also is involved in the recruitment of Syrian youth to fight abroad under the supervision of the Wagner Group.
These new recruits were brought to a training centre near Homs, he said, and were then transferred to the Russian-controlled Hmeimim air base in regime-controlled Latakia province before being flown out of the country.
The company has been actively recruiting Syrian youth in Aleppo, Homs, Deir Ezzor and al-Mayadeen under the pretext that it is a security company, in a clear attempt to expand Russian presence in these areas, al-Ahmed said.
The Syrian Military Intelligence Division co-operates with Russian forces by encouraging youth to join Russian companies and relocate from safer areas in Syria to oil-rich areas with Russian presence, he said.