A series of air strikes in eastern Syria a few weeks ago have forced Iran-backed militias to withdraw some of their forces from the strategic area.
Some 15 militia bases and warehouses affiliated with the Islamic Revolutionary Guard Corps (IRGC) in Albu Kamal, al-Mayadeen and in the vicinity of Deir Ezzor city, were targeted in January 13 air strikes, reportedly carried out by Israel.
These were the most intensive attacks on the area in nearly two years, causing the highest death toll since June 2018, with reports that 57 militia members and Syrian regime soldiers had been killed.
Omar Abu Layla, the Europe-based head of DeirEzzor24 news website, tweeted that the warehouses had contained a shipment of missiles and other weapons brought to Deir Ezzor by the Fatemiyoun Division in recent weeks for distribution among Iran-backed militias.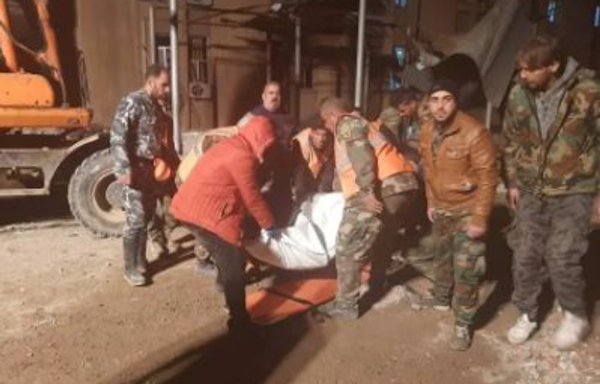 Following the strikes, the Zainabiyoun and Fatemiyoun militias removed their flags from their Deir Ezzor province headquarters in Albu Kamal and al-Mayadeen. In other locations, the Syrian flag was raised to conceal militia presence.
Moves to alternate sites
According to the Eye of the Euphrates news website, vehicles, equipment and ammunition were moved from Deir Ezzor's Syriatel building, where IRGC-affiliated militias are based, to a site near a Russian base in the city and into the countryside.
The report said the air strikes also forced hundreds of Iraqi militiamen stationed in the Albu Kamal hinterland to withdraw and return to Iraq, and claimed Iraqi militias had dug trenches on the outskirts of Albu Kamal to hide weapons.
Eye of the Euphrates said Iraqi militiamen moved 57mm cannons and anti-aircraft weapons of various calibres to the trenches, and moved weapons to the border town of al-Qaim, which is heavily guarded by Kataib Hizbullah.
A Deir Ezzor resident who asked to remain unnamed said militias endanger the lives of people in his city.
"Every time militias are targeted by air strikes, they look for alternative sites in residential neighbourhoods to relocate, take shelter among residents and hide their weapons," he said.
After the recent air strikes, militias reportedly started hiding weapons in Albu Kamal farms and homes which were previously seized from owners.
"The sites targeted by the recent air strikes include command and control headquarters of the IRGC Quds Force, Fatemiyoun Brigade, Zainabiyoun Brigade, Kataib Hizbullah and the Lebanese Hizbullah," said Lt. Col. Hisham al-Mustafa, a political official in al-Hasakeh province.
The old headquarters of the Syrian army's military security, Deir Ezzor military airport, and ammunition and missile depots (referred to as Ayyash warehouses) also were targeted in these attacks.
These sites are "built by Iran near the Iraqi-Syrian border to serve as way stations for smuggling weapons and missiles, such as the Zulfiqar and Qiam missiles, that have a range of 750 and 800 respectively, to Syria and Lebanon by way of Iraq," al-Mustafa said.
The sites also housed unmanned aerial vehicles (UAVs) and a production line assembling missiles capable of carrying nuclear warheads, he said.
Iran's 'pivotal hub'
Al-Mustafa said Iran had previously helped the regime of Syrian president Bashar al-Assad build the al-Kibar nuclear reactor in Deir Ezzor, which Israeli aircraft entirely destroyed in September 2007.
Syrian political analyst Ziyad al-Munajjid said eastern Syria is a pivotal hub for the IRGC, where it provides its affiliated militias in Syria and Lebanon with heavy weapons, and the recent attacks aimed to curb the IRGC presence.
He said these attacks may go on for a long time.
Israel has not claimed responsibility for the strikes, but has repeatedly said it will continue to take action against Iranian positions in Syria.
The Israeli army's annual report stated that it hit 50 targets in Syria in 2020, but did not provide any details.
Meanwhile, in the same region, IRGC-backed militias have been hemorrhaging fighters, and Russian recruiters are waiting to snap them up and incorporate them into their own ranks, marking a new phase of the Syrian conflict.