As Tehran grapples with a national currency in freefall, severe hyperinflation, economic stagnation and a dire shortage of resources, anger is growing on the Iranian street.
A major sign of economic deterioration happened earlier this month when Central Back of Iran (CBI) governor Abdolnaser Hemmati announced that Iran's total income from oil exports amounted to only $20 billion in the 21-month period ending on December 20.
This is a drastic decrease compared to previous years.
"The amount to which the CBI has access is much lower," Hemmati added, without elaborating on the statement.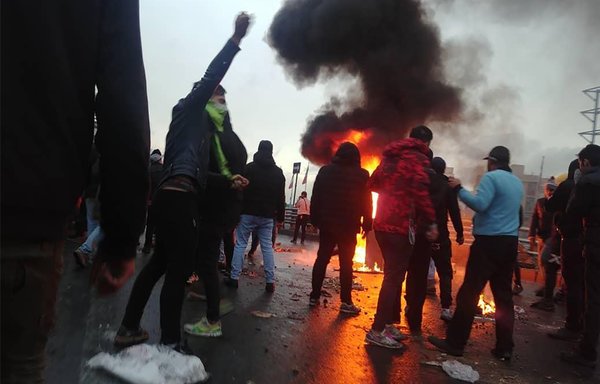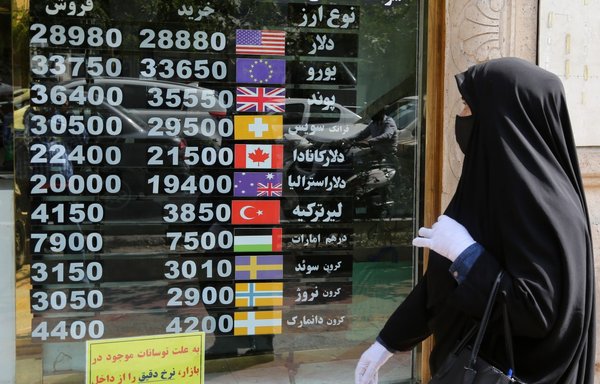 To make matters worse, evidence shows that instead of supporting public services, a large part of the oil income is allocated to the Islamic Revolutionary Guard Corps (IRGC).
The IRGC, a designated terrorist organisation by the United States, has spent much of this money on cracking down on domestic dissent and furthering Iran's expansionist agenda in the region.
In addition to exerting its control over military and political aspects of Iran, the IRGC also dominates the economy.
Over the last two decades, it has taken over the lion's share of Iran's economy, which is why sanctions on the IRGC impact people's daily lives.
By one estimate, released by the IRGC's Khatam al-Anbiya Construction Headquarters in June 2020, the Revolutionary Guard is involved in, owns or operates nearly 80% of all "economic projects" in Iran, including those in transportation, water, construction, oil and gas.
Rampant corruption and ever-increasing inflation have raised the price of essential goods and left the public facing severe economic pressure, a fact that regime officials, even Supreme Leader Ali Khamenei, have openly admitted.
The CBI has not officially announced the country's inflation rate since 2018. But Donya-ye Eqtesad, the most prestigious economic publication in Iran, has predicted a point-to-point inflation rate of 34 to 36%.
The Statistical Centre of Iran (SCI) offered similar figures last September. Unofficial statistics and essential commodity prices indicate that inflation will rise well above 40% by the end of the current Iranian year (ending March 21).
Prices of many daily essential goods have already increased by more than 50% in the past 12 months.
Public anger at 'boiling point'
The notion that Iran may be able to somehow improve the state of its economy despite the current sanctions is more like a dream than reality, said Tehran-based economist Ahmad Tavakolabadi.
Public anger over economic and living conditions has reached a boiling point, he said, cautioning that the next round of public protests might be far more violent than the November 2019 protests over the spike in fuel prices.
The 2019 protests were of a magnitude rarely seen in Iran following the 1979 Islamic Revolution, and the biggest since 2009 rallies over a disputed election.
Authorities managed to impose control only after a ruthless crackdown that, according to Amnesty International, left at least 304 people dead.
The toll and the harshness of the suppression were concealed by an internet shutdown that activists denounced as a bid to prevent the spread of information.
Beyond sparking another round of violent protests, Tavakolabadi said, social unrest triggered by economic breakdown may lead to the formation of underground armed groups, as well as acts of internal sabotage.
He pointed out that the nature of last year's demonstrations was different from those that have occurred in the past two decades.
Unlike prior protests that originated in university dormitories, he said, the 2019 protests were started by lower middle class and impoverished communities.
In Tehran, people from poorer areas such as Islamshahr and Shahriyar formed the main body of the demonstrations, he noted. This also was true beyond the capital, in other Iranian cities.
These are the very groups the Islamic Republic identifies as "oppressed" and claims to support.
Iran increasingly isolated
The Iranian regime has been pressured in various ways to change its behaviour, yet has continued to resist, continuing its harmful engagement in countries such as Iraq, Syria and Yemen via its support for IRGC-aligned militias.
It also has continued its enrichment of uranium -- violating the terms of the 2015 nuclear accord, known as the Joint Comprehensive Plan of Action (JCPOA) -- and its development of nuclear-capable missile systems.
This behaviour was the driving factor behind an intense round of US sanctions.
In the last two months, European governments also have been increasingly critical of Iran.
Germany, France and Britain on January 6 said they were "deeply concerned" about Iran's move to step up its uranium enrichment, warning of "very significant" risks.
Tehran on January 5 announced it was now refining uranium to 20% purity, the biggest break yet from its commitments under the 2015 nuclear deal.
Tehran also is besieged in the region by its own neighbours in the Gulf, who have a strong internal security partnership that is supported by the US and are continuing to build new relationships with Israel.
In addition to Bahrain and the UAE, Turkey, Azerbaijan, Armenia, Pakistan and Turkmenistan also have economic and political ties with Israel.
Fuelling Iran's continuing obstructionism is the support that Tehran receives from Russia and China.
Moscow and Beijing are eyeing narrow interests with their support for the Iranian regime's access to the international arms market -- and are risking the future safety and security of the Middle East.
For the past four years, Moscow's main goal has been selling arms to Tehran for enormous gain, while also taking advantage of Tehran's global isolation for its own benefit on the global oil market, said Faramarz Irani, a political analyst who lives in Kerman, Iran.
Beijing, on the other hand, gets access to much-needed energy sources, and gives the Chinese regime key leverage in a strategically important region.