In recent months, Kataib Hizbullah subsidiary Rubu Allah has made its presence known in Baghdad through acts of destruction and sabotage that have targeted media and political headquarters and various small businesses.
Rubu Allah members -- who often wear black T-shirts with the name of their group emblazoned on the back -- stormed a massage parlour in Baghdad's Karrada district late last month, and beat customers and workers with batons.
A video of the November 26th attack showed militiamen chasing and assaulting two female workers before setting fire to the facility, and sparked anger in Iraq.
The attack was seen as part of a heavy-handed campaign led by pro-Iran militias, including Rubu Allah, to "fight immorality" -- the argument used to justify attacks on nightclubs, liquor stores and massage parlours.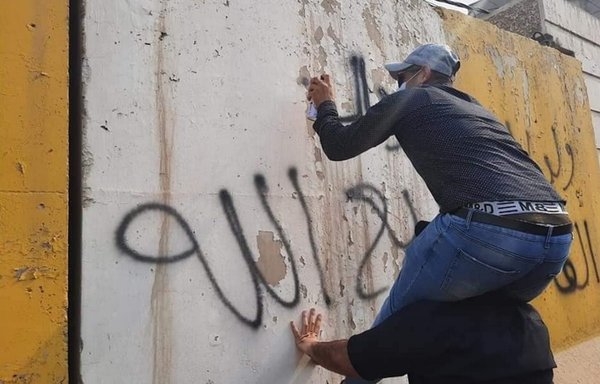 With Rubu Allah, observers told Diyaruna, the militias have attempted to create a paramilitary force similar to the Basij Resistance Forces -- a paramilitary force affiliated with Iran's Islamic Revolutionary Guard Corps (IRGC).
The IRGC formed the Basij in 1980 to suppress opponents of the Iranian Revolution and to serve as "morality police" inside Iran.
In similar fashion, Kataib Hizbullah has been directing the actions of Rubu Allah and other groups, such as the "Abu Jadahah Front" (meaning lighter), in reference to their mission to set fire to targeted facilities.
Intention is to 'spread fear'
Former Iraqi MP Mithal al-Alousi said these formations and others are intended to spread fear among civilians. He said they are instruments of Kataib Hizbullah, which is "the most vicious and terrorising version of the Lebanese Hizbullah".
Iran's proxies in Iraq pose "a major threat to the structure of the state, as they complement each other in practices and actions harmful to the safety of Iraq and the lives of its people, affecting all aspects of life", al-Alousi said.
They detain or kill civilian activists and journalists who oppose them, take over and burn satellite channels, and attack headquarters of political parties, he said.
These actions are "a living testament to their extremist behaviour and their efforts to silence and suppress free speech", he told Diyaruna.
These groups adopt Iran's ideology, he said, and follow the IRGC and the doctrine of Wilayat al-Faqih, which calls for allegiance to Iran's Supreme Leader Ali Khamenei.
"They are violent groups that do not believe in freedom of thought nor respect differing opinions, law and public order," he said.
Rubu Allah was involved in setting fire to the MBC Iraq headquarters in Baghdad in May, after the channel broadcast a report it considered to be offensive to Abu Mahdi al-Muhandis, the former deputy of the Popular Mobilisation Forces.
On August 31st, Rubu Allah set fire to the headquarters of al-Dijlah satellite channel, claiming it had broadcast songs during a religious holiday.
In a similar incident, it burned down the headquarters of the Kurdistan Democratic Party in central Baghdad on October 17th, after Hoshyar Zebari, the party leader, demanded that militias be expelled from the Green Zone.
'Part of Iran's military system'
The Rubu Allah militia's name appeared for the first time on the walls of the US embassy in Baghdad last year after a protest led by pro-Iran militias against the bombing of the Kataib Hizbullah headquarters.
Strategy analyst Alaa al-Nashu told Diyaruna that Rubu Allah, Kataib Hizbullah and other groups like it are all "part of the Iranian military system".
Advisers from Iran and Lebanese Hizbullah oversee these factions and direct their activities, he said, which "serve Iran's destructive agenda in the region and its plans to dominate and spread an atmosphere of instability".
These activities are not limited to actions "that harm Iraq's interests, stability and international relations and violate its sovereignty, but extend to restricting freedoms and public rights and spreading intellectual terrorism", he said.
Al-Nashu noted that the Iranian regime has been persecuting its own people since it came to power 40 years ago, and today it puts its experience in repression and abuse at the disposal of its agents.