An Iraqi activist was shot dead in east Baghdad by masked gunmen on Tuesday (December 15th) evening, according to security and medical sources.
This is the latest in a series of targeted attacks against dozens of leaders of the popular protests in Iraq that are blamed on powerful armed factions.
Salah al-Iraqi was shot five times in the chest by gunmen who were riding in a civilian vehicle. He was standing near the small shop he worked in on a busy commercial street in the Baghdad al-Jadida district, east of the capital.
He died upon his arrival at the nearby Sheikh Zayed hospital.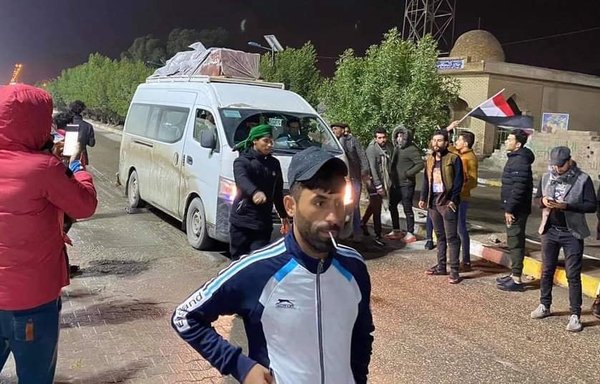 A father of five, al-Iraqi was well-known for his active role in the rallies that erupted in Iraq's capital and the Shia-majority south last year slamming the government as corrupt, inefficient and beholden to neighbouring Iran.
He was a harsh critic of Iran-backed militias in Iraq and had recently received death threats, friends told local media outlets.
The Iraqi Network for Social Media (INSM), a collection of activists who reported on the protests and their aftermath, said al-Iraqi had already been targeted twice before Tuesday's shooting.
Social media users shared videos of al-Iraqi's funeral early Wednesday at the Wadi al-Salam cemetery in Najaf, amid widespread anger and condemnation.
'The right to life'
Iraq's Independent High Commission for Human Rights condemned the assassination and called on the government to act to stop these crimes and hold those responsible to account.
Al-Iraqi's assassination is "another violation of the most important of human rights: the right to life", said commission spokesman Ali al-Bayati.
It also violates the right to express one's opinion and to demonstrate, basic rights that are guaranteed under the Iraqi constitution, he told Diyaruna.
Al-Iraqi is the latest to join the roster of assassination victims whose killers remain at large, despite that investigative teams have been set up to solve these cases, he said.
The attacks will continue until there is "major [government] action to track down and arrest the perpetrators, and bring them to trial", said al-Bayati.
According to the commission's official figures, more than 60 assassination attempts against Iraqi activists and media professionals have taken place since the protests erupted last year.
Al-Iraqi's assassination comes at the heels of the kidnapping of activist Abbas al-Taie, who was released Monday after being held for two days by armed men.
Al-Taie was taken during a live social media broadcast of a protest in Tahrir Square last week.