Iran's Islamic Revolutionary Guard Corps (IRGC) has been accelerating its recruitment efforts in parts of the eastern Syrian province of Deir Ezzor where it has been attempting to expand its influence, Syrian observers said.
Recruiters have been targeting adolescents and even children in this area, they warned, as the IRGC hopes to raise up a new generation of fighters who espouse its ideology and pledge their allegiance to the Iranian regime.
Because of its proximity to Iraq, Deir Ezzor is of strategic importance to the IRGC, which has been working to expand its presence there, Albu Kamal media activist Ayham al-Ali told Diyaruna.
As part of these efforts, the IRGC has been trying to attract new Syrian recruits, he said, which it has been doing by exploiting the difficult financial circumstances the local population is facing as a result of the ongoing war.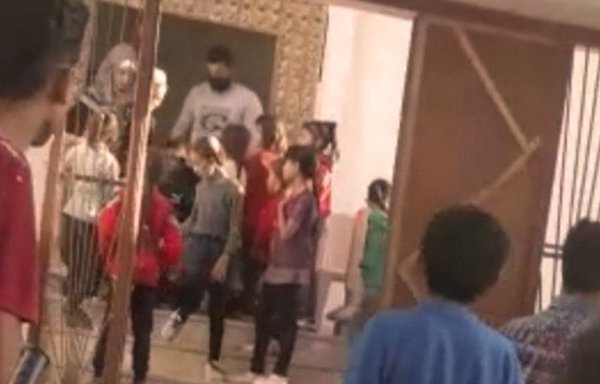 Young people have been set back by the lack of job opportunities and high unemployment rates, he said, which makes the salaries offered by the IRGC enticing, even though they come at great risk.
Families with boys living at home also have been approached with the offer of money and food assistance as a precursor to recruitment attempts, he said.
Current recruitment operations are focusing on the younger age groups, with the most prominent recruitment centre -- al-Noor al-Sateh, in the city of al-Mayadeen -- boasting at least 250 recruits.
That centre is run by two IRGC officials, Sayed Ayoub and Sayed Mahdi, with the assistance of a Deir Ezzor native known as "Abu Assad", al-Ali said.
Al-Shaddouhi Centre, also in al-Mayadeen, is under the direct supervision of an Iranian known as al-Haj Ibrahim, assisted by a Syrian, Tala al-Hamawi.
Al-Haj Ibrahim oversees another centre, al-Basira, geared towards teenagers between the ages of 15 and 18 who receive military training and religious lessons with a strong sectarian emphasis.
Militias compete for mercenaries
It is not surprising that the IRGC has chosen to accelerate the pace of recruitment at this time, as its Syrian affiliates have suffered losses, said Iranian affairs researcher Sheyar Turko, who specialises in the activities of the IRGC.
Additionally, he told Diyaruna, IRGC affiliates have tried to deploy in several regions including Aleppo, Damascus, the eastern desert (Badiya) and Idlib, but are stretched too thin to be able to succeed in this endeavour.
The situation in Syria is unique in that membership in armed groups and militias in regime-controlled areas has become a real marketplace, he noted, with fighters transferring from one militia to another in search of higher salaries.
There has been fierce competition for rank-and-file mercenaries between militias in Deir Ezzor aligned with Russia, Iran and the Syrian regime, he said.
Recruitment operations are meanwhile having a huge impact on Syrian society, Turko said, as young recruits are "deprived of their childhood and transformed into killing machines that take their orders from the IRGC".
In addition to putting their lives on the line, they also are being indoctrinated by the IRGC, he said.
In battle, they are especially vulnerable due to their youth, inexperience and lack of training, he said, noting that their military training period is very brief.
Most are too young to know how to handle the dangers, he said, and many of those recruited in Deir Ezzor have been killed, especially in the desert around al-Mayadeen, where fierce military confrontations erupt from time to time.
Child recruitment 'must be stopped'
IRGC recruitment efforts under way in Deir Ezzor are very dangerous because they target children, teenagers and youth, Syrian journalist Muhammad Abdullah told Diyaruna.
They must be stopped by any means, he said.
The young are being targeted as the older population is more secure in its beliefs and less vulnerable to indoctrination, he said, noting that through indoctrination, the IRGC hopes to instill loyalty to the Iranian regime.
Youth are being saturated with the ideology of the IRGC, he said, particularly the doctrine of Wilayat al-Faqih (Guardianship of the Jurist) which calls for allegiance to Iran's Supreme Leader, Ali Khamenei.
In Lebanon, for example, where the IRGC pursued a similar recruitment tactic, it now has a large base of loyalists, which makes getting rid of Hizbullah and its hegemony difficult, as it has become socially and religiously entrenched.