A volley of rockets slammed into the Iraqi capital Baghdad late Tuesday (November 17th), killing one girl and breaking a month-long truce on attacks against the US embassy.
The violence came as Washington announced a historic cut in its troop numbers in Iraq and Afghanistan.
According to the Iraqi military, four of the rockets landed in the high-security Green Zone, where the US embassy and other foreign missions are based.
Another two rockets also hit other parts of Baghdad -- near the Medical City complex and at the entrance to al-Zawraa park -- killing one girl and wounding five civilians. A seventh rocket exploded in mid-air.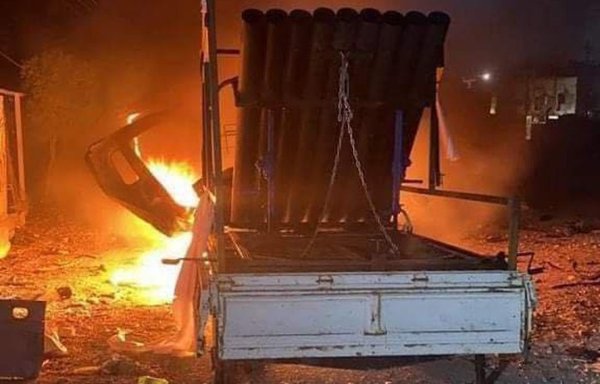 All seven rockets were launched from a truck in east Baghdad's al-Amin al-Thaniyah district, the Iraqi military said in a statement.
AFP reporters heard several large blasts, followed by rapid-fire sounds and red flares lighting up the sky, indicating that the US embassy's C-RAM rocket defence system was deployed.
A spokesman for the US-led coalition said Iraqi intelligence had confirmed a rocket attack on the US embassy but declined to comment on the C-RAM usage.
The attack "will not pass without the perpetrators being held to account", the Iraqi army said.
"Our security and intelligence agencies are taking measures to identify the perpetrators so they may receive just punishment," it said.
"While the Iraqi government continues to achieve gains of sovereignty, and despite our forces' improved level of professionalism and skill... some outlaw forces are keen to fight stability to serve their own interests and narrow goals, which have nothing to do with national interest," it added in a statement.
Since October 2019, nearly 90 deadly rocket attacks and roadside bombs have targeted foreign embassies, troops and other installations across Iraq.
The attacks have been claimed by groups described by both US and Iraqi officials as "smokescreens" for hardline Iran-aligned factions in Iraq.
The US has explicitly named Kataib Hizbullah as behind some of the violence and has twice bombed the group.
The attacks infuriated Washington, which has pressured Iraqi Prime Minister Mustafa Kadhemi to take tougher action against the perpetrators.
Disregard for Iraq's interests
In September, the US issued an ultimatum to Kadhemi's government, threatening to close down its diplomatic compound in Baghdad if the rockets did not stop.
The escalation prompted pro-Iran factions to announce a temporary truce on the condition Washington presents a timetable for a withdrawal of its forces. The rockets immediately halted, with Tuesday's attack the first in more than a month.
Around the same time, the US announced it would slash troop levels in Afghanistan and Iraq to 2,500 in each country, their lowest levels in nearly 20 years of war.
Washington still has some 3,000 troops stationed across Iraq as part of the US-led coalition helping the country fight the "Islamic State of Iraq and Syria" (ISIS) since 2014.
The new rocket attacks confirm that Kataib Hizbullah and other Iran-backed militias are dedicated to Iran's agendas, political analyst Alaa al-Nashou told Diyaruna.
These groups are "merely pawns with no will or independent decision", he said. "Their will is in the hands of the Iranian regime and only Iran's interests matter to them."
They execute its orders without any regard for Iraq and the Iraqi people's safety, he added.
"The Iraqi people are paying a heavy price as a result of these militias' hostile actions and disregard for their lives and property," said al-Nashou.
They "insist on plunging the country into a cycle of conflicts and proxy wars, and burdening the people with yet more problems amid an economic crisis", he said, adding that the attack Tuesday is part of Iran's efforts to undermine Iraq's stability and violate its sovereignty.