The Iraqi government has vowed to pursue the killers of renowned extremism expert Hisham al-Hashemi following reports that two of the perpetrators have fled the country, an Iraqi official said.
Prime Minister Mustafa Kadhemi's spokesman Ahmed Mulla Talal said in an interview with state television on Sunday (November 15th) that the perpetrators of al-Hashemi's assassination managed to flee Iraq one day after the attack.
He said certain parties have helped them escape, without naming them.
Investigative authorities have gained some important leads regarding al-Hashemi's assassination, intelligence expert Fadel Abu Ragheef told Diyaruna.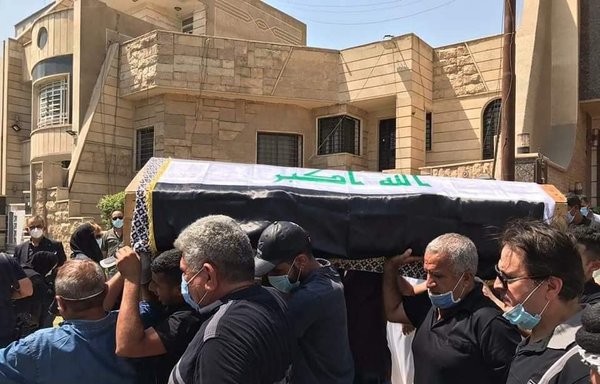 They have information about the armed group that carried out the crime, he said, noting that the two main suspects were identified following the capture of a motorcycle that was used in the July 6th attack near the victim's house in Baghdad's Zayouna district.
The four-member team that killed al-Hashemi was most likely commissioned by a certain faction to carry out the operation, Abu Ragheef said, which later helped smuggle them out of the country.
The location of the two who fled abroad "is known to Iraqi security authorities, but is not being revealed in order to maintain the course of the investigation", Abu Ragheef added.
He said the Iraqi government will notify Interpol and will "do everything in its power to co-operate with the security authorities of the country to which the perpetrators have fled in order to have them arrested, repatriated, and put on fair trial".
A high-level team headed by the Interior Ministry's Undersecretary for Intelligence and Federal Investigations has been put in charge of the investigation. Al-Hashemi's killing sparked widespread condemnation and demands to quickly identify the killers and hold them to account.
Raised in Baghdad, al-Hashemi published several books on extremism, then went on to work with top research centres including Chatham House in London and most recently the Centre for Global Policy in Washington DC.
Al-Hashemi has written several books on radical groups, including "The World of ISIS" and "ISIS From The Inside", in addition to hundreds of articles and studies, the latest of which was a study that highlighted the escalating disagreements between Popular Mobilisation Forces (PMF) factions.