Tehran has deployed an "electronic army" in Iraq in an attempt to foment chaos and sway the Iraqi people to support Iran's policies in the region, Iraqi journalists and activists say.
Since 2007, the so-called "Iraqi Radio and Television Union", which answers to Iran's Islamic Revolutionary Guard Corps (IRGC), has been building its propaganda machine, now with 40 television channels operating in Iraq.
Through this strategy, the Iranian regime and its proxies are peddling disinformation with the aim of obscuring the facts and confronting opponents of the Iranian agenda by distorting their reputation, apportioning blame and inciting violence against them.
As an example, Iran's "electronic army" has continued to attack the Iraqi protest movement since its launch late last year in an attempt to undermine the popular movement that rejects the influence of Iran and all foreign entities in Iraq.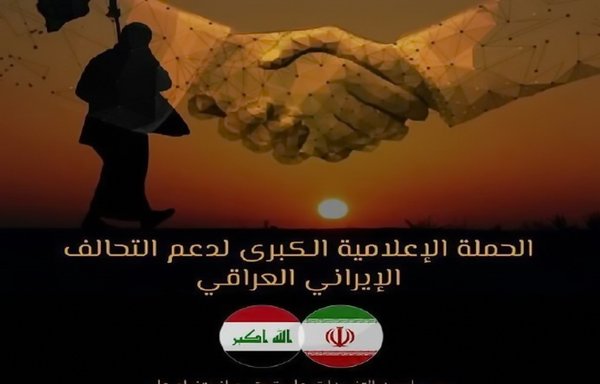 The IRGC-backed "union" operates parallel to the official Iraqi Journalists Syndicate and is leading systematic incitement and smear campaigns against protest leaders and independent media by assisting in their assassinations and forcing many to escape to the Kurdish region or outside the country out of fear of being targeted.
Dozens of activists have been killed in Iraq since the start of the protest movement last October, with several of them assassinated by gunmen using silencer weapons.
The July 6th assassination of Hisham al-Hashemi, an Iraqi government adviser and widely respected scholar on extremism, is one of the most high profile examples of Tehran's attempt to silence Iraqi voices.
Al-Hashemi had received death threats from Iran-backed Iraqi militias prior to his assassination. He was an outspoken critic of these groups' influence in Iraq.
Iran's exploitation of the media
The assassinations and disappearances that preceded and followed al-Hashemi's killing are tantamount to a "declaration of war" led by Iran and its agents against their opponents who reject Iranian hegemony, said Iraqi journalist and rights activist Ahmed al-Hamdani.
"Iran's exploitation of the media is nothing new," he told Diyaruna.
"The Iraqi Radio and Television Union in Baghdad was established several years ago under the supervision of figures close to the Iranian regime," he said. "This institution is responsible for managing and financing the radio stations and television channels of Iran's agents in Iraq."
"The union is nothing but an extension of Iran's Islamic Radio and Television Union, backed by the IRGC, which also runs Lebanese and Syrian media outlets," al-Hamdani said.
Tehran is well aware of the media's role in shaping public opinion and influencing policy, he said, and the Iranian regime uses these media platforms to promote its agenda of inciting chaos and creating problems in Iraq and the region.
"Iran's media platforms have gone a step further and are now openly inciting [violence], misrepresenting facts and making accusations against any Iraqi opposing voice, and blatantly interfering in Iraq's sovereignty and national decision making process," he said.
Iran's "electronic army" includes individuals who run thousands of fake accounts on social networks to spread Iranian propaganda as well as to attack Iraqi activists and hack into their accounts, al-Hamdani said.
"They also falsely report them to the administrations of those platforms to prevent them from posting and being digitally active and they follow the same tack on account holders who even comment on other posts or criticise Iran and its agents," he said.
These armies also help spread pro-Iran hashtags to make them trend on social media, he said. Such hashtags include "Iraqis reject foreign presence in their territory" or "Iraqis support Iran in confronting sanctions".
Spreading extremist ideology
In addition to these "electronic armies", Iran and its conspirators in Iraq run 40 of the 57 satellite channels, as well as a large number of radio stations and newspapers, which are funded directly by the IRGC, according to Iraqi journalist and political analyst Ziyad al-Sinjari.
"Iran is using news and media networks, both digital and non-digital, to achieve its goals in Iraq and the region, which focus on spreading extremist ideology and obscuring the facts for media consumers," he told Diyaruna.
The deployment of these "electronic armies" also works "to protect Iranian interests and agendas by silencing any voices calling for freedom from Iran's influence and criticising its agents", he said.
"Iran is further crossing the line by inciting sectarianism, societal divisions and hatred, and is doing this through polarising segments of society by insulting religious and national symbols, especially during religious events," al-Sinjari said.
The government should revise the discourse and media content of the channels linked to Iran, stop their broadcasting, and urge intellectuals to counter the poisonous rhetoric and sectarian strife that these channels promote, he said.