The Iraqi army is clamping down on "Islamic State of Iraq and Syria" (ISIS) remnants in the Makhoul and Khanouka mountain ranges in northern Salaheddine province, the army said Monday (November 9th).
Units from the federal police, the Counter-Terrorism Service (CTS) and the mobilisation forces, with support from Iraqi air force and international coalition aircraft, have launched a large-scale security operation from three fronts, an Iraqi official said.
"We received accurate intelligence that a number of terrorist remnants were hiding in the Makhoul Mountains," Maj. Gen. Tahseen al-Khafaji, a spokesman for the Joint Operations Command, told Diyaruna.
The command also intercepted communication between the militants in the Khanouka mountains, where it monitored them closely and was able to identify them, he said.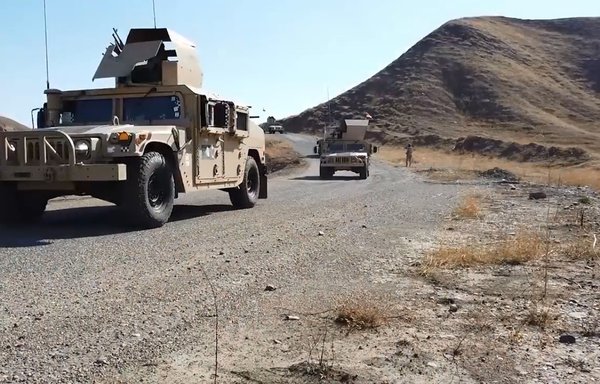 The military operation kicked off Sunday with an air attack that destroyed many ISIS hideouts and targeted senior leaders, he said, adding that the operation is expected to continue for several days.
Iraqi forces have so far uncovered two tunnels, several rest-houses and warehouses containing a large number of improvised explosive devices (IEDs), mortar bombs, light and heavy weapons, and rocket launchers, al-Khafaji said.
The operation is part of a new plan of the Joint Operations Command, which involves consolidating control on the ground after tracking down ISIS remnants by setting up security posts, observation towers and thermal cameras, he said.
Additionally, reconnaissance drones will bolster security and provide intelligence about the militants' activity and movements, he said.
Complementing operations
The operation in Salaheddine complements the military operation carried out three weeks ago to clear Kanous Island, near Makhoul mountains, of ISIS remnants, al-Khafaji said.
"We successfully brought [Kanous Island] under our control... and we are today seeking to eliminate the terrorists in all mountainous areas near it," he said.
"The Makhoul and Khanouka mountains have for years posed a threat to the security of neighbouring towns and villages in northern Salaheddine and the country in general," he said.
This rugged area remains dangerous , said al-Khafaji, as according to intelligence reports, militants are once again stationed there and using it as a refuge.
It has become a gathering site for terrorists coming from Ninawa Island, he said, and serves as a route for funneling logistical supplies to northern Diyala, southern Kirkuk and eastern Salaheddine.
Security efforts are focused on "depriving the terrorists of this haven, destroying their fortifications, bases and supplies, and surrounding their transition routes between remote areas", said al-Khafaji.