Iraqi forces have arrested two "Islamic State of Iraq and Syria" (ISIS) elements involved in an attack that killed a prominent tribal leader in Diyala province's al-Muqdadiya district last week and four members of his family.
Iraq's Federal Intelligence and Investigation Agency conducted a swift 24-hour operation that led to the arrest of "two terrorists who took part in the al-Khailaniya massacre", the Interior Ministry said Monday (November 2nd).
On October 27th, Sheikh Ali Fadhale al-Kaabi, the leader of the al-Kaabi clan, was executed by ISIS elements in the Sunni-majority village of al-Khailaniya.
The militants booby trapped the victim's body, and four members of al-Kaabi's family were killed in the ensuing explosion while trying to retrieve the body.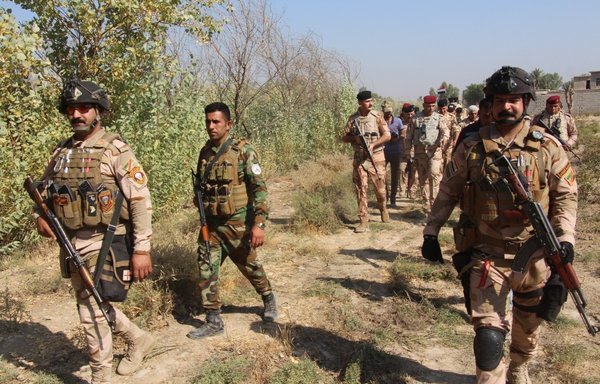 ISIS claimed responsibility for the attack, sparking widespread condemnation from local residents.
The arrested ISIS elements are wanted for trial on charges of terrorism for affiliation with ISIS and having worked within the so-called "Kirkuk and Diyala sectors in ISIS's Iraq wilaya", the ministry said.
"The defendants confessed to committing the crime," it said, adding that they will be referred to the judiciary to receive just punishment.
The arrest is part of a large-scale operation by joint forces of the Intelligence Service, police, Diyala Operations Command and Counter-Terrorism Service (CTS), launched following the terrorist attack in al-Khailaniya, said al-Muqdadiya district mayor Hatim al-Tamimi.
"Over the last few days, security forces have been thoroughly combing groves and remote villages in al-Muqdadiya," he told Diyaruna.
They have so far arrested four suspects who were near the site of the attack, he said, noting that they are not residents of the area.
The operation is proceeding "amid high-level co-ordination with local residents and tribesmen", al-Tamimi said.
Outskirts pose security threat
"The terrorist attack last week has prompted security forces to step up efforts and review security plans in al-Muqdadiya district, which contains many areas with lax security," al-Tamimi said.
These include the northern outskirts adjacent to Diyala River and the villages of al-Mukhaisa in Abu Saida sub-district, Sheikhi and Abu Khanazeer, he said.
Security forces have set up posts to hold the territory in a number of these areas, increased the number of defence lines, and beefed up fortifications and monitoring and reconnaissance duties to search for terrorists and thwart their attacks, he said.
The centre of the district is enjoying stable security conditions, he said, "but the problem lies in the outskirts, where there are many groves and rugged areas that impede the task of monitoring and tracking down terrorist groups".
Additionally, some of these villages are deserted as their residents remain displaced, he said, adding that this is one of the main challenges, as sparsely populated areas are more likely to see security breaches.