Iraq's Independent High Electoral Commission has initiated procedures to prepare for the early parliamentary elections slated for June 2021, approximately a year ahead of their scheduled date, an election official told Diyaruna Wednesday (October 28th).
The upcoming elections are particularly important for Iraq, which has been rocked by protests since last October over corruption and the actions of Iran-backed militias.
Iraq's parliament is stacked with pro-Iran blocs resistant to tangible political reforms, as they want to ensure they have a strong presence in the next parliament despite growing popular discontent over their violations that have benefited Iran, at the expense of Iraq.
The commission has begun preparatory procedures for the electoral process, despite the challenges it is facing, commission spokeswoman Jumana al-Ghulai told Diyaruna.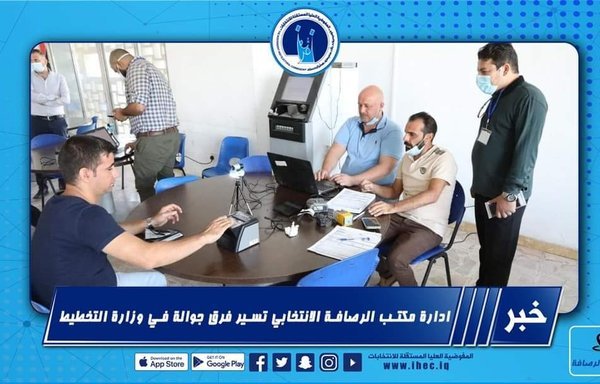 These include lack of funds, hurdles posed by the coronavirus (COVID-19) pandemic, and the fact that the amendment to the electoral law has not been completed, she said.
The Iraqi parliament is planning to hold a session on Wednesday to pass an amended version of the new electoral law that will divide the country into multiple electoral districts, instead of one.
As part of the preparations, electoral registration centres in Baghdad and other provinces will open their doors on weekdays and during official holidays to receive voters who seek to upgrade to long-term (biometric) voter cards. Those new cards will include a personal photo and 10 fingerprints.
The centres will also issue new cards for people whose cards have been damaged or lost, said al-Ghulai, adding that replacement fees have been waived for the moment.
Commission centres have started biometric registration of new voters who have recently reached voting age (those born in 2001 and 2002) and internally displaced persons (IDPs), she said.
She added that mobile teams have been dispatched to official institutions and residential areas to complete the registration and update the cards of people who are not able to visit the centres. These include sick, handicapped and elderly people.
Ensuring transparency
There are over 26 million eligible voters in the country.
The commission has so far received the application of 300 entities who want to run in the upcoming elections, al-Ghulai said, and 72 others are currently in the process of registration.
The electoral commission intends to contract with an international company specialised in computer-assisted technologies for casting and counting ballots, al-Ghulai said.
A technical committee comprised of representatives from relevant ministries and organisations will be in charge of monitoring the company's work to ensure standards of integrity, accuracy and transparency in the electoral process, she said.
The commission has also launched efforts to raise public awareness of the importance of participating in the elections, she said.
The public awareness campaign includes posters and videos, she said, adding that the commission centre is co-ordinating with the Ministry of Communications to send informational text messages to voters' phones and to develop a free application that allows voters to follow up on the status of their voter card.
Meanwhile, commission employees will undergo technical and administrative training to develop their skills, she said.