Iraqi forces have established full control over Kanous Island (Zour Kanous) in al-Sharqat following several military operations to clear it of "Islamic State of Iraq and Syria" (ISIS) remnants, an Iraqi official said Tuesday (October 27th).
The latest operation in northern Salaheddine kicked off on October 19th with intense Iraqi army air and artillery attacks on ISIS hideouts identified using surveillance cameras and drones, said Jirjis al-Hijab, the administrator of Ashur district in al-Sharqat.
After the preliminary bombing destroyed four underground tunnels and hideouts, special forces, along with the army's 14th Division, local police, and tribal units, began erecting a floating bridge to enable heavy military vehicles and bulldozers to cross over to the island, he told Diyaruna.
The forces razed trees and plants the militants exploited in the island to hide from security forces, he said.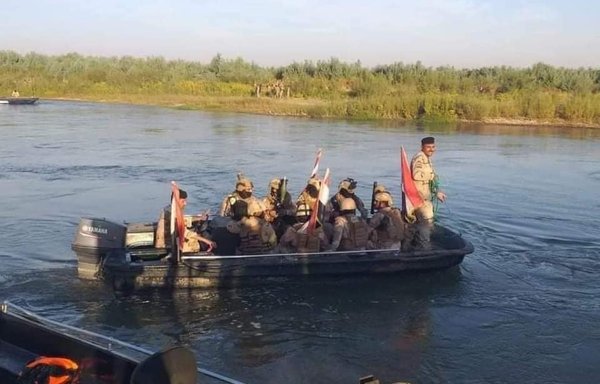 Al-Hijab noted that one of the targeted hideouts was booby-trapped, but explosive specialists managed to safely defuse the network of improvised explosive devices (IEDs) planted there.
Iraqi forces did not encounter any ISIS elements during the operation, and it is likely that they were killed inside the tunnels and hideouts that were bombed, he said, adding that "work is still under way to search for their bodies".
Al-Hijab ruled out the possibility that the militants fled the island for Hatra district and the Ninawa desert as a large number of security forces encircled the area. Additionally, thermal surveillance cameras have not recorded any recent suspicious movement.
'Significant security gain'
Following the security units' withdrawal from Kanous Island, troops from the Ashour district police's 16th Emergency Regiment and tribal forces deployed on the island Monday to tighten the security grip and prevent ISIS remnants from regrouping, said al-Hijab.
Kanous Island, long considered a very dangerous area due its strategic location near cities and villages, has been a thorn in the side of security forces, al-Hijab stressed.
Despite the ongoing security operations, ISIS remnants would return to the island at the end of each operation, where they would find areas with dense vegetation where they can hide from security forces.
"Today, finally, this area is fully secured with troops holding the ground there," he said.
This represents a "significant security gain that will have positive repercussions on the security of Salaheddine province and the neighbouring provinces of Ninawa, Kirkuk and Diyala", said al-Hijab.
ISIS remnants have "lost their most important haven in Iraq, and their threat, which has kept local residents constantly worried, is now over", he said.
One year ago today, ISIS's founder Abu Bakr al-Baghdadi was killed in a US raid in north-west Syria.
The US State Department issued a statement on Monday marking the one-year anniversary of his death, stressing that the US remains committed to the mission to "ensure a lasting defeat of ISIS".
"While we celebrate this critical milestone in the fight against ISIS, the work of the [anti-ISIS] Global Coalition is far from complete," it said.
ISIS remains a significant threat and it is "vital that we keep continuous pressure on ISIS remnants in Iraq and Syria and strengthen our collective efforts to defeat ISIS's branches and networks around the world", it added.