Iraqi and UN teams on Saturday (October 24th) started to exhume a mass grave in Sinjar district that contains the remains of Yazidi elderly women and children who were killed by the "Islamic State of Iraq and Syria" (ISIS) in 2014.
An Iraqi team dispatched by the government and the autonomous Kurdish region is exhuming the grave with support from UN and International Commission on Missing Persons (ICMP) specialists, said Hassou Hurami, who heads the Netherlands-based Yazidi Foundation.
"The grave, known as the Yazidi mothers' grave, contains the remains of 78 Yazidi women," he told Diyaruna. Almost all the women believed to be buried there have been identified by name and age with the exception of seven whose identities remain unknown.
The 71 women who have been identified were all residents of the Yazidi village of Kojo, he said. Among them is Shami Salih Aman, the mother of Yazidi activist and UN goodwill ambassador Nadia Murad.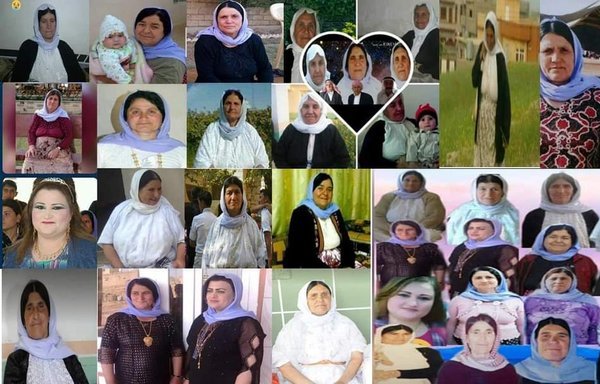 "For six long years, I and other survivors were denied the right to bury our loved ones with dignity," Murad said in a Twitter post Saturday.
"Today, I am overwhelmed with emotion as the mass grave where she [lies] beside other Yazidi women is finally exhumed."
The grave also contains "the remains of 12 children between the ages of 13 and 16, whose identities remain unknown", said Hurami.
The female victims are mostly middle-aged and elderly women, and include a 27-year-old victim who was pregnant when she was killed by the terrorists, said Hurami.
On August 16th, 2014, ISIS attacked Sinjar district where they separated the women from their husbands and children, took them to an area near the foot of Mount Sinjar called Solage, shot them, and then buried them on-site, he said.
Personal belongings were found inside the grave, he said, including prescription glasses and walking canes.
Operations proceeding at a quick pace
The Yazidi Foundation four years ago conducted a visit to the grave site together with members of the International Association of Genocide Scholars in order to record information, document witness testimonies, and conduct a comprehensive survey of the crime scene, said Hurami.
The grave was scheduled to be opened in March, but operations to exhume the remains of the victims were postponed due to the coronavirus (COVID-19) pandemic, he said.
"Work is today proceeding at a quick pace, especially after the work of the UN mission in charge of supporting national efforts to open the ISIS victims' graves was extended till September 2021," he added.
Hurami noted that 17 graves of Yazidi victims have been opened since March 2019, out of 81 mass graves found in Sinjar and its outskirts.
Exhuming all the remains in the Solage mass grave is likely to continue until mid-November, he said. Once DNA testing is concluded and all the victims have been identified, they will be buried again in an official ceremony.