An Iranian Suezmax tanker was on Saturday (October 17th) photographed as it discharged one million barrels of Iranian oil at a floating jetty in the anchorage of the Syrian port of Baniyas by earth observation satellite network Planet.
The "Sarab" was seen offloading its cargo via a single buoy mooring (SBM), a jetty that serves as a link between shore facilities and tankers for off-loading or loading gas and liquid cargo, Samir Madani of TankerTrackers said on Twitter.
TankerTrackers is an independent online service that tracks and reports shipments and storage of crude oil in several geographical and geopolitical points of interest, using satellite imagery and maritime tracking data.
Commenting on the Sarab's manoeuvre, Syrian economist Mahmoud Mustafa told Diyaruna that Iran has continued to deliver oil to the Syrian regime, even though both Syria and Iran are under US sanctions.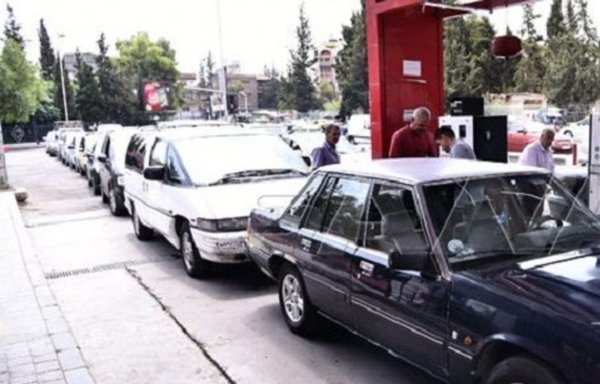 US sanctions on the Syrian regime have been in effect since June.
The Caesar Syrian Civilian Protection Act of 2019 aims to ensure Syrian president Bashar al-Assad and his aides and supporters are held to account for the crimes they have committed against the Syrian people.
The legislation also aims to stymie foreign meddling in Syria, by Iran and Russia in particular, by penalising companies worldwide that deal with the regime.
Circumventing international laws
Iran has been circumventing international navigation laws by turning off the automatic identification system (AIS) transponders installed on its oil tankers in order to secretly deliver oil products to the Syrian regime, Mustafa said.
AIS is a collision avoidance system that continuously transmits a vessel's location at sea.
By turning off its AIS transponder, he explained, the Sarab was able to continue on its course without being tracked after passing through the Suez Canal.
This is a violation of international navigation laws, he said, which stipulate that the transponder be kept on, to ascertain the destination of the cargo and port of call, and prevent collisions with other tankers passing through the region.
In a September 30th video thread posted on Twitter, TankerTrackers provided "visual evidence" of four tankers loading a combined 3.7 million barrels of oil at Iran's Kharg Island terminal.
"Within 48 hours, the three Suezmax and one Aframax tanker had departed the Kharg Island terminal," Tanker Trackers said in the post.
After departing from Kharg Island, video footage posted by TankerTrackers shows one of the Suezmax tankers rendezvousing with a foreign vessel to deliver the one million barrels.
"All of this is done in the digital darkness in broad daylight," TankerTrackers said, adding that "we back our data with evidence".
The latest revelation of Iran's illicit oil trade came after four oil tankers were stripped of their flags following an NBC News investigation into allegations they had secretly transported Iranian oil in defiance of US sanctions.
The four ships all made covert visits to Iranian waters this year where they collectively picked up millions of barrels of oil, TankerTrackers data revealed.
The four vessels were among 15 featured in a July 31st NBC News report that revealed they had been sailing under the flag of the Caribbean island state of St. Kitts & Nevis.
'Oil will not benefit Syrian people'
Iranian oil delivered to the Syrian regime will be at the disposal of its military forces and affiliated militias, including those aligned with Iran's Islamic Revolutionary Guard Corps (IRGC), Mustafa said.
"The tanker's cargo will not benefit the Syrian people at all," he added, noting that it will most likely be used by Syrian regime forces and the IRGC to carry out further abuses against civilians.
Meanwhile, he said, civilians in the areas of Syria under regime control are suffering from an acute fuel crisis and shortage of petroleum-based products such as heating oil, which will increase their suffering as winter approaches.